It's been a few years since Alabama has experienced such a harsh winter. And with temperatures in the teens and even single digits, along with more than one snow storm (seriously, Alabama?), heaters are being run at all times. Unfortunately, running your heat regularly can cause your energy bill to dramatically increase.
In fact, according to Alabama Power, heating makes up one of the largest portions of the average family's energy bill. So what can you do to curtail your heating costs this winter while staying warm? Here are some tips.
Replace your air filter. One of the best ways to improve the energy efficiency of your heating system is to regularly replace the air filter. According to Alabama Power, replacing the air filter is one of the simplest, most inexpensive and most often overlooked maintenance tasks there is.
While many believe the sole responsibility of air filters is to provide fresh air, they also make it easier for your heating system to work and improve its performance. How? By keeping dirt and dust off diffusers and coils and out of fans and motors located inside your heating system. In turn, you will save money on your energy bill.
Adjust your thermostat. If you're someone that likes to change the temperature on your thermostat several times a day, you definitely aren't doing yourself any favors. This action actually causes more energy to be burned and wasted, which results in a higher bill.
During cold weather, try setting your thermostat at 68 degrees or below for optimal savings.
Use an electric blanket. Though an electric blanket will use some energy when plugged in, it is more economical than heating your entire house. So lower your thermostat and bundle up in a cozy, warm electric blanket.
Keep garage doors closed. Doing this simple task will ensure winter temperatures stay outside where they belong.
Close louves and vents in the attic. Climbing into the attic isn't usually the most enjoyable task, but it will be worth it if you want to lower your energy bill.
Open curtains/shades on sunny days. This way your house will absorb the sun's heat and be warmer inside. Just be sure to close them on the shaded side of the house, as well as at night.
Unblock heating outlets. Furniture, drapery, doors and other obstacles have a way of covering heating outlets. To ensure you and your home are warm this winter, be sure that all heating outlets are uncovered.
Distribute heated air by turning on a small room fan or ceiling fan. When set on the correct setting, ceiling fans will push hot air from the ceiling down to occupied areas of the room.
Use the fireplace. Just be sure it is designed to provide heat, so it will supply the fire with outside air rather than sucking up warm air from the room.

For Future Cold Weather
Accurately preparing your home for winter takes time. If you missed your chance this year, here are some tips to winterize your home before the next cold season rolls around.
Insulate the attic. If you live in an older home, it is likely that it doesn't have adequate insulation to keep warm air in and cold air out. The term "a drafty old house" comes to mind. Unfortunately, this leads to an increased energy bill. Luckily, insulation can be added to any home.
According to Alabama Power, increasing attic insulation can increase savings up to 30 percent on heating costs.
Caulking. Along with insuring your home has proper insulation, Spire Energy also suggests sealing outer walls, ceilings, windows, doors and floors. Caulking is a good way to do this and it will not only help your home stay warm in winter, but it will also aid in lowering your energy bill.
Billing Options
One of the top ways to make your monthly energy bill less of a blow to your bank account is to sign up for budget billing.
What is it? Budget billing is a free service that averages the highs and lows of your electric bills, giving you an average price to pay each month.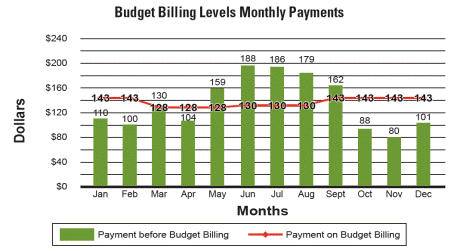 How does it work? To figure out how much you will owe for budget billing, your power company will first look at the amount of money you spent on your utilities over the past year. They then add an additional percentage to this number to cover inflation then divide the total number by 12 months. The number you are left with is the amount you will pay each month for power.
What are the benefits? There are several benefits to budget billing:
Since your utility bill will be the same each month, it may be easier for you to budget your money every month.
You won't pay steep increases during the warmest or coldest months when you use more power.
You may potentially save money on your utility bills.
To find out if you're eligible for budget billing or to sign up for this service, contact Alabama Power, Spire Energy or other designated provider.