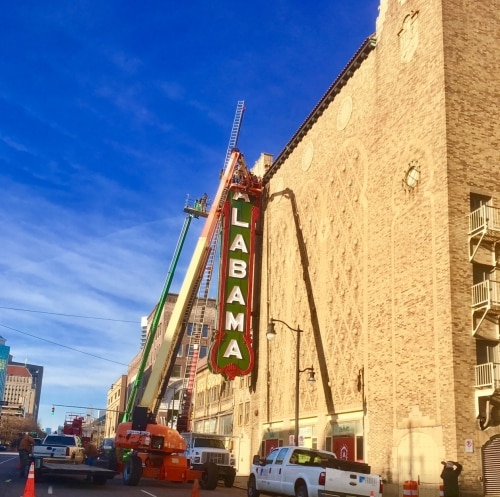 Who needs to watch the Times Square ball drop or Mobile's famous Moon pie when you can watch in person the lighting of the new 18th Street ALABAMA sign!
At the stroke of midnight, the 60-foot ALABAMA sign on 18th Street will be lit for the first time since its predecessor disappeared in 1957. According to REV Birmingham, the public is invited to gather on the corner of 18th Street and 3rd Avenue North at 11:30 p.m. on New Year's Eve and count down to 2018 with the Alabama Theatre.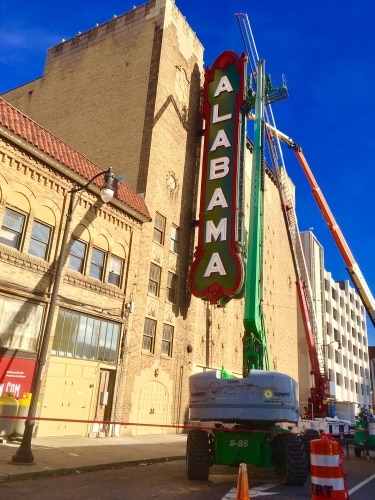 Along with the restoration of the new landmark, the Magic City will also be celebrating the Alabama Theatre's 90th birthday tonight.
Bham Now published the following story about the ALABAMA sign and tonight's Alabama Theatre celebration earlier this week.
Celebrate the Alabama Theatre's 90th birthday, lighting of the new ALABAMA sign and the new year
A new ALABAMA sign, a local and national effort
This past Fall, after being nominated by REV Birmingham, the Alabama Theatre  was named a top 25 finalist in the national Partners in Preservation Main Street campaign.  After a month long contest, the Alabama Theatre received more than 54,000 votes earning it a place in the top ten, resulting in a $120,000 grant from the National Trust.
Several local individuals, civic organizations and businesses raised and donated funds to replace the original sign that has been missing  for 60 years. These individual and  organizations included:
Junior Board of Birmingham Landmarks, Alabama Power and Regions Bank, Altec, Bradley Arant, CAWACO, Gray Construction, Cindy and Ken Rhoden, ServisFirst Bank, Southpace, Wells Fargo and Wiggins Child Pantazis
Will you witness Birmingham history tonight? Bundle up and we hope to see you there!