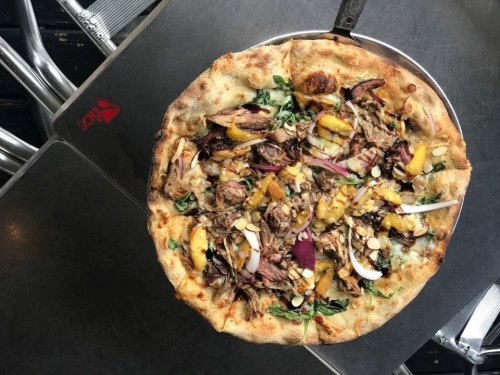 Not only is Slice Pizza opening a second location in Birmingham, but they also were recently featured in Cosmopolitan and Sports Illustrated! See what's got people talking about Slice Pizza here!
Slice Pizza and Brewhouse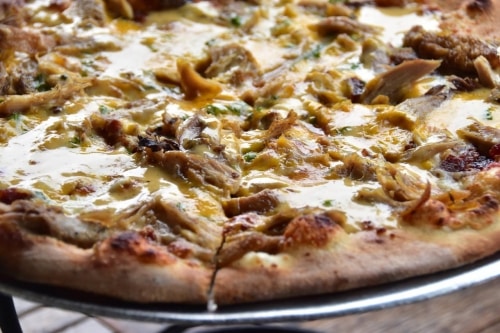 Located in Lakeview, Slice prides itself on its support of local farmers and in using the freshest ingredients in its delicious pizzas.
From their spicy hawaiian with asiago, jalapeno, capricola ham and grilled pineapple to their wing & a prayer with roasted chicken, bacon, onion, blue cheese crumble, hot sauce and ranch dressing, Slice's innovative menu has something for everyone, including the gluten free.
"We're grateful for all of the adventurous eaters that love Slice's pizza as much as we do."

-Jeff Bajalieh, co-owner and bro-founder of Slice Pizza and Brewhouse
Slice not only features local farms' produce in its pies, but also partners with local breweries and offers suggested beer pairings for each of their specialty pizzas.
I love that this local restaurant is supporting farms and breweries to bring Birmingham its delicious slices.
But one pizza is making an especially big name for itself-even outside of Birmingham.
Peaches, Pizza, and Praise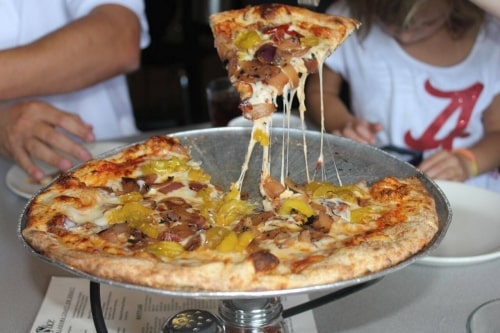 Earlier this summer, Sports Illustrated's "Where to Eat in Birmingham" featured Slice as a must-try for its peach pizza and blackberry cheesecake.
Lovingly called the Chilton, this pizza continues Slice's mission of supporting local farmers and pairs fresh Chilton County peaches with smoked pork shoulder, gouda, parmesan, shaved red onions, arugula, and almonds.
Can you say YUM?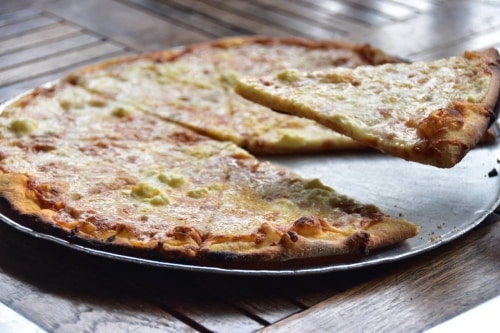 Then last week in Cosmopolitan's "Where to Find the Weirdest, Most Delicious Pizza in Your State", Slice's special pizza got more glory for its focus on local, fresh ingredients.
 "We've always pushed the limits with our menu and strive to be innovative at Slice, from the pizzas made in our stone ovens to the beer filling our taps.

As we expand Slice with our second location in Vestavia Hills, we will continue to do so and look forward to serving the same quality, creative slices we are known for and fostering community spirit."

-Jeff Bajalieh
With all of this publicity, a second location could not be more fitting.  Now Birminghamians will have another place to eat and drink delicious local pizza and beer.
Stop on by Slice Pizza and Brewhouse today and try one of their amazing pizzas!
What's your favorite pizza at Slice?  Let us know!