Food lovers, unite! Birmingham Restaurant Week's (BRW) 10-day culinary affair with the city is almost here!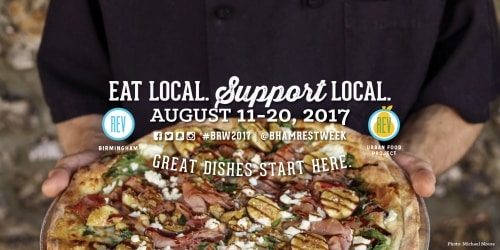 The Deets On Birmingham Restaurant Week
Now in its eighth year, BRW is your opportunity to dine out at area restaurants and enjoy special tasting events featuring food and drink specials galore. Even better, BRW promotes and highlights restaurants that are committed to buying and selling locally-sourced ingredients. That means your participation is supporting local agriculture, too.
Starting August 11 and lasting through August 20, over 70 participating restaurants are offering two and/or three-course lunches or dinners from prix-fixe menus, with prices that range from $10, $15, $20, $30 or $40 per person.
The list includes a variety of your favorites, from fine-dining digs to your go-to lunchtime hot spots and more. Click here to check out all the restaurants involved.
From BRW's Founder
"We're almost at 80 (restaurants), and we started out at 25," said BRW Founder and District Manager for REV Birmingham, James Little.

"If you think back to eight years ago, the economy was very different. So, Restaurant Week was started as a way of just …. How can we incentive people to go out and eat and support the locals during what's typically a slow time for restaurants? How can we create some specials and get people out to try some new places they've never tried before? Or to revisit a restaurant? Or try some new ones that have opened up?

"Over time, we've gone from more of a … being about the deals, more so into the experience. Birmingham Restaurant Week today is a dining out and tasting event that's connecting our city … It's all about getting people to go out and try and sample and sip and at the same time attend some of our interactive tasting events that we now have."
Wednesday Is The Day!
The themed interactive tasting experiences kick off tomorrow, with a preview party at Pickwick Plaza in 5 Points South. You'll be able to sample dishes, taste wines, try local beers and sip cocktails with a hungry crowd of Birmingham food lovers. For tickets, times and information about all of the interactive events, check out this link.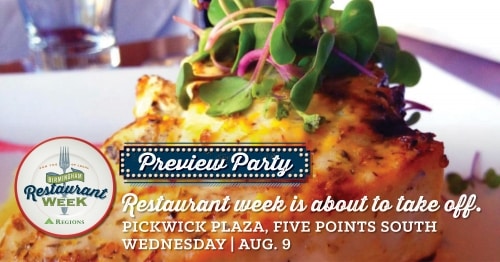 All About REV
BRW is also a major supporter of REV Birmingham's Urban Food Project initiative. Their website describes the project as a way to "… build a robust local food economy as well as create simpler access to fresh and nutritious food. UFP does this by assisting local restaurants, corner store owners and farmers in producing, transporting, selling and distributing locally sourced ingredients."
So, get out there and eat, Birmingham! It's satisfying to know that your food dollars are helping local restaurants, local food producers and programs that provide access to healthy and fresh food in parts of the city that need it most.