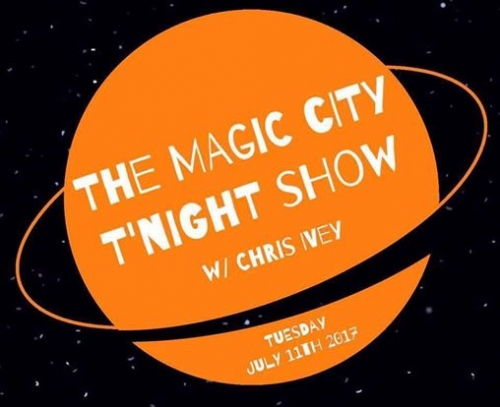 Chris Ivey is a personal friend. I probably should not be the one to write this article. But when he is on stage, I am not his friend. I'm a bonafide Chris Ivey fan (the same for most performers mentioned, but I promise, this is all coming from a place of deep respect and admiration). And for a year now, Chris Ivey has been dedicating himself to putting together The Magic City T'night Show which had it's debut Tuesday, July 11th, at Saturn.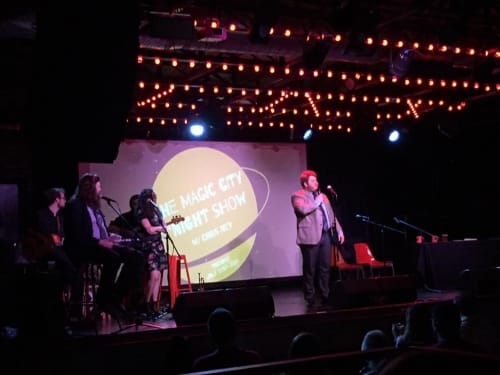 It was a classic variety show with a band, an announcer (in sunglasses, as all the good ones are), guests, stand-up sets, games, a monologue, and a pretty sweet logo. I'm not talking small budget, small venue, punk-comedy, despite this being a collaboration of friends who are often performing together in slightly claustrophobic spaces with PBRs in hand.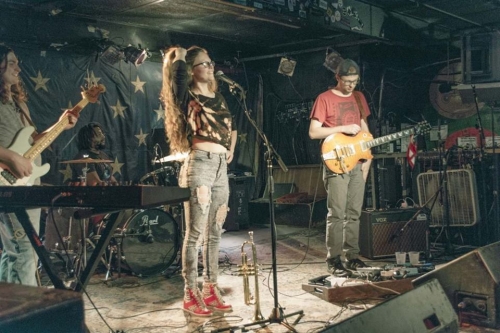 Music was provided by local funk phenom, Giant Sunbeam and the Noise, a four piece band that is launching its first album this month . Giant Sunbeam and the Noise has been gracing Goulash Comedy at the Syndicate Lounge for a few weeks leading up to the T'night Show, and the band is just as excited about the comedy as the comedians are about the music. Which is a lot, I promise.

Tollie Jones, Birmingham comedian with an impressive red beard and signature red wayfarers, took his rightful place at the side of the stage, calling out bogus sponsors for the show, interjecting with gloriously snide remarks, and contrasting Ivey the way a good Late Night sidekick should contrast the host. Jones (along with Peter Davenport) hosts the monthly Theme Show at Rojo, and is a favorite in the Birmingham comedy scene.
Debuting at the T'night Show was Scott Gordon's mockumentary (with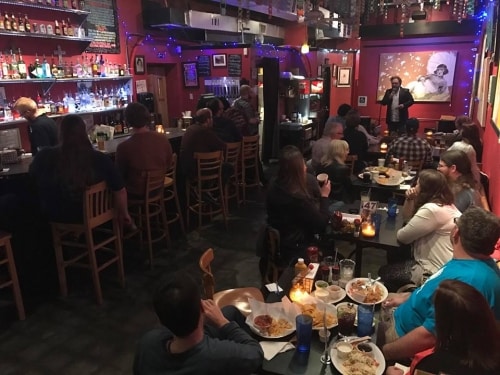 Contact Buzz Comedy), Bad Tourism 2, the second installation to 2015's Bad Tourism, a showcase of Birmingham's oft-visited locations as told by comedians. It's silly, it's perhaps unsavory, and you probably don't want to watch it with your grandmother. But the quality is top-notch, the comedy is top-notch, and I am not telling you this because I'm in it. I'm telling you this because Norado Moore is holding a small alligator during his segment (well, it's a caiman, really), and if nothing else, that is entirely worth the 11 minutes of your life.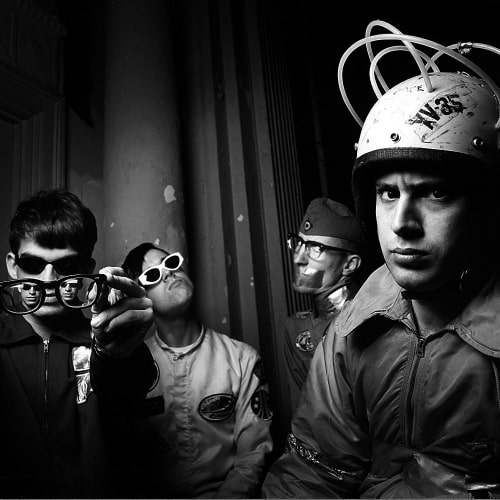 And, of course, there were interviews. The first with Billboard Baggins, an Alexander Shunnarah sign (whose body is Chris Davis of Fresh Ground Comics) who questioned the audience about their various injuries. On stage, Ivey interviewed Brian Teasley, owner of Saturn and Man or Astro-man's "Birdstuff." Teasley told tales of his touring days, gave some insider industry tidbits, cracked a few jokes, and never let a moment be boring.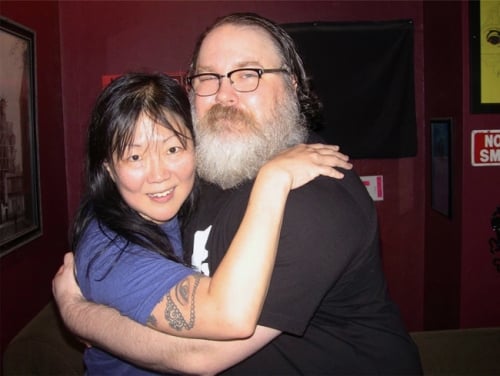 The Show featured two comedians, Birmingham's JP Laffsum, and Atlanta's Ian Aber.  I hope Aber returns to Birmingham, and if you can't see him in Atlanta, you can find JP Laffsum (it's fitting that her name has 'laugh' in it) at the Stardome in Hoover. Both gave phenomenal performances that had the audience giggling after they had left the stage.
Ivey has plans to continue with the Magic City T'night show. It is a worthy showcase of all things great about Birmingham comedy, about the people that keep this city laughing and dancing, and the people who care about this place enough to invest so much time and effort into shows like this one.