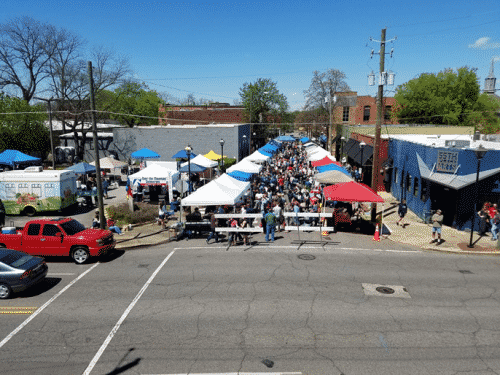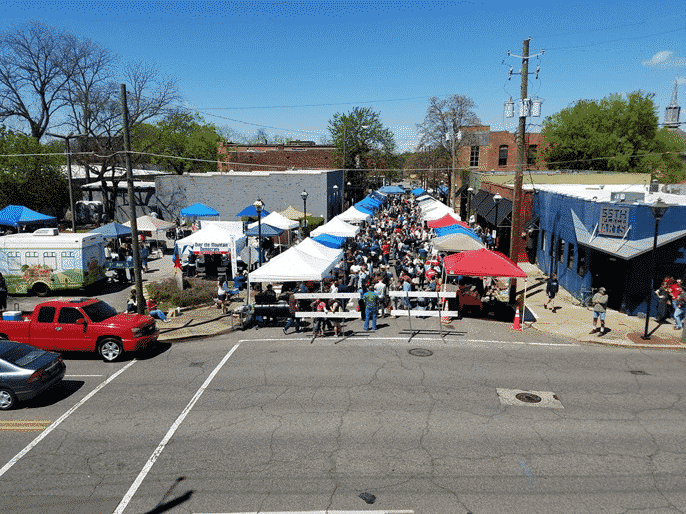 Woodlawn Street Market returned for its third year this past Saturday and Birminghamians showed up in full force.  REV Birmingham and the Woodlawn Business association started this fun event as an opportunity for local merchants to meet their customers and showcase their products.  See what I found!
Set in the heart of historic Woodlawn, this bustling market perfectly highlights all the growth and revitalization taking place in our city.  I had a blast walking around the market and getting to talk to the vendors.  Here were some favorites.
Green Pea Press: T-shirts, towels and more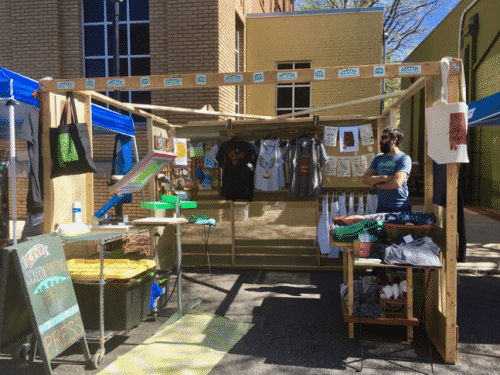 Green Pea Press opened in Huntsville in 2011 as the first community printshop in Alabama. They offer artist memberships in their studio for artists who don't have access to the large and expensive equipment necessary for screen printing.  Check out their super soft Alabama t-shirts and punny dishtowels and aprons at greenpeapress.com.
Shuga's by BeBe—Southern Hospitality Uniquely Good Always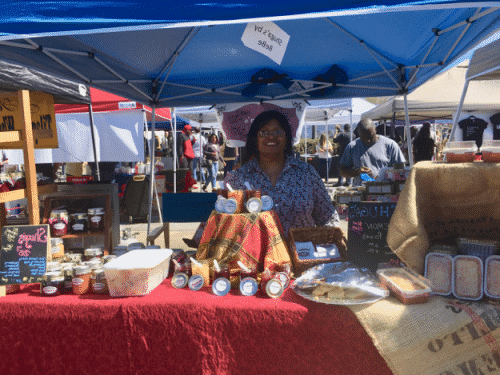 Beverly Brewer, or BeBe, makes her own preserves in about every flavor imaginable—and with more to come.  Her low-sugar preserves are made with fresh fruit from Alabama and her pound cake is her grandmother's recipe. She plans to add more cakes when she returns for the next Woodlawn Street Market in June.  We look forward to seeing her then!
CahaBones: Handmade, local dog treats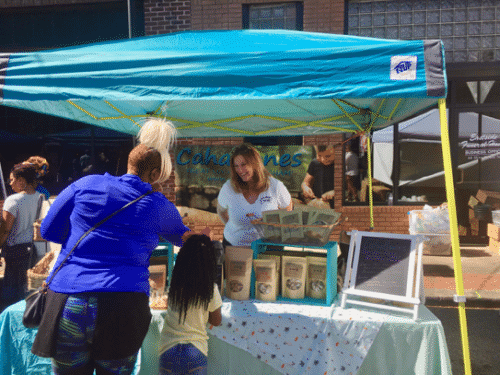 Treat your furry friend to a tasty treat made with wholesome ingredients from farms in Alabama.  Flavors include Peanut Butter and Bacon, Strawberry Shortcake, Bacon and Honey, and many more!
Owner Heather Taylor called the Woodlawn Street Market one of her favorite events in Birmingham.  She praised its diversity and unique, fun atmosphere.  CahaBones' treats are sold at Piggly Wiggly, Western, Whole Foods, and pet stores like Whole Dog Market and Hollywood Feed.  Stop on by Pepper Place next weekend to try their newest treats and meet her pug Lulu!
Jill Marlar Art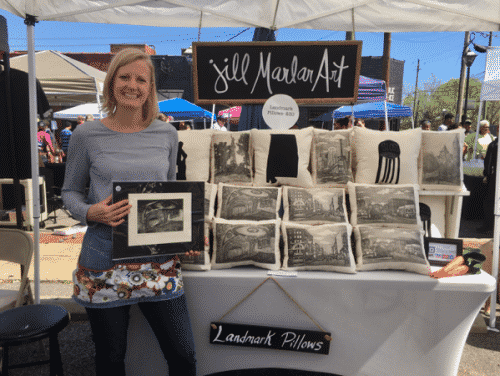 Jill Marlar specializes in etchings, handmade pillows, monotypes, and small paintings featuring Birmingham landmarks.  Jill said she has a love for Birmingham's history and having grown up here, can remember many of the buildings that are no longer present.
Her business blossomed out of this interest and she said "I wanted to create something that could live beyond me…and go into people's homes."
You can find more of her work at Urban Suburban Antiques in Birmingham and on Etsy!
Birmingham Candy Company—A Southern Confectionery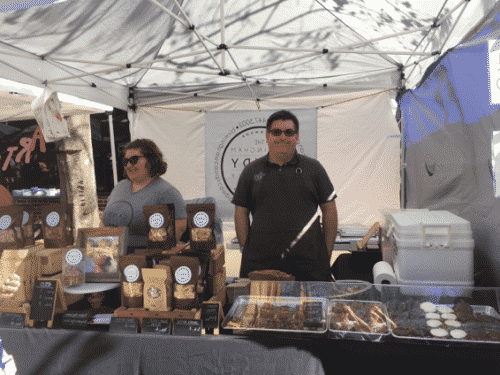 Wayne and Cassie of Birmingham Candy Company love sweets and love sharing them with their city even more. Rice Krispy kabobs, caramel apples, praline candy, oh my!
We can't wait until they open their downtown location soon! Until they do, follow Birmingham Candy Company's location on their website www.birminghamcandycompany.com. Catch them April 8th at Mt. Laurel Spring Fest—they love to give samples!
Crafted Quills—handmade specialty pens and pencils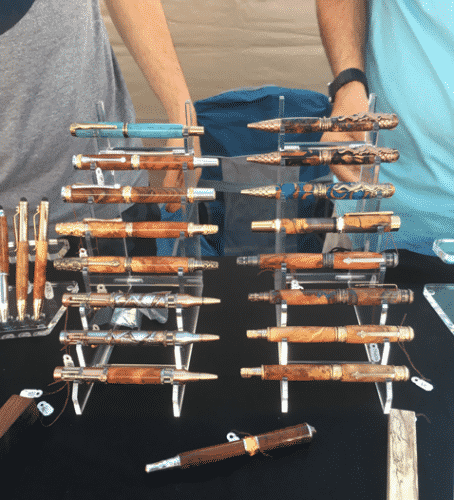 This family business can create beautiful pens using just about any material you desire.
Clay, owner of crafted quills, said "making a pen is like unwrapping a present.  You start with a block of wood and you don't know what it will turn out to be."
Buy one of their unique products at www.craftedquills.com!
Naughty But Nice Kettle Corn Co.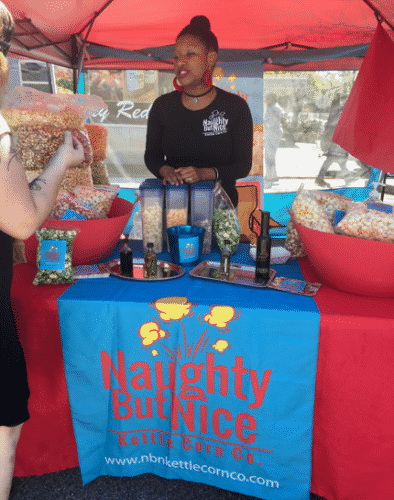 This popcorn company's simple concept is revolutionizing Birmingham.  Naughty but Nice invests in high grade kernels and creates unique flavors with a sweet and salty base.  Try their Birmingham mix—a blend of their cheddar and French toast flavors. Find them at local markets as they pop around town!
Happy Bird Co—Graphic Tees Branded by Thought and Consciousness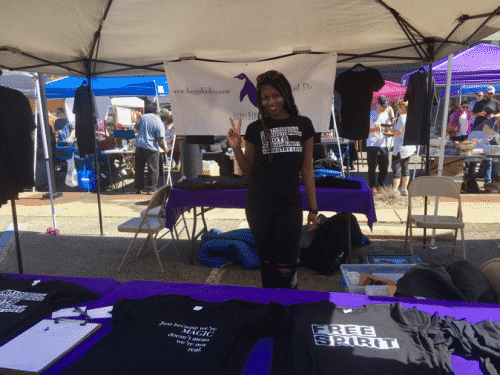 Aisha Taylor designs her graphic tees herself with the specific intent that the wearer can determine their message.  More of her cool tees can be found at www.happybirdco.com.
Jones Valley Teaching Farm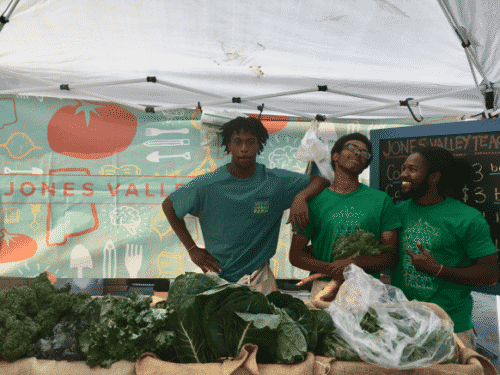 Jones Valley Teaching Farm designs and builds farms in the heart of Birmingham to equip students of all ages with knowledge how to grow their own food and even cook it.  JVTF has partnered with Woodlawn High School to create a state-of-the-art urban farm managed by students that also challenges them to solve real-world food problems and even develops their STEM skills. The worker's favorite part?
Dominike and Jerick both said of their coworkers, "We're like a family."
Go to jvtf.org to learn more today! 
Mend—embroidery design by Martha Ellen Gunn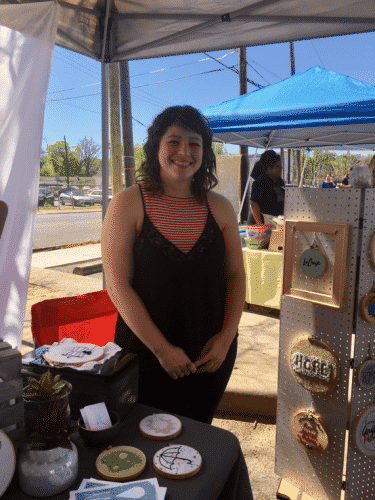 Martha Ellen Gunn started her business doing wedding presents for friends and officially launched it as a serious endeavor close to two years ago.  Her work includes beautifully embroidered quotations, darling graphics, and customizable newlywed gifts.  Her unique designs are available on etsy (www.MendByMartha.etsy.com) and in Rainy Day (825 A 39th Street South Birmingham, AL).
Want to know more? The Woodlawn Street Market will return June 3rd at 10 AM-4 PM and September 23rd at the same time, and December 2nd 12 PM-4 PM.  Drop by 55th Pl South Birmingham, AL 35212 to see for yourself!