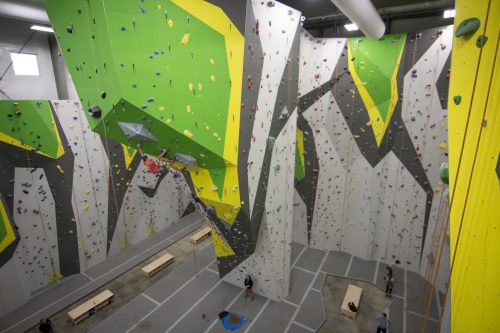 Running is not the only form of exercise that can keep you in shape. There are countless ways to exercise and not even realize it. Here in Birmingham there are other options to reach your fitness needs. Let's explore some other types of exercises that will keep you fit.
Pilates
What is Pilates? Isn't that the same thing as yoga? The Pilates method is a system of movement and therapeutic exercise. Using the special machines, the method works by toning muscles as well as balancing muscular force at the joint level. Pilates can prevent future re-injury, and even in some cases alleviate, chronic pain altogether. In Birmingham there's a Pilates studio, Core Strong, that offers you all things Pilates. There are open classes, private classes and you can even become a member. Check it out!
Rock climbing
Hope you aren't afraid of heights because at High Point Climbing and Fitness, you're sure to reach new peaks. Don't worry though, they have amazing staff members there to assist you through your climb if needed. The facility is now completely open with the Kid Zone, Bouldering, Weight, Aerobic, Yoga Room, and Route Area. Indoor climbing is a great full body workout for both strength and cardio. Check out their Birmingham website for rates and membership options.
Cycling
Have fun cycling with music and party lights at Sweat & Gears Indoor Cycling Studio. According to their site, "This ain't your Momma's indoor cycling studio." I'd assume it's from the high intense level of energy and huge popularity from visitors from around the country. First timers can enjoy a 2-for-1 special for their first class. Check out their website and take a ride with Sweat & Gears.
Pure Barre
Ever heard of Pure Barre? According to their site, in just 55 minutes you can achieve a full-body workout where many women struggle with: hips, thighs, seat, abdominals and arms. Don't worry, men can join too! The Pure Barre technique is low-impact, protecting your joints by avoiding any bouncing or jumping. All classes are the same level as the technique was designed to work for people at all levels of fitness. Birmingham has three Pure Barre locations so find one that's closest to you and try it out. Pure Barre at Riverchase is currently offering your first week free! Check it out on their site.
 
Kickboxing
Here's a fitness workout many people may not know about. Kickboxing is a great way to switch up your cardio and strengthening. It's an entire body workout and will make you sweat, a lot. Spartan Fitness is Birmingham Alabama's premier MMA, Muay Thai Kickboxing, Brazilian Jiu-Jitsu, Fitness Kickboxing and Martial Arts training facility for both Adult and Kids programs. Check them out on Facebook for more information!