In addition to electing a mayor this summer, we're also electing a city council, too, Birmingham. I say we start talking to (and writing about) them now.
The sooner we start a public conversation with potential candidates, the more we can learn about those seeking public office in August. Tonight it's all about District 2 candidate, Jordan Thompson.
My last interview featured mayoral candidate Randall Woodfin, and you can check it out here.
Since the Jefferson County Election Commission has until June 23 to officially call the upcoming Birmingham municipal election set for August 22, all candidates are considered potential candidates until they qualify with the Probate Court of Jefferson County. They will all be able to do that after the legal notice of election is published.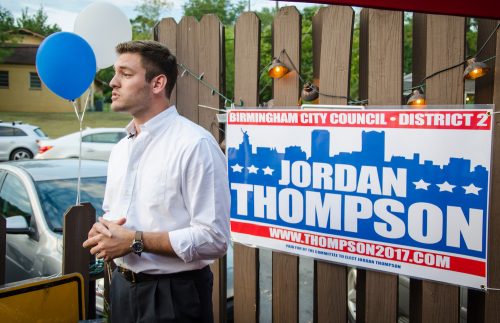 This first interview with each candidate is a formal introduction to Bham Nowers.
Each potential candidate was emailed the same questions, and I'm meeting with each of them in person.
Let's get to know Jordan Thompson. Here's the link to his campaign website. His interview is below:
When did you officially announce your candidacy and where/how did you do it?
September 13th 2016 at Saw's Juke Joint. We had a campaign kickoff party with friends and members of the community. My first campaign speech can be viewed via video on my Facebook page.
What is the name of your principle campaign committee?
The Committee to Elect Jordan Thompson.

Why do you want to run for Birmingham City Council?
Birmingham is good, but we can be great. Our city needs leaders with vision, teamwork skills and common sense. I have those qualities, as well as the confidence and leadership experience to make positive changes in our community. 
What is your background, education and experience?
I graduated from the University of Alabama in 2013, where I majored in political science and minored in civic engagement and leadership. I also received my commission as an Army officer in the Alabama National Guard from Alabama ROTC.
I have been in the National Guard for over seven years, first as an enlisted infantryman and serving currently as an infantry executive officer. 
I founded Teams For Troops, a local 501(c)3 working with deployed service members, I've been vice president of the Young Professionals of Birmingham, a Young Pioneer, a mentor with The Man Project, as well as a volunteer with the Birmingham Education Foundation.
I've been involved in Samford University's Cumberland School of Law, from which I'll receive my juris doctorate in May 2017. I started the Campus Veterans Association, and I am the treasurer of the Military Justice Society.
What are the top three issues Birmingham is facing as a community, and how do you intend to address them?
There are a plethora of issues facing Birmingham, but the three I feel we need to discuss the most are: accessibility of the local government, unification and education and opportunity.
How will you foster a healthy, working relationship between the mayor's office and the Birmingham City Council/city hall?
Teamwork is key, and we must all work together in order to progress. Playing on sports teams and being in the military have given me a variety of experiences working with others from different backgrounds, perspectives, cultures and opinions.
I understand that open mindedness to diversity of thought is important to forge the best possible outcome for all parties involved—that means not simply pushing the agenda of District 2 but considering the other districts, as well as the mayor's office.
We can no longer piecemeal Birmingham, letting some areas progress while leaving other areas blighted.
How will you accomplish transparency with the residents of Birmingham, if elected?
Transparency is a part of accessibility. The citizens deserve to know what money is being spent, made, how it's being spent and why it is being spent.
Citizens also deserve to know what is being voted on, before the vote actually happens. The city council can publish all of this information and actually promote the resolutions through multiple outlets, in addition to their website.
As a city council member, I plan to be the eyes, ears and voice of District 2, as well as the hands to actually follow through and make positive changes happen on their behalf.
What district are you running for and what area does that cover?
District 2. Specifically, the neighborhoods in District 2 are Brown Springs, Crestline, Crestwood South, Eastwood, Huffman, Liberty Highlands, Overton, Roebuck Springs, South East Lake and other areas surrounding those neighborhoods.