It's time for another Birmingham mayoral candidate interview. This is the second one in my series, and it features Randall Woodfin. My last one featured Randy Davis.
Although the Jefferson County Election Commission has until June 23 to officially call the upcoming Birmingham municipal election set for August 22, potential candidates are already blazing their own campaign trails.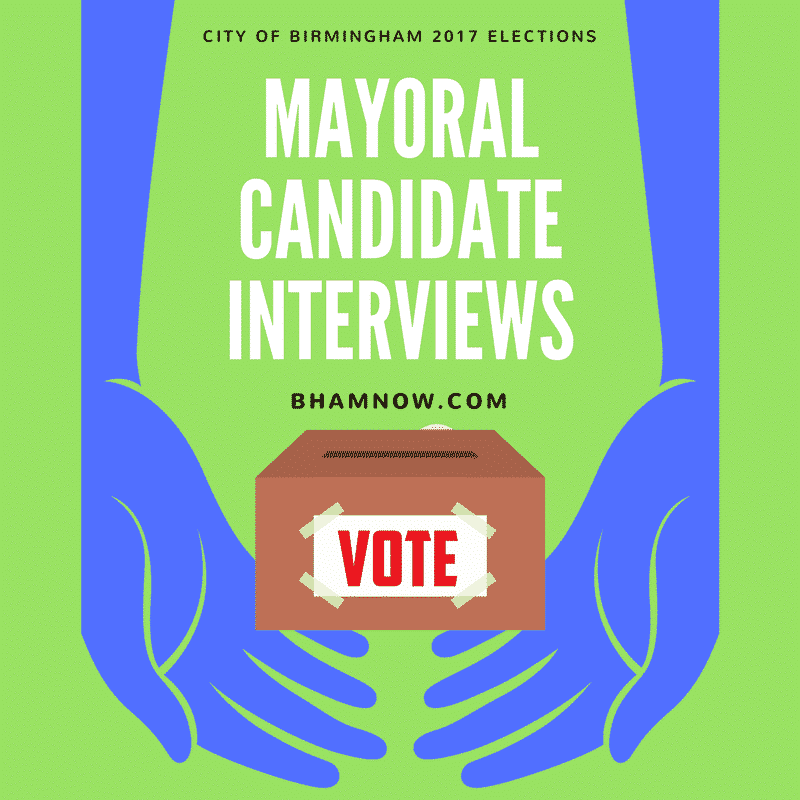 I like to consider this first interview a formal introduction to Bham Nowers. After I've interviewed all the candidates, I'll be reaching out to all of them on a periodic basis to ask them how they would respond to city and community issues that are important to you.
Each potential candidate was emailed the same questions, and I'm meeting with each of them in person.

Even though these interested individuals can't officially qualify as a mayoral candidate until the legal notice of election is published, that doesn't mean that they can't start sharing their views with voters.
After the election has been called, they must each qualify in the Judge of Probate Office of Jefferson County. Until then, there's no harm in engaging the ones who have already shown an interest in the position.
Let's get to know Randall Woodfin. His interview is below:
When did you officially announce your candidacy and where/how did you do it?
I announced my candidacy on August 27, 2016 at the North Birmingham Jefferson Civic Center.
What is the name of your political action committee?
The Committee to Elect Randall Woodfin

Why do you want to run for mayor of Birmingham?
Downtown has thrived since 2010 because it has been a priority for City Hall, but what about the rest of Birmingham? I have seen this mayor be deliberate about bringing business downtown but not nearly as intentional about bringing grocery stores to our neighborhoods, fighting crime or investing in our neighborhoods. I also see a city hall that has lost the trust of its citizens. I would change that.
What is your background, education and experience?
I am an attorney for the City of Birmingham. I earned my law degree from Samford University and my bachelor's degree from Morehouse College. I am an attorney and a member of the Birmingham Board of Education.
What are the top three issues Birmingham is facing as a community, and how do you intend to address them?
Public safety, education and jobs. We have to reduce handgun violence and stop crime before it happens, by giving our police department the resources they need to fight crime—but also invest in our youth, in job training and in the neighborhoods where crime is happening. We also need a renewed commitment from city hall to our schools. My plan for public safety, education and jobs are all available on my website, www.randallwoodfin.com.
How will you foster a healthy, working relationship between the mayor's office and the Birmingham City Council/City hall?
Common ground is sacred ground. Every city councilor has district priorities, and I will work with each councilor to identify shared priorities and commit city resources in support of our shared priorities.
How will you accomplish transparency with the residents of Birmingham, if elected?
Trust is vital in any relationship, but especially between Birmingham residents and city hall. I would make my meeting schedule, my travel schedule and my travel expenditures public and searchable online. I would also prohibit any of my close relatives from any jobs at city hall that could influence city contracts.
How do you intend to lower Birmingham's crime rate?
We have to invest in and expand our police force and better deploy our officers to high-crime areas, (as well as) improve our lighting and shot detection technology. Long term, we need to invest in the root causes of crime: a lack of engagement with our youth and economic opportunity. My opportunity and public safety agendas are also available (for reading) online.