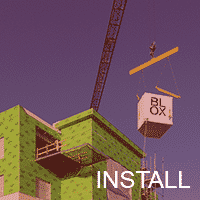 Basic building blocks are one of the most popular toys for young children. They are easy to stack and combine, allowing infants to create their own tiny structures.
Somewhere along the way to adulthood, construction becomes considerably more complicated. For example, a typical patient bathroom in a hospital contains 800 components that are installed by a dozen trades over a span of three months. Oh, if only we could go back to those simple days of stacking blocks.
Birmingham architect Chris Giattina says we can. That is why he stared BLOX, a company that designs and manufactures prefabricated modules – or rooms – that can be inserted as one whole piece in the construction of a building, instead of having it produced piece by piece on site.
"A building is made up of parts, like a story with paragraphs," Giattina said. "Each part, or paragraph, has varying levels of complexity. What we do is build whole paragraphs, which we insert to form a whole story."
Operating out of a renovated warehouse in Bessemer, BLOX brings together a variety of architects, engineers, manufacturers and programmers, who work in tandem to create a room rather than handling each step in the process individually.
"Usually, one person does their part and then they throw it over the wall. Then the next person does their part and they throw it over the wall. And nobody is exactly sure what happens in the end," Giattina said.
"In our case, there are no walls. Our architects, manufacturers and constructors all work together to solve the problem, rather than doing it in fragmentation."
Once the room is fully constructed, it is delivered by a truck and then lowered with a crane directly onto a construction site. Giattina said using the BLOX components can speed up construction by 20 percent, and help address issues involving shortages of skilled labor.
"We're trying to bring some ideas to an industry that really has not significantly modernized," Giattina said.