There are changes underway at the Birmingham Waterworks Board.
Dr. Brenda Dickerson
The governing body of the public utility has been expanded from five members to nine members, and one of those appointments includes Dr. Brenda Dickerson, the former Harvard professor and activist behind Citizens Coalition for a Better Birmingham.
In the past the coalition has worked through social activism that engages the voice of citizens in council decisions. Now that work will include engaging the Birmingham Water Works Board.
Dickerson was asked by Birmingham City Council President Johnathan Austin if she wanted to "serve the people" and that phrase resonated with Dickerson. She said yes, and the appointment was in place.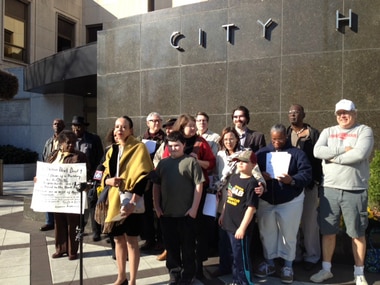 I had the opportunity to speak with Dr. Dickerson via telephone, and I asked her why the Birmingham City Council appointed her as a member to the Birmingham Waterworks Board. Her answers are below.
"One reason I was appointed is because I'm the President of the Citizens Coalition for a Better Birmingham, but the other reason is because I'm concerned with transparency, accountability and full disclosure from our elected officials.
The council and Mayor Bell have seen me come down, stand up and speak up for various concerns that our citizens in Birmingham face. I think, again, over the course of the three years (with the Coalition), they've seen my work ethic, my tenacity, my concern, my passion and my unwavering love for the people of Birmingham."
Dickerson is also a graduate of Spelman College and has extensive experience in public policy and public administration.
" … They also knew that I had worked as a senior administrator, that is Associate Dean for Enrollment Management of the Kennedy School of Government at Harvard University. I think they are all pretty familiar with what I do."
A Little Background 
State legislation implemented by Sen. Jabo Waggoner, R-Vestavia Hills expanded the Water Works Board from five members to nine. That change took effect January 1, but it came with controversy. Board members opposed the expansion, and fought the legislation with a lawsuit, along with spending  "$360,000 to hire a team of four lobbying firms to fight against the bill. A fifth law firm, Adams and Reese, was hired for an undisclosed amount and an undisclosed term," according to AL.com.
The Water Works Board lawsuit claimed that the expansion was unconstitutional, but a judge ruled against them, and the expansion moved forward. The legislation also included limiting the board members' salaries to $1000 per month for each member.
Other Changes
The Board elected member Sherry Lewis as chairwoman of the body, and the other new members include:
Former Irondale Mayor Tommy Joe Alexander, who was appointed by the Jefferson County Mayor's Association. The new legislation gives the Mayor's Association one appointment to the Board.
Deborah Clark, as one of the mayor's two appointees (The other is Lewis).
Butch Burbage, Shelby County's one appointment
Brett King, Blount County's representative