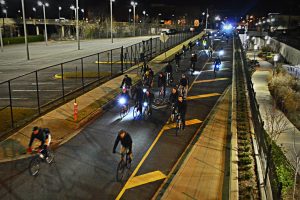 You anxiously check your phone.  It's 4:45 PM.  You're feeling the pressure of how you'll get your ride in before it gets dark.  This is the time of year when the sun sets early and occasional frigid temps can threaten the cycling routine you worked so hard to keep the previous months.  Some retreat indoors and some hit the darkness, head-on.

The number of people who ride bikes continues to grow in Birmingham. On any given evening during the warmer months there are a number of groups, ranging from mountain bikers to slow rollers to road cyclists, that convene to pedal out some miles. For many, this is not only their preferred post-work fitness and de-stressing activity, but also an important part of their social identity and network. Then the end of Daylight Savings Time strikes…the sun is dipping below the horizon before it's even quitting time at work.
Ryan Taylor – "I ride to work nearly every day because my commute is very short (1.5 miles) and cycling is the most efficient (and fun) way to get around town. This time of the year it means I'm riding home in the dark. I typically complete my commute faster than I would in a car, and I get to be outside as opposed to trapped in a metal cage.  I feel good knowing I'm not contributing to pollution."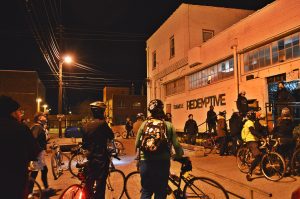 Mark DiChiara – " We are fortunate to live in a part of the world where winter cycling is possible. I have friends who have to park their bikes for 4 to 5 months every year."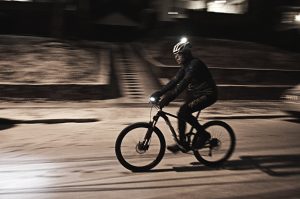 Though their numbers dwindle somewhat during the short days of winter, many cyclists in the Ham choose to keep rolling, aided by advances in lighting technology that are lightweight and rivals that used in the automotive industry. If you frequent some of the more popular bike routes in the evening, you've seen folks wheeling through the night with lights piercing the darkness.
Christopher Rodriguez – "I enjoy night riding in the winter. Keeps me from getting hot for one. There are also fewer people out during the winter. I feel safer on my bike at night. I feel I can see vehicles better… because I can see their headlights before the car itself when coming around corners. I also feel cars can see me better at night for the same reason. Cars won't necessarily see me during the day, but can spot a bright flashing light from a distance before they get to me."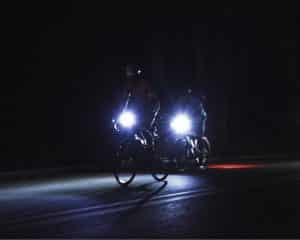 Bike riding is not just for kids, of course. It's an ever increasingly popular means of recreation and transportation for adults. From doctors, lawyers, and pilots, to students, HVAC technicians and the guy who cuts your grass, people from every walk of life are represented among those you find grinning into the wind on two wheels.
Options abound for anyone wanting to ride from beginners to more experienced.  Le Tour de Ham takes off every Tuesday at 6:15PM from Rogue Tavern for a 12 mile loop.  They also host a beginner's ride from Uptown Birmingham every Saturday at 10:30am. The slowest rider sets the pace and usually the length of the Saturday Stroll. Many riders ride with Slow Your Roll from Seeds Coffee in Homewood, Alabama every Sunday at 2:45pm.  Trample, which rolls every Thursday at 6:30PM from Redemptive Cycles, is also accessible to everyone. On these primarily social rides, it's not uncommon to see a kid and someone who could be their grandparent rolling side by side.
Mike Files – "Night riding is fun – fewer cars on the streets downtown at night. Riding in a group, I think, is safer as far as cars seeing you. Riding in a group is also fun – meeting new people."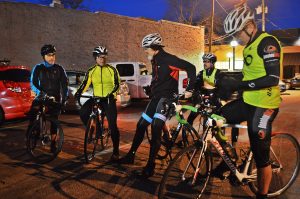 "Dirty Thursdays" is a regularly occurring nighttime trail ride at Oak Mountain State Park. The ride starts at the south trailhead at 5:30PM for a quick-paced loop.
For those that prefer the local streets and higher intensity, road rides are available on Tuesday nights from Pepper Place at 5:30PM and Bob's Bikes on Wednesdays at 6:00PM. On Thursdays there are two rides that aim to put the sting in your legs by tackling many of the local hills. The first leaves at 5:30PM from the Birmingham Botanical Gardens and is likely the better option for those who want somewhat more comfortable pace. The second leaves from Woodlawn Cycle Café at 5:30PM and is usually frequented by a small cohort that doesn't mind stomping on the pedals a bit, though they do wait up for stragglers at various points.
Amanda Rush – "We ride because it's the best mode of transportation. With lights and the right gear, it's no different from riding any other time of the year/day."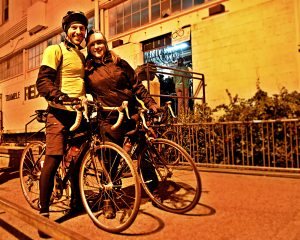 There's a group, specifically for women, called Black Girls Do Bike, a national organization with a Birmingham Chapter since August, 2015. According to Catina Passmore;
 The group consists of ladies who mountain bike, tour and a few who have commuted to work. Our rides are No Drop, no woman left behind, and though we aim to introduce cycling to black women, we're open to ALL  women. We primarily participate in road biking (year around) between the hours of 7 am and 9 am on Saturdays.  Our ride distance varies depending upon group concensus; usually between 15 and 50 miles. Hopefully with more participation we will resume our Wed evening rides after work in the spring.
Did we miss a regularly scheduled ride?  Please let us know on hello(@)bhamnow.com.  We're adding these to
Bham Now's calendar
so you can find them all easily.
Be safe and enjoy the ride!