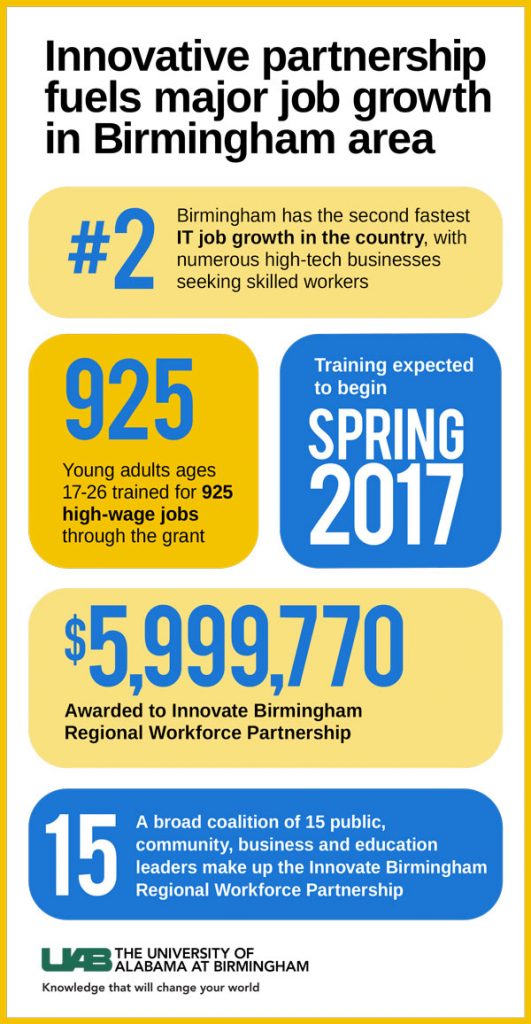 925 jobs. $6 million dollars. Birmingham definitely achieved a lot thanks to the America's Promise grants. The plan? To foster economic growth and offer better opportunities for young adults.
The U.S. Department of Labor Education and Training Administration's announced they will be granting $111 million in America's Promise grants to 23 recipients. The grants awarded will help connect young adults to tuition-free education as well as in-demand jobs.
Birmingham was awarded $5,999,770 to the Innovate Birmingham Regional Workforce Partnership. This coalition submitted a proposal that provides a plan for helping young adults gain industry-specific skills for Birmingham so they can obtain those high-paying jobs.
UAB will help lead this multi-faceted project. They plan to combine education, community service, and economic development for a well-rounded in-depth program.
Our partners all want to see young adults succeed, as well as our local economy's continued evolution as it grows and thrives," Carpenter said. "Preparing this grant submission was an inspiring team effort indicative of the collaborative work we will do together that will absolutely change lives and transform communities.

– Josh Carpenter, Director of External Affairs in the Office of the President at UAB
UAB's Josh Carpenter, Ph.D., will be the coordinator of the partners helping to train and equip these 925 young adults aged 17-26 in Birmingham. The Innovate Birmingham Regional Workforce Partnership will focus on the importance of information technology during training and development because of the high demand for this skill in the current workforce.
It'll be great to see the positive impact of investing in our local youth.