Nia Lewis, owner of A Dab of This and A Dab of That food truck, recently opened a vendor park called Dabb'N on 3rd, according to the Birmingham Business Journal.
The site, which was formerly a car dealership, allows local mobile vendors to set up and sell their goods alongside popular food trucks. The park opened this fall at 1040 3rd Avenue W. 35215.
More Than Food Trucks – an Everybody Park
"If you come out there today you'll see me and another food truck, but you'll also have somebody selling candles or somebody selling body oil or somebody selling lashes… Somebody said it's like a flea market, but I just call it an 'Everybody Park.'"

Nia Lewis, owner of Dabb'N on 3rd told the BBJ
The Details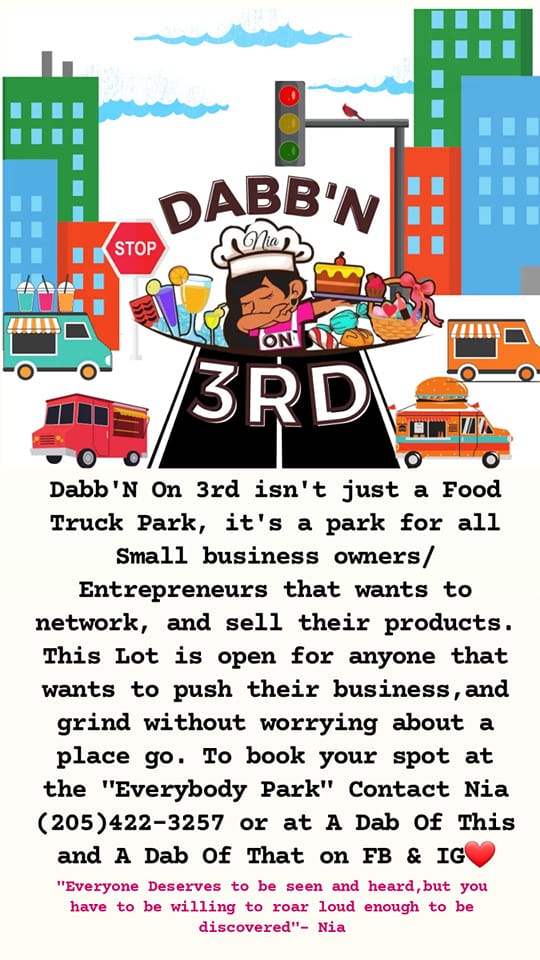 Additional details per the BBJ story:
The property is gated and equipped with security cameras, ample lighting and electrical outlets for vendor use, access to water and restrooms and all-night access
There is enough space to support and operate 15 to 20 vendors.
First time vendors are free. Vendors pay $50 each time afterwards
Learn More
Visit the Dabb'N on 3rd Facebook and Instagram pages to get all the details about the vendors and how to participate.
Make sure to follow Bham Now on Facebook, Instagram and sign up for our newsletter for future updates about Dabb'N on 3rd