Sponsored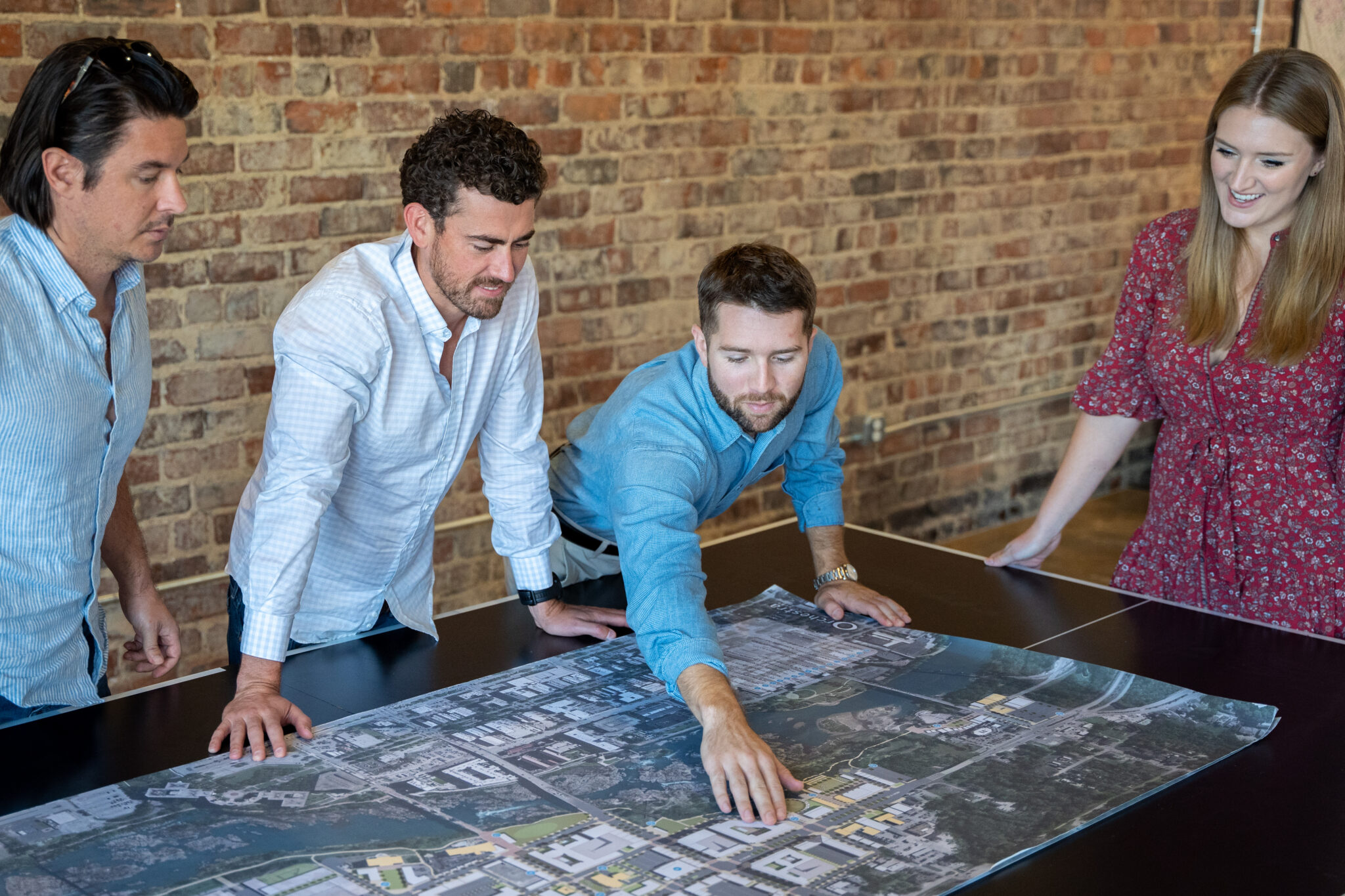 If you've ever seen construction downtown and wondered just how much went into the planning of new buildings and developments, you're not alone. I sat down with the team at Orchestra Partners, the redevelopment advisory firm responsible for developments like Mercantile on Morris, to learn more about what goes into vision planning and bringing downtowns to life.
Bringing new life to small towns + downtowns 👏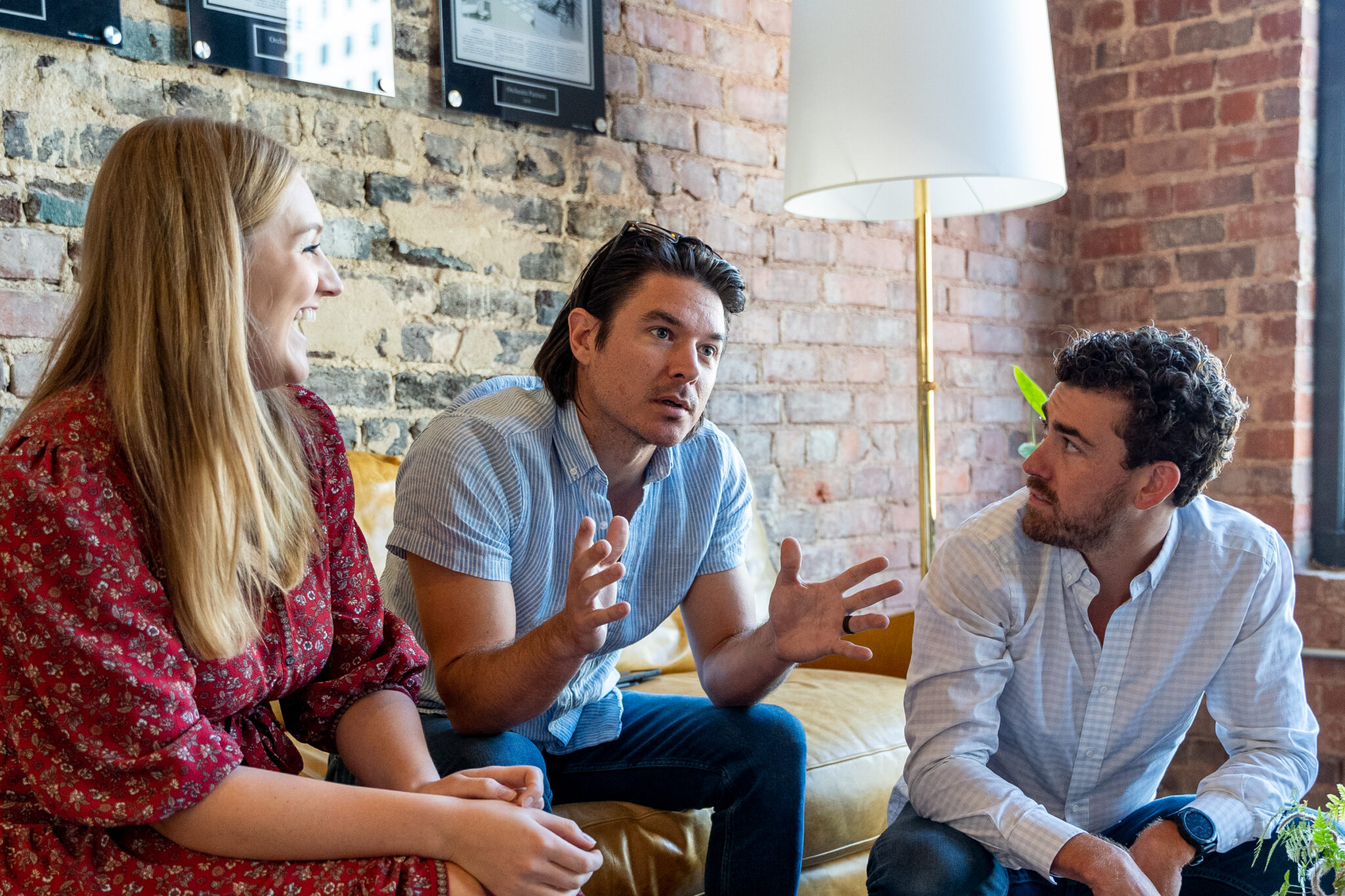 When I imagine a thriving downtown, I envision people walking around, popping into stores to buy locally-made goods and stopping for a sweet treat or cup of coffee, all while saying hello to the people they pass.
Thanks to suburbanization, online shopping and remote work, these bustling downtowns might be less common, but that's why Orchestra Partners is working to activate areas where people live, work and play.
When municipalities, local investors investors and stakeholders (from business owners to government agencies) want to reinvest in their downtowns, they can turn to Orchestra Partners—a local redevelopment advisory firm that specializes in creating a Vision Plan to bring towns and their communities together.
Even as online shopping grows and people have left their city centers, there's a need for connection—that's where Orchestra Partners and their Vision Plans come in.
What goes into a Vision Plan? 💡
Before any redevelopment begins, it's important for planners and investors to do a deep dive into the community—from its historical context to future plans. For Orchestra Partners, vision planning is an important part of that process.
A Vision Plan is a master redevelopment proposal for a city's downtown area, particularly one that's seen disinvestment over the years and might include underutilized properties, empty buildings or empty sites like parking lots.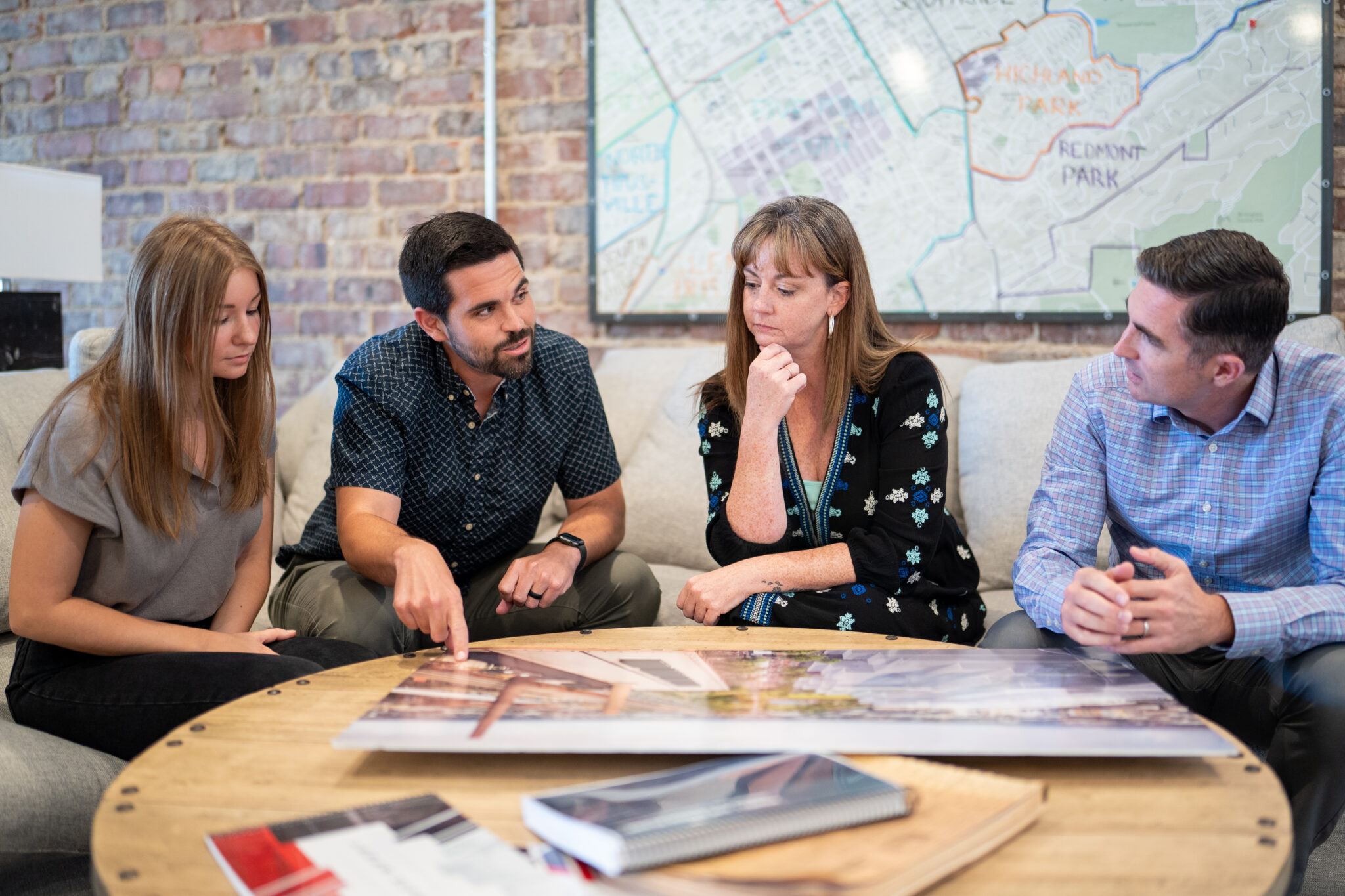 Here's how it works:
Orchestra Partners will meet with local government leaders, investors and stakeholders (from community members to property owners) to learn more about their community + their goals with redevelopment.
In the planning stages, they'll look at the historical context of an area, needs for specific buildings and other important details that only community members will know.
After plenty of research and meetings, the Orchestra Partners team will present a series of plans, including recommendations for construction and updates.
Orchestra Partners discusses the Vision Plan with the city and gets their feedback.
It's time to get to work revitalizing an underused space! To bring these plans to reality, Orchestra organizes a seed fund that invests local capital into the Vision Plan's projects.
FYI: Those spaces can be anything from a broad circle around a city's downtown to an intersection of a few blocks—sometimes, those spaces might be an unused mall!
"A Vision Plan is a master redevelopment proposal to reposition those properties or vacant buildings into viable and active urban uses."

Stone Ray, Lead Urban Designer, Orchestra Partners
"Turning vacant properties into viable + active urban areas"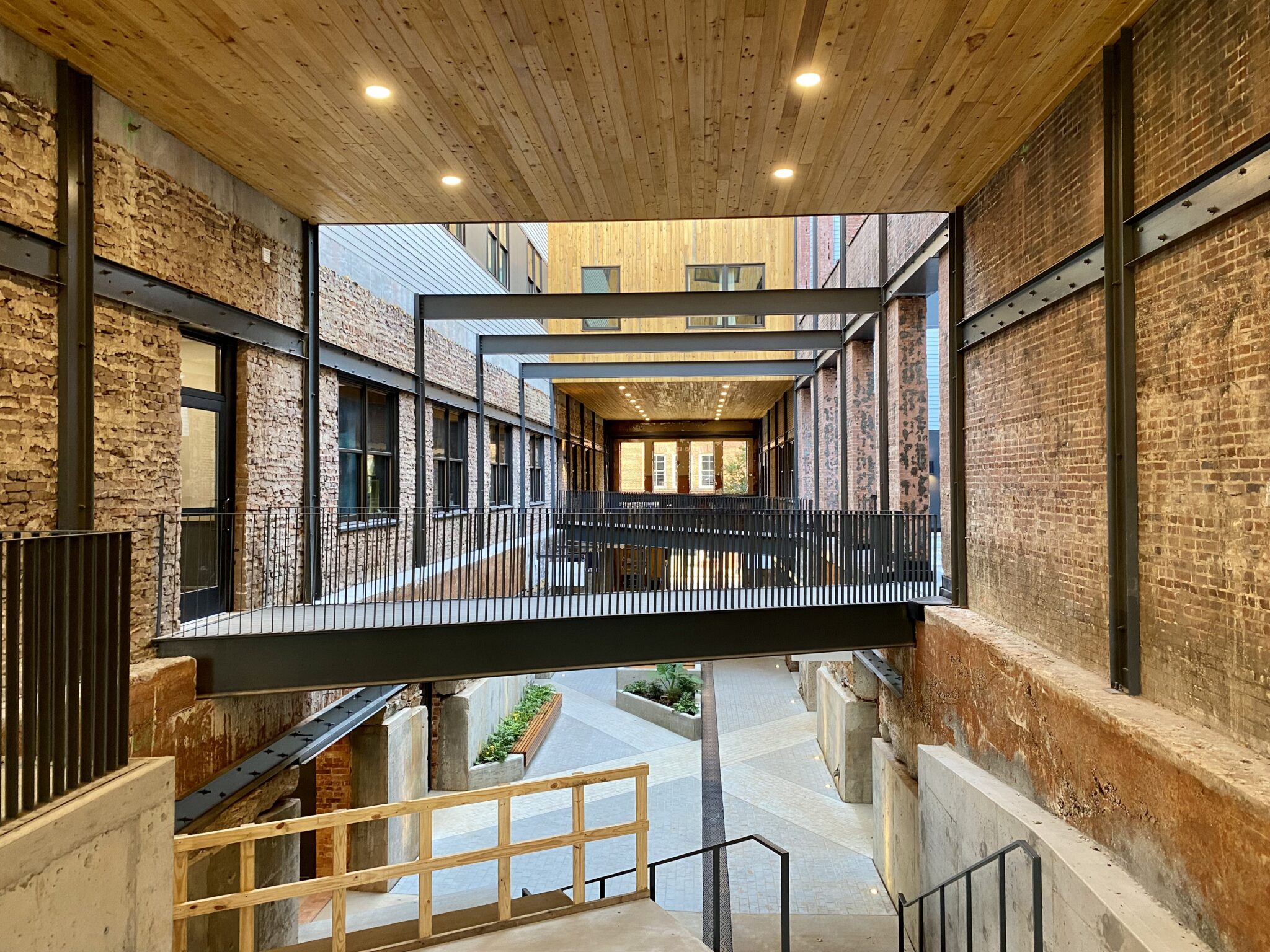 Want to see an example of how Orchestra Partners has turned an underutilized property into a vibrant space? Just head to Mercantile on Morris to see what I mean. You'll find spacious condos in the upper floors and a ground-level floor that encourages people to enjoy their time, including Pizza Grace, Cannella Gelato, Hide & Hunter, Lifelyles, Bridge + Root, Bar La Fete and even more.
These tenants all front a pedestrian-only plaza space that provides a strategic connection from First Avenue North to Morris Avenue.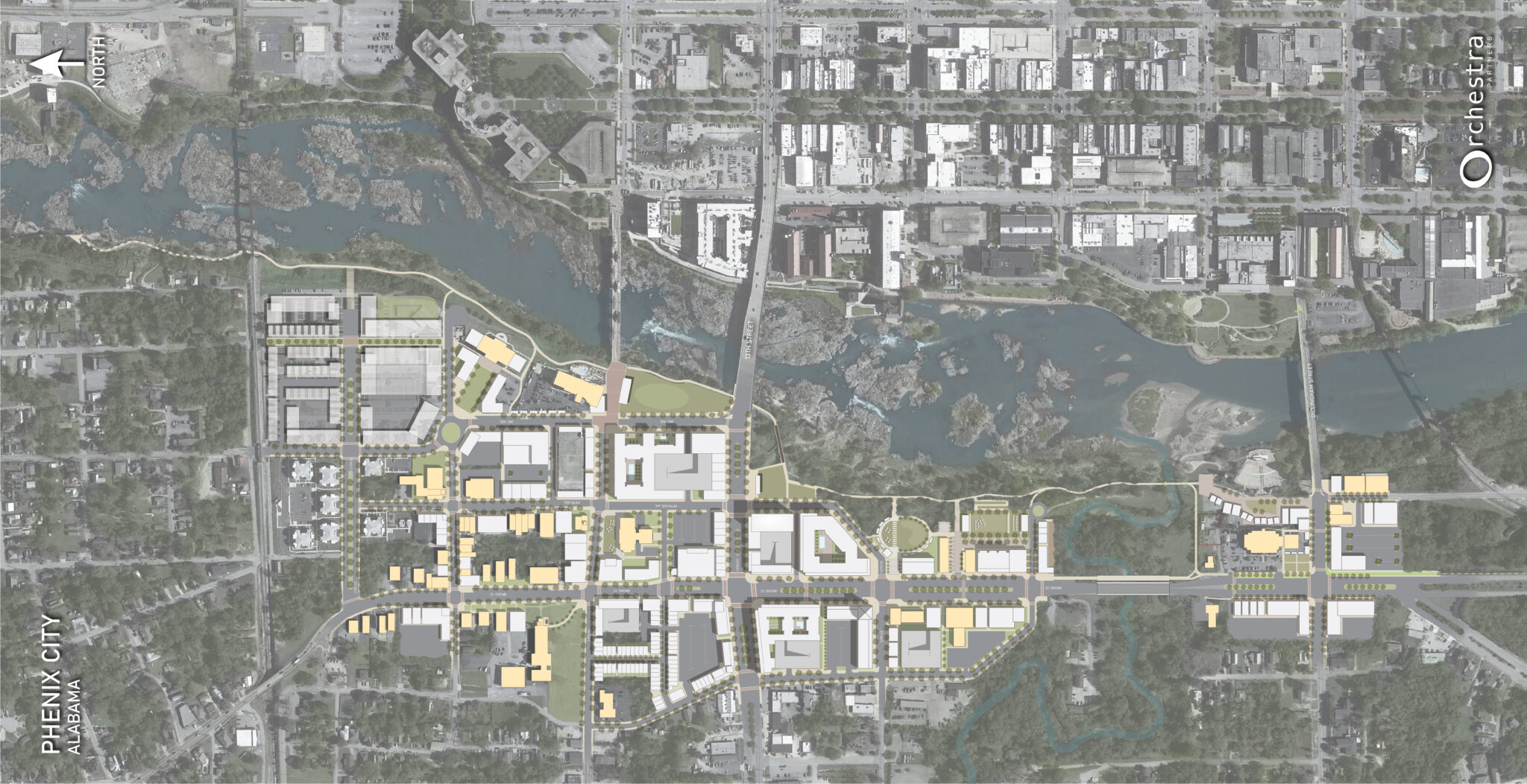 Downtown Birmingham isn't the only place where you can find Orchestra Partners' work, though. The team particularly specializes in bringing new life to small towns; Phenix City, located about three hours away from Birmingham, is one of the newest redevelopments Orchestra Partners will work with.
"Phenix City's Vision Plan involves a lot of new construction because what we're trying to do is to create urban space where there wasn't any to begin with. That includes buildings that are more than one story, are close to the sidewalk and make the street function like an outdoor room. These should make an interesting urban space for pedestrians to spend time in."

Stone Ray, Lead Urban Designer, Orchestra Partners
For Orchestra Partners' Vision Plan for Phenix City, the first recommendation is to extend streets to create a city grid and make the blocks shorter. Why does that matter? With shorter blocks, it's easier for pedestrians to navigate and activate those spaces.
"Most cities have some kind of comprehensive plan, but the plans aren't often actionable. At the end of the day, while our plan is a document and a series of drawings and texts, it's meant to unite those who wish to invest in the town and make those plans come to life."

Stone Ray, Lead Urban Designer, Orchestra Partners
Learn more about Orchestra Partners + their exciting projects by checking out their website, Facebook and Instagram. Plus, see if a career at Orchestra Partners might be right for you.
Sponsored by: