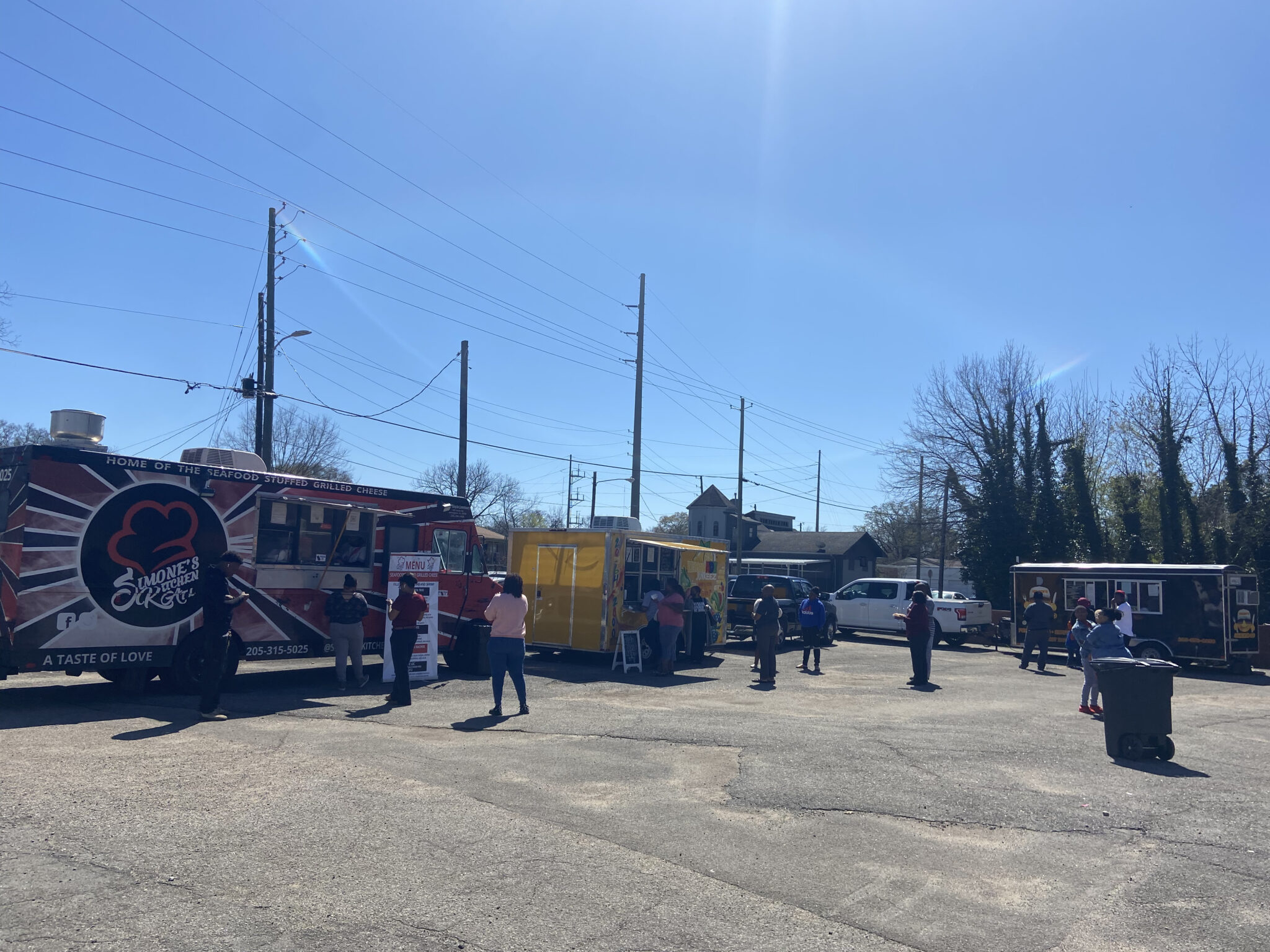 We wrote about West End Food Truck Park back in 2020 and learned all about how Bushleon Funeral Home is bringing delicious and healthy options to the West End community. 2 years later, the park is thriving and continuing to give back. Keep reading to learn more.
Bringing people together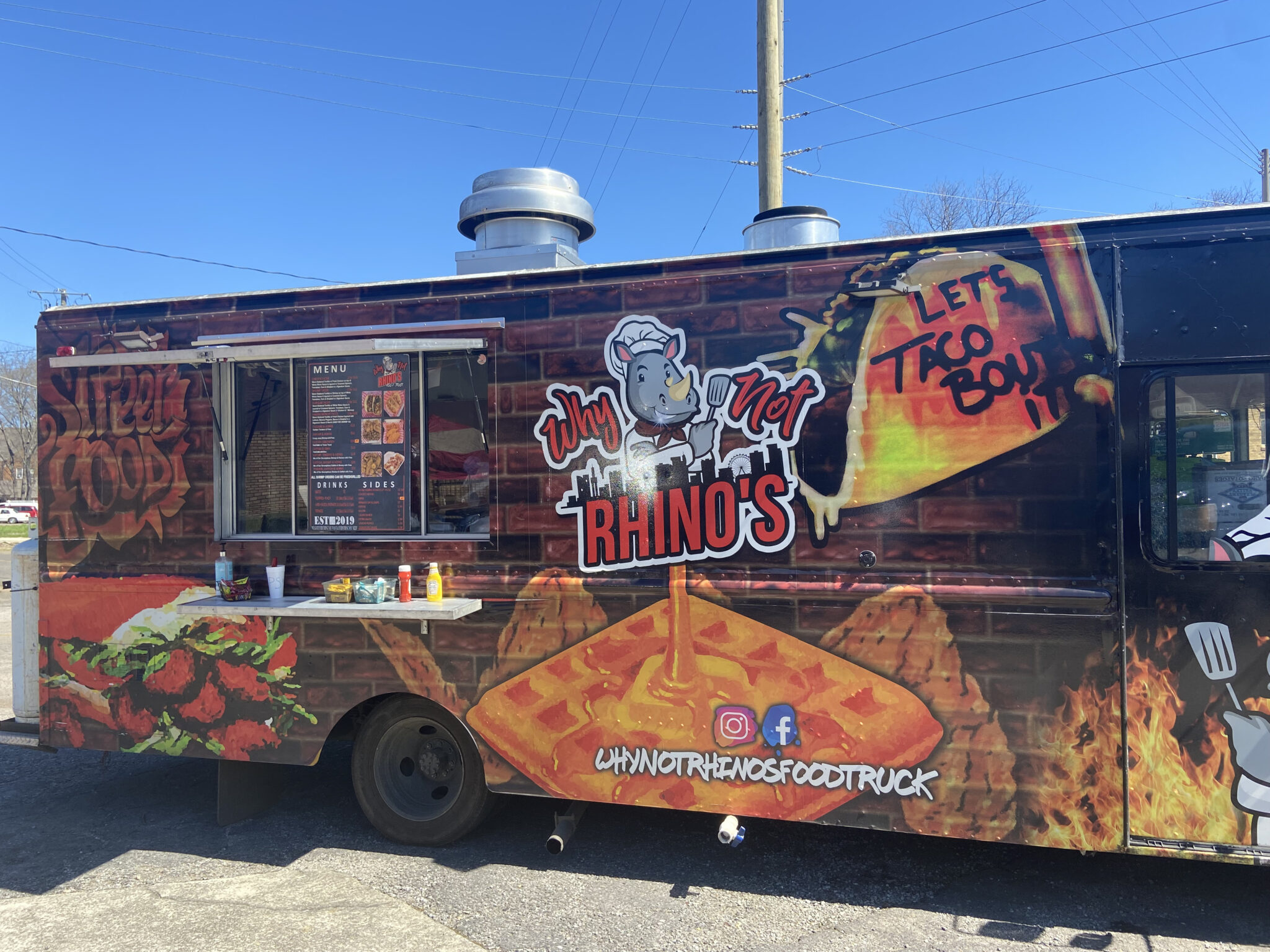 The West End Food Truck Park takes place every Thursday from 11AM-4PM at the Bushelon Funeral Home parking lot, with plenty of delicious food trucks to choose from. But the park is more than a place to stop for lunch, it's a place to gather for the community.
"Here in the West End area we don't have many places to eat. We have the fast food chains, Burger King and McDonalds, but we don't have a variety of healthy food. So we wanted to bring healthy foods to our area. I figured the quickest way to do that was a food truck park.

Now, we are providing something different, something healthy for our community, because we live in a food desert here."

Arlillian Bushleon, Founder, West End Food Truck Park
You may be wondering—why does the park take place in a funeral home parking lot?
Well, Bushelon Funeral Home has been in Arlillian's family for years.
Her father started the business and says it was once a pillar for the community. A place where civil rights leaders would meet, and for people to lean on each other when times got tough.
Arlillian's goal from the start has been to bring that sense of community back—and she definitely succeeded.
Over the past couple of years, the food truck park has grown exponentially. One popular food truck from the Park, A-Train Station, has now expanded to a brick-and-mortar location in West End. They even won a Nowie award for Best Food Truck!
Giving back to the community
Through proceeds earned in the food truck park, Arlillian has been able to uplift the community in many ways.
Faculty from Hemphill Elementary frequently visit the Park, and they've been able to build a partnership together.
The West End Food Truck Park was able to give a $6,000 check to the school, which went towards furnishing their technology lab and supporting their cheerleading squad that needed funding.
Additionally, they were able to donate to the United Negro College Fund (UNCF), which provides youth in the community the opportunity to attend historically Black colleges.
Most recently, the park has welcomed Dr. Celeste Reese-Willis, who provides J&J, Pfizer and Moderna COVID vaccinations for those who are looking to start the vaccination process. Plus, you can get your booster!
The park is already planning ahead for their next community initiative, partnering with a bank to bring financial literacy to the community.
"It's just been a snowball of blessings for everyone involved. Not only bringing food to the food desert but bringing education, health awareness and more to the community. We're just truly, truly happy with what's been going on."

Arlillian Bushleon
Try it for yourself!
After hearing all of these amazing things about the park, I had to go see it for myself.
Music was playing, the sun was shining and everybody was joinin' together for some good food. After perusing the options, Why Not Rhinos and their menu of tasty tacos caught my eye.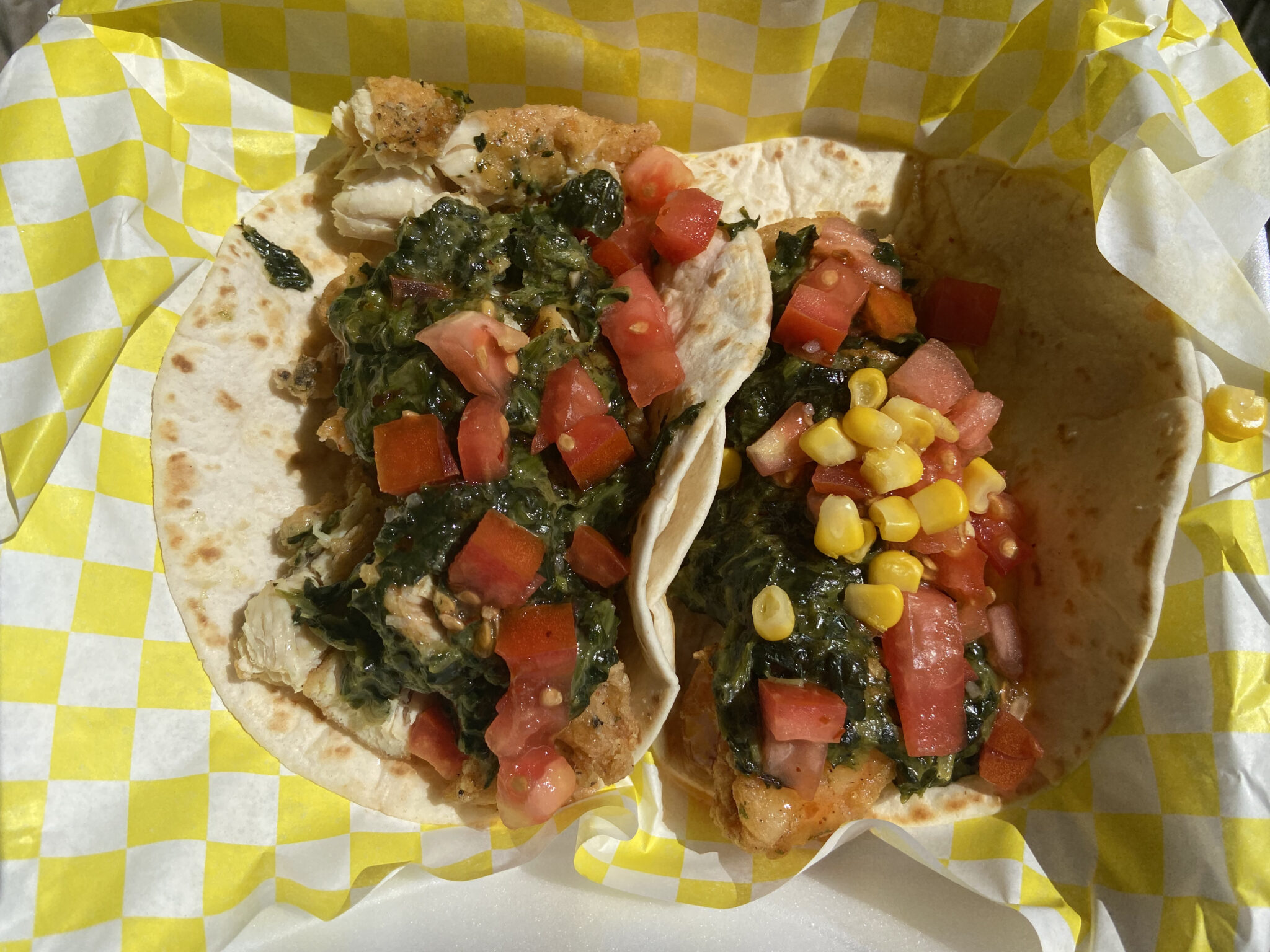 The deliciousness you're looking at above is their "Bi-Polar Tacos"—one shrimp and one chicken taco topped with white Rhino sauce, creamed spinach, tomatoes, corn all drizzled in a Thai Chili Pepper sauce. They were every bit as good as they sound (and look).
For dessert, I was finally able to try the candied grapes and lemonade from Terrific Treatz. Over at Bham Now we have heard all the buzz about candied grapes, so of course, I took the opportunity.
If you have a sweet tooth, you'll LOVE these grapes. They have a bunch of flavors like watermelon, peach and mango and they were the perfect treat on a sunny day.
So, what are you waiting for? Next Thursday, mark your calendars to visit the West End Food Truck Park. You won't be disappointed.
Would you like your food truck to join the party? Message the Park on Facebook.
For more news like this delivered straight to your inbox, sign up for our FREE daily newsletter.