Make way—an elephant is coming through🐘. Leslie Smukler and her crew found the original 2012 statue of the beloved elephant. See how you can help restore Miss Fancy to Avondale Park.
Meet Miss Fancy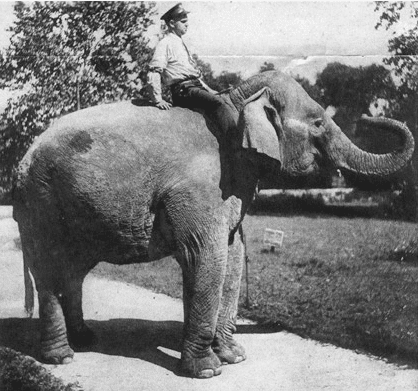 Avondale has little hints of Miss Fancy scattered across the city. From Avondale Brewing Company's elephant mascot to the lavish fancy mural behind Cookie Dough Magic, this elephant continues to be one of Birmingham's most whimsical icons.
Back when Birmingham's first public zoo was in Avondale Park, Birmingham acquired an Indian elephant in 1913 from a bankrupt New York circus. Her name was Miss Fancy. A small area of stone walls and benches still stands at Avondale Park; this area was Avondale Park's elephant enclosure.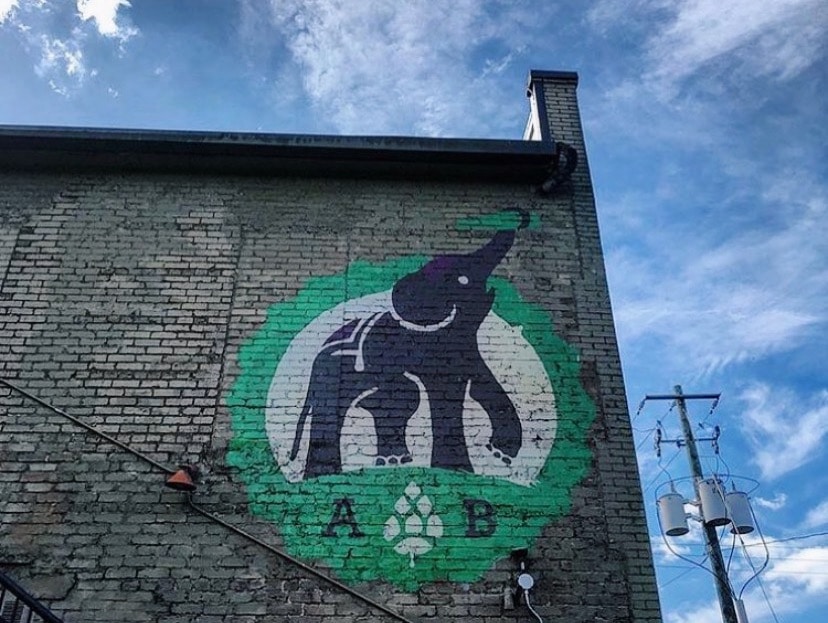 A relatively gentle pachyderm, Miss Fancy would let children ride on her back. She remembered visitors who fed her snacks and developed a deep bond with her trainer John Todd. Stories say that Miss Fancy mourned Todd's ten month departure for World War One and blew her trumpet gleefully when he returned.
Miss Fancy lived a storied life. Darker moments of her life reflect the racists segregation laws that prevented Black citizens from seeing her and her health and mental state fluctuating under captivity. Despite the turbulent times, she lived to be eighty-three years old.
Finding the elusive elephant
In 2012, Avondale Park erected a statue of Miss Fancy in honor of her time there. She was part fountain, spraying water from her trunk to welcome visitors in. However, a drunk driver ran her down in 2014. Since then, Miss Fancy disappeared from public knowledge.
A project for a new Miss Fancy is underway and is set for installation in November 2021. Local artist Nelson Grice is creating a Miss Fancy statue, cast in bronze, that will be eleven feet high. This Miss Fancy will greet visitors at the entrance of the park. If you want to make a contribution to this article or learn more about this project, contact The Friends of Avondale Park at info@avondalepark.org or the project fundraising chair bryancouncil@metromonitor.com.
While waiting for the new Miss Fancy statue to finish, Leslie Smukler started sleuthing to track down the elusive elephant. Her love for elephants grew from a trip to India, and she could not stop thinking about what condition Miss Fancy was fading away in.
I just started asking my friend Claire Parker from the Friends of Avondale Park [about Miss Fancy]. Each time I saw her I would ask, "did you ever find the elephant?" This went on for some years. Until one day last fall Claire called—someone spoke up casually claiming to know the whereabouts!

Leslie Smukler
Smukler and her friends did the unthinkable: they found the original damaged statue. Miss Fancy was tucked away in a remote storage room at Legion Field.
With approval from Birmingham Parks and Rec and the Friends of Avondale Park, Smukler and the crew finally got to reconnect with Miss Fancy. The statue looked in rough shape with a broken tusks and a few cracks.
Restoring Miss Fancy
Smukler's proposal to restore Miss Fancy will cost approximately $6,500. She is employing the help of her neighbor and longtime Avondale resident Mike Chiarito. Chiarito is a sculptor who will repair and build the metal base and stand for the statue.
We are so excited to bring the statue back to the park and all the levity and laughter it brought with her the first time. We hope she'll be a fun attraction for the kids and bring some life to the 40th St. side of Avondale park, where Miss Fancy originally lived.

Leslie Smukler
Since the original sculpture doubled as a fountain, the revitalized Miss Fancy will include a solar water feature with solar lighting. The replacement planned Miss Fancy will be installed at the entrance of the park while the OG Miss Fancy lives up the hill from the library.
You can help restore Miss Fancy to her former glory. Smukler is seeking any donation on her GoFundMe.
Donated materials are also welcome. This is what they are currently seeking:
Solar lighting and plumbing
Corten Steel
Concrete services
Hopefully, with everyone's help, she will be installed in Avondale Park by the end of this summer.
Share your love for Miss Fancy 🐘 with us on Facebook, Instagram and Twitter.