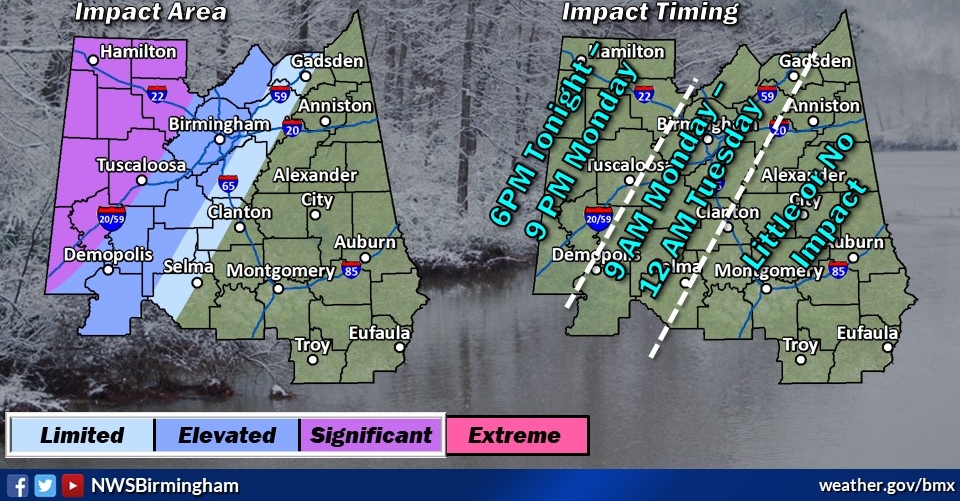 Birmingham metro residents may want to pick up a few batteries and extra non-perishable food items while they are out purchasing flowers and a card to celebrate Valentine's Day today.
As of 6:08AM, the National Weather Service Birmingham Office has issued Winter Weather Advisories for West Alabama, northwest Alabama and the Birmingham Metro area.
Creeping Ice Storm
According to NWS Birmingham maps, the long awaited ice storm creeps into west Alabama beginning around dinnertime at 6:00PM. A Winter Storm Warning has been issued in the NWS Birmingham area (check out NWS Huntsville & NWS Mobile if you live in their regions) impacting the communities of Demopolis, Tuscaloosa, Jasper and Hamilton.
It does look like it might be wise to celebrate that Valentine dinner a little bit earlier today in West Alabama. Perhaps brunch or an early afternoon tea.
Here is the Winter Storm Warning Map issued by NWS Birmingham at 5:41AM.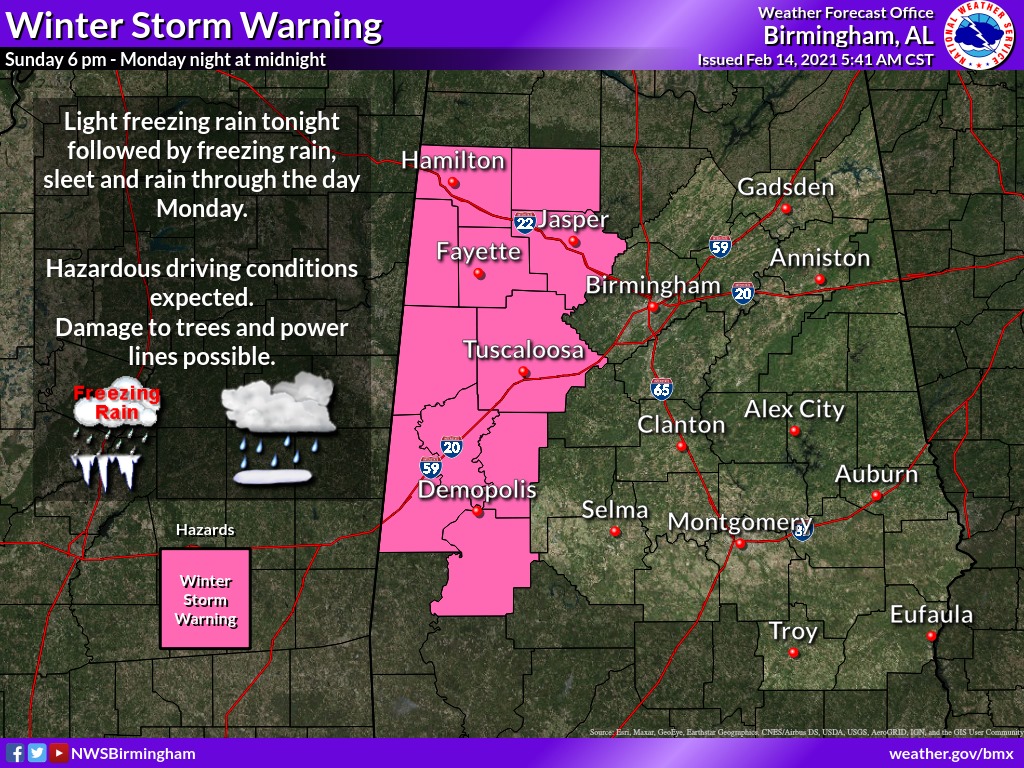 For the Birmingham metro area, we are under a Weather Storm Watch. The icing will occur later and perhaps not as severe, but as we all know, this is Alabama weather—forecasts can change on a dime.
Here is the NWS Birmingham Weather Storm Watch map.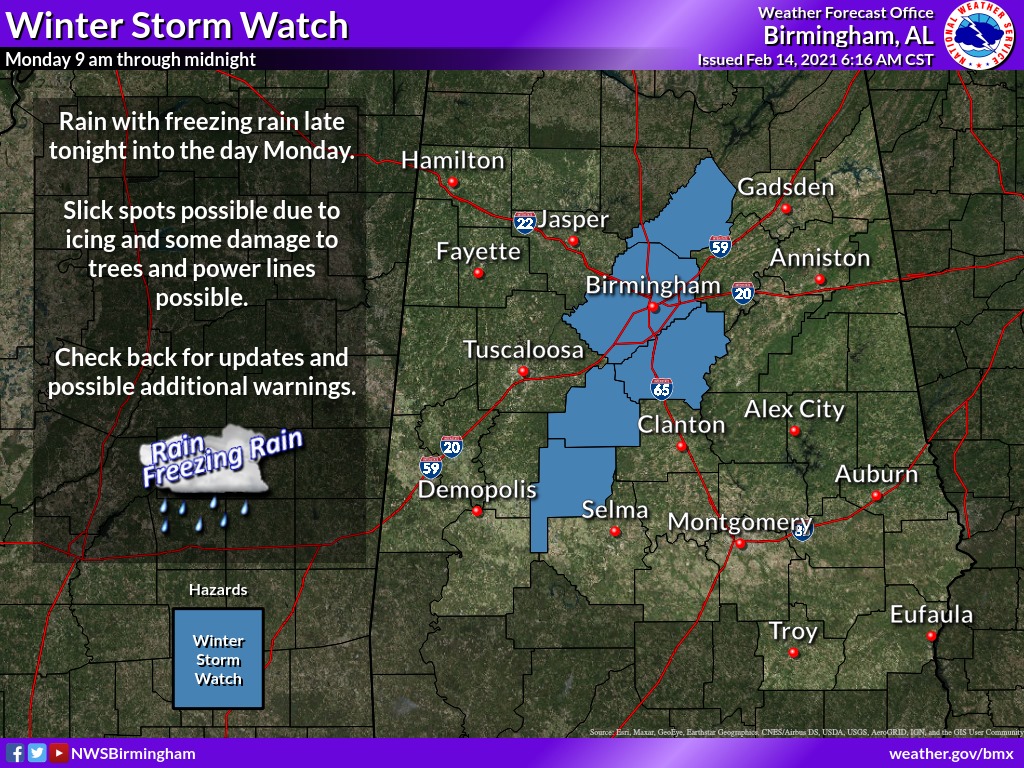 Be Prepared
Scanning social media, several of our local meteorologists have been encouraging Alabama residents to prepare for this winter storm which may cause prolonged power outages and hazardous driving conditions.
Here is a list checklist of action items they have posted:
Spend the day fully charging all your electronic devices – phones, laptops, tablets and other rechargeable batteries. Make sure you have extra batteries on hand for radios and flashlights.
Think about the needs in your household in case the power goes out for a few days. Do you have medication needs? Are your cooking appliances electric? Purchase foods that are ready-made without cooking.
If you have to drive, throw some blankets and extra coats, bottled water, flashlights, batteries and non-perishable snacks into the car. Fill up your tank.
Don't forget your pets.
Turn your refrigerator and freezer up to their coldest levels.
Listen to the travel/traffic reports on television. There was a big pile up this week in Dallas involving 100s of cars and causing a number of fatalities. A big pileup occured recently in Nashville late this week with just a light covering of ice on the interstate.
Keep Watch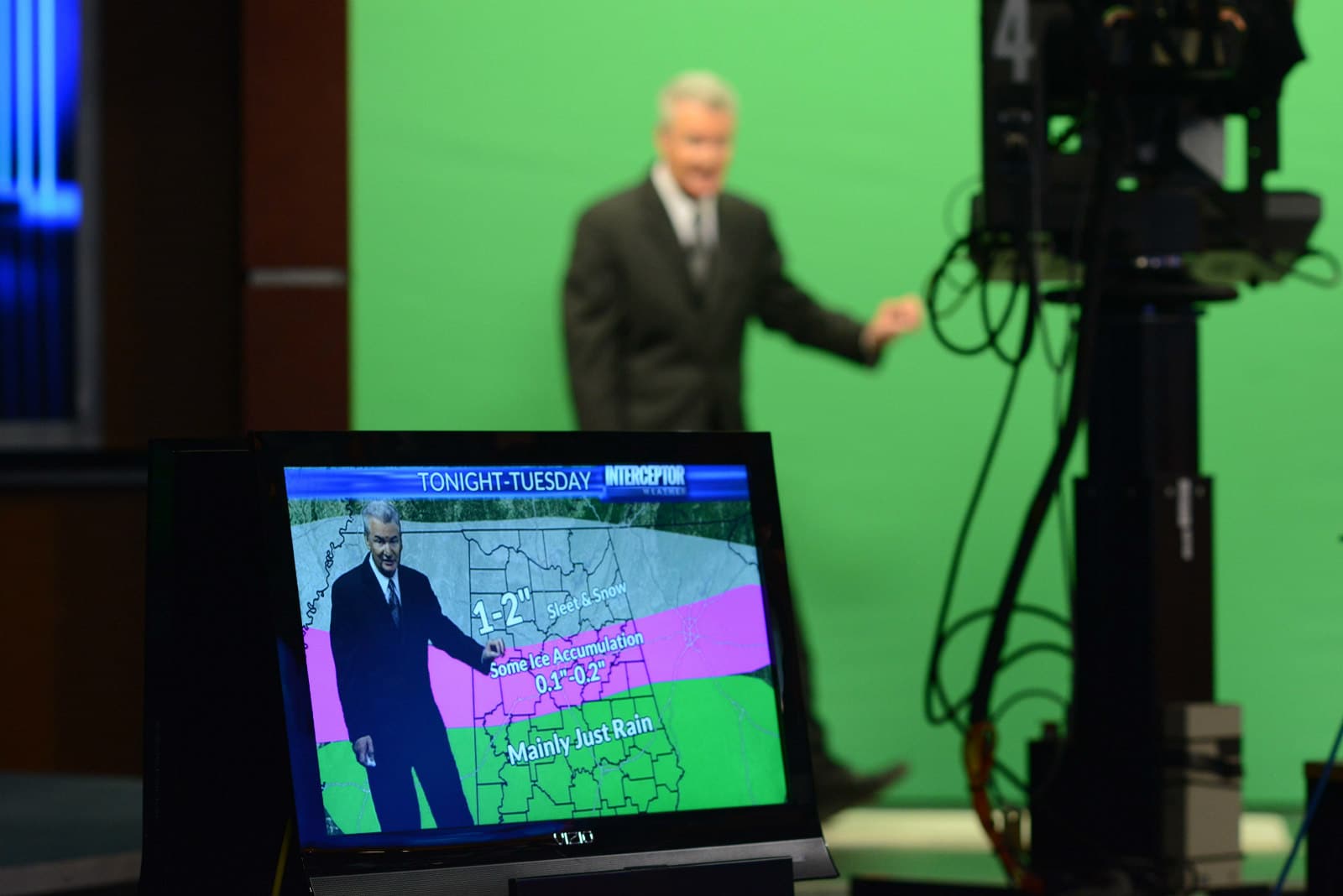 Celebrate Valentine's Day by keeping your loved ones safe.
Birmingham is blessed with incredible television weather forecasters and traffic reporters. We all have our favorites. Start tuning into them today on television and follow them on social media.
We also highly recommend following the NWS Birmingham on social media.