Sponsored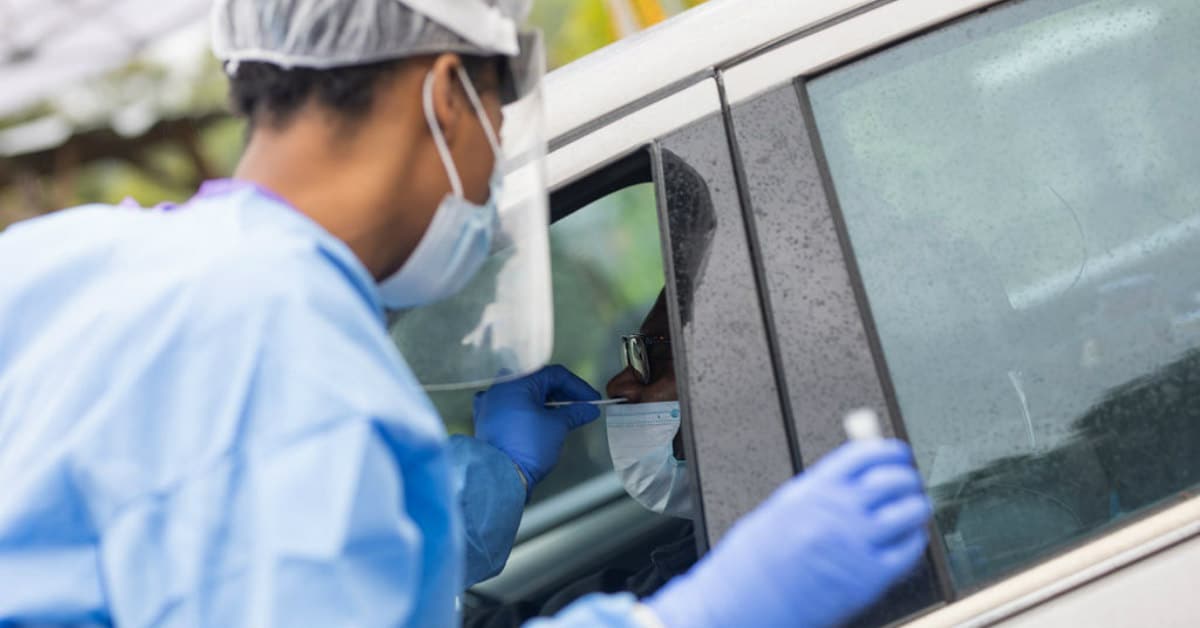 If you or someone you know needs to have a COVID test, never fear. Jefferson County, Live HealthSmart Alabama and UAB's Center for Minority Health and Health Disparities have teamed up to bring COVID testing to a neighborhood near you. Everyone is welcome. Hop over here to find a testing location and call (205) 975-2819 (CV19) to make an appointment.
The Challenge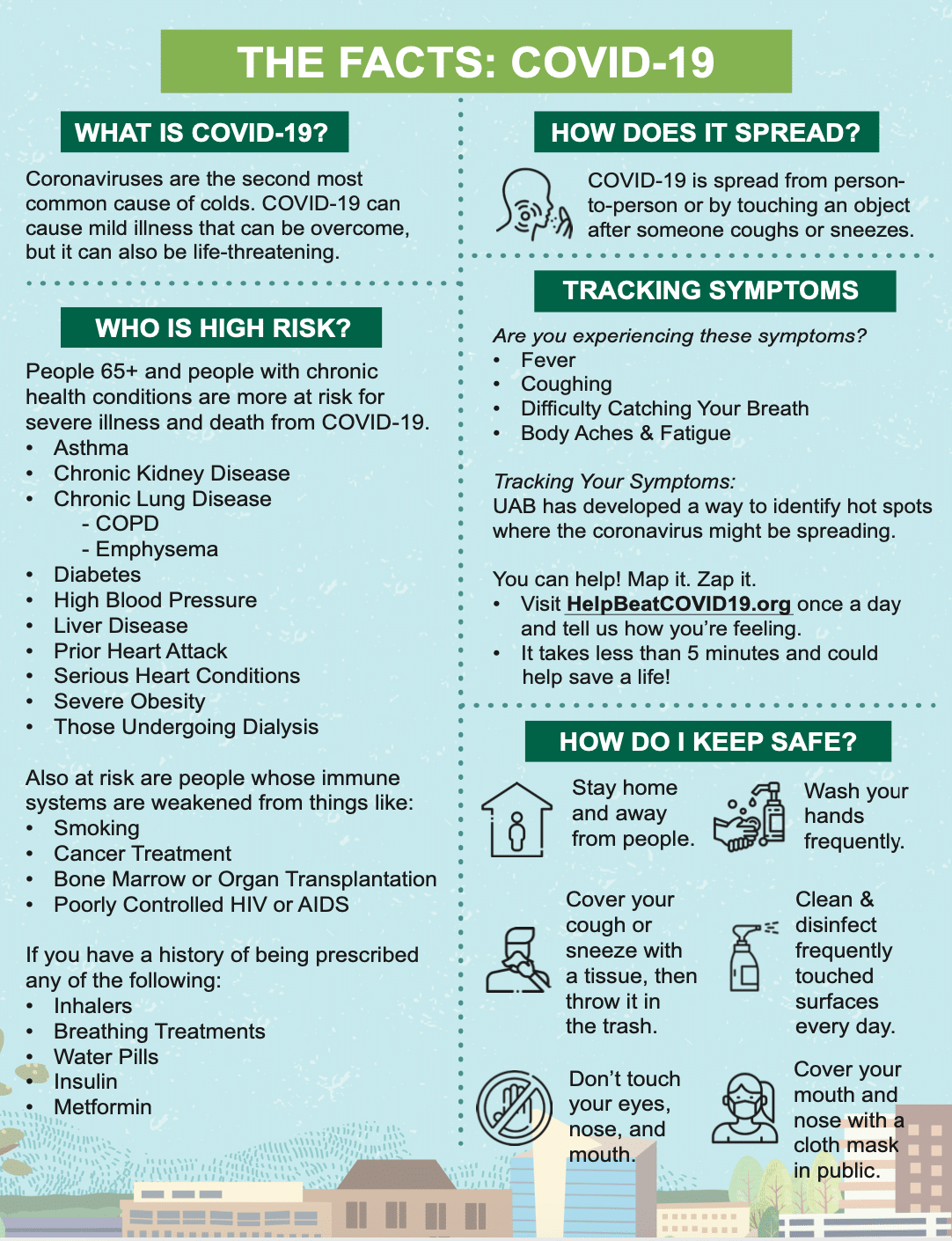 By now, everybody knows COVID-19 doesn't discriminate. Anybody can catch the virus. Doctors and public health experts have also figured out that some people are more vulnerable than others, including the elderly and those with particular preexisting health conditions.
It also turns out that entire communities are at greater risk: those of color. In fact, we addressed some of the issues the Hispanic community is facing with regard to COVID back in early August.
According to UAB's Center for Minority Research:
"Many of our neighbors face barriers to testing such as a lack of transportation, a physician referral, lack of health insurance or high deductible health plans. They often struggle to navigate the healthcare system to access both testing and appropriate follow-up care."
Three organizations are behind this community-based testing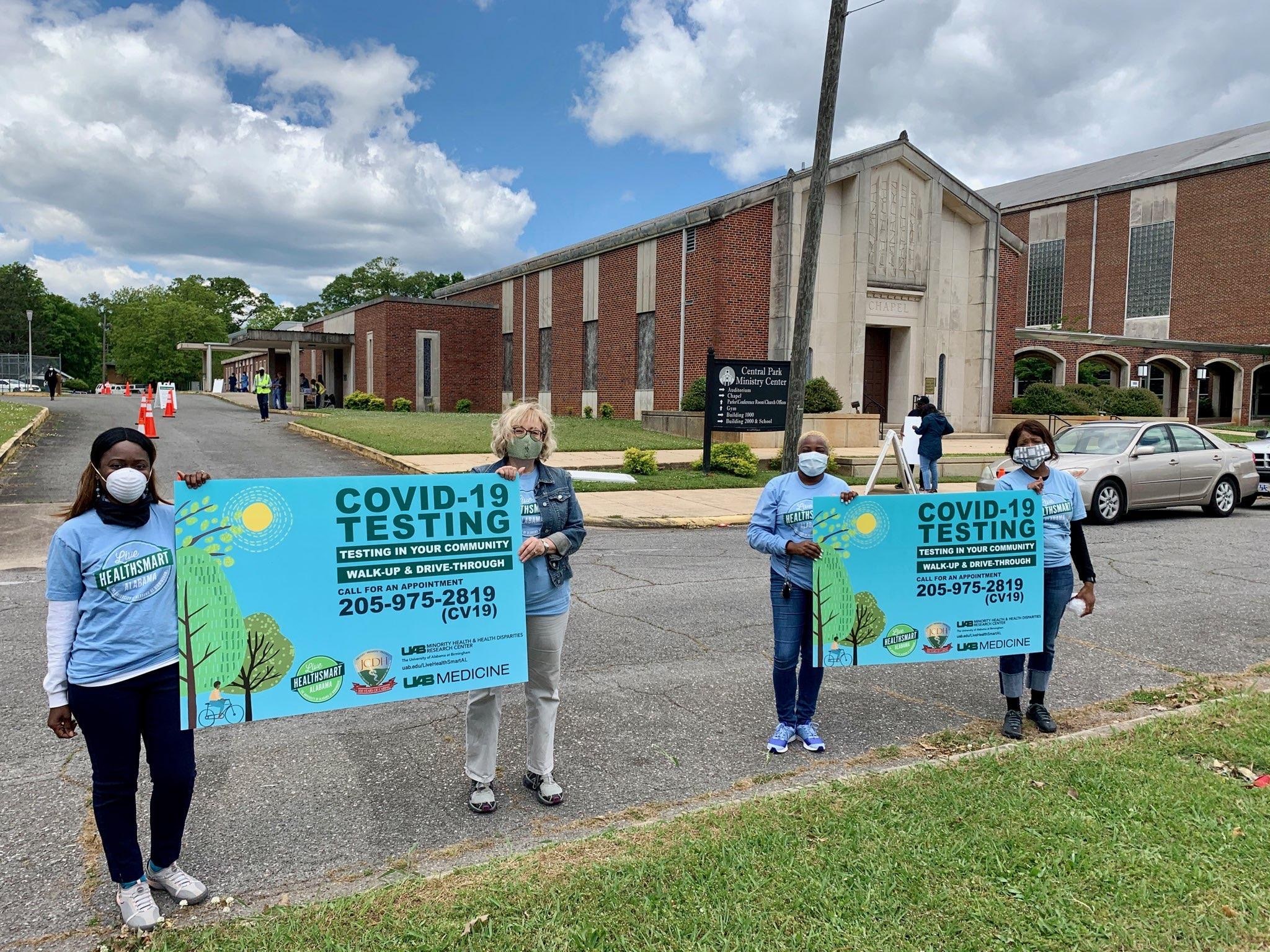 For the last 20 years, UAB's Minority Research Center has been working to eliminate health disparities. They have a strong team that has worked hard to build high-trust relationships in communities across the region.
Now, Live HealthSmart Alabama, in partnership with UAB Minority Health & Health Disparities Research Center and Jefferson County, is making COVID-19 testing more accessible by offering drive-through and walk-up testing sites in minority communities throughout Jefferson County.
"At the beginning, we wanted people to get tested. We did a lot of community engagement, and together with the Jefferson County Health Department Command Center, we started with simple messages. From yard signs to fliers, our goal was to spread awareness.

Then people started to come in for testing. We set up a call center just for community and mobile testing, and staffed it with people who had been working in communities for a long time.

Because of this, they're able to figure out if there's an unspoken issue such as fear, mistrust, lack of transportation or ID. Once they know what the issue is, they can help figure out a solution."

Dr. Mona Fouad, Founding Director, Minority Health & Health Disparities Research Center, UAB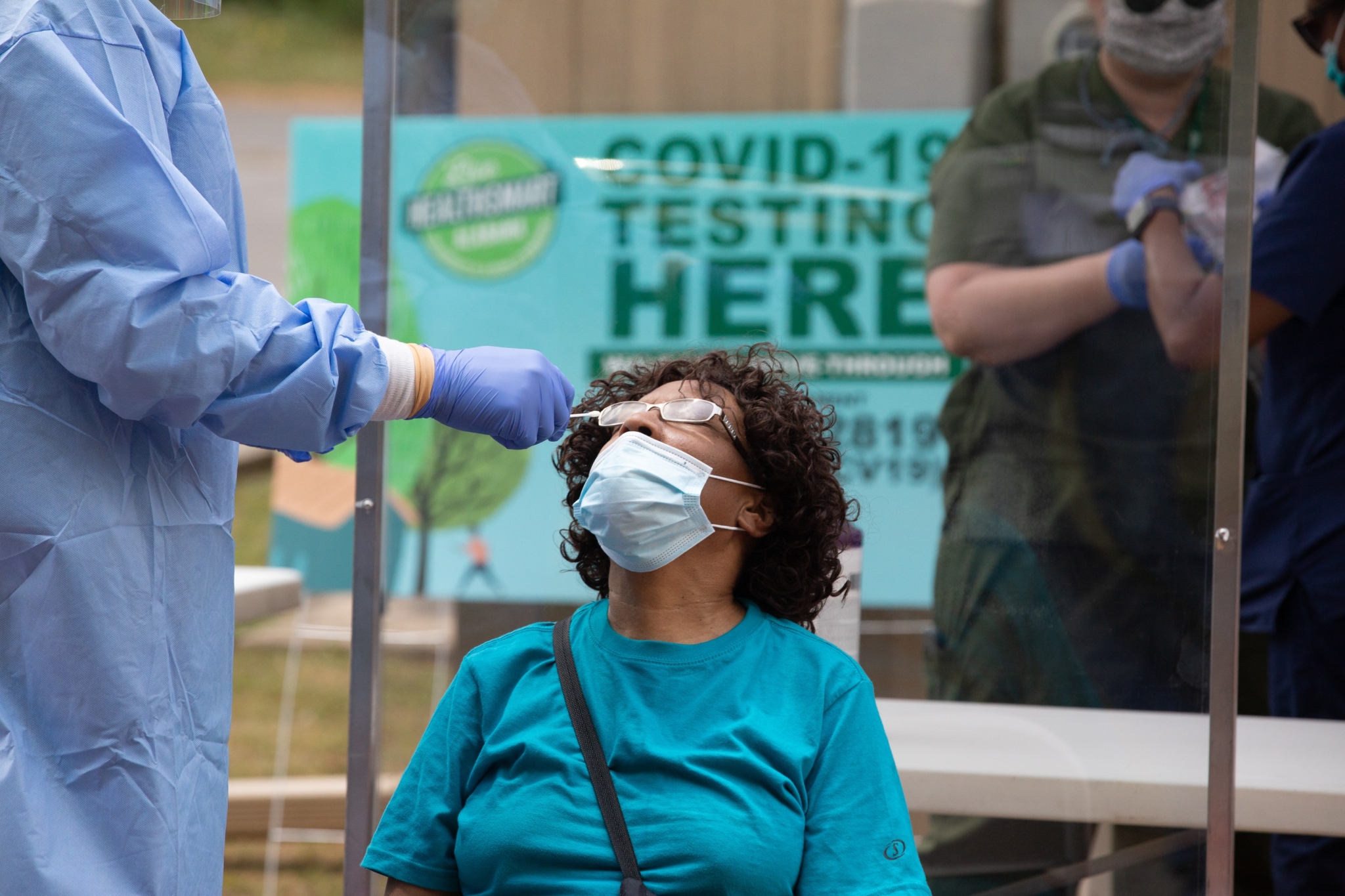 In order to make testing accessible, they're bringing it to where people are. In fact, if you're part of the City of Birmingham's COVID alerts system (Text BHMCOVID to 888777), you already get notices on your phone for mobile testing locations near you. That's all part and parcel of this project.
Hop over here to find a testing location and call (205) 975-2819 (CV19) to make an appointment today.
Who can get a COVID test
Absolutely anyone can get a COVID test at these locations. You don't have to meet certain criteria. You just have to call (205) 975-2819 (CV19). Why? They need to make sure your test results go to the right person.
How to sign up + get answers to all your questions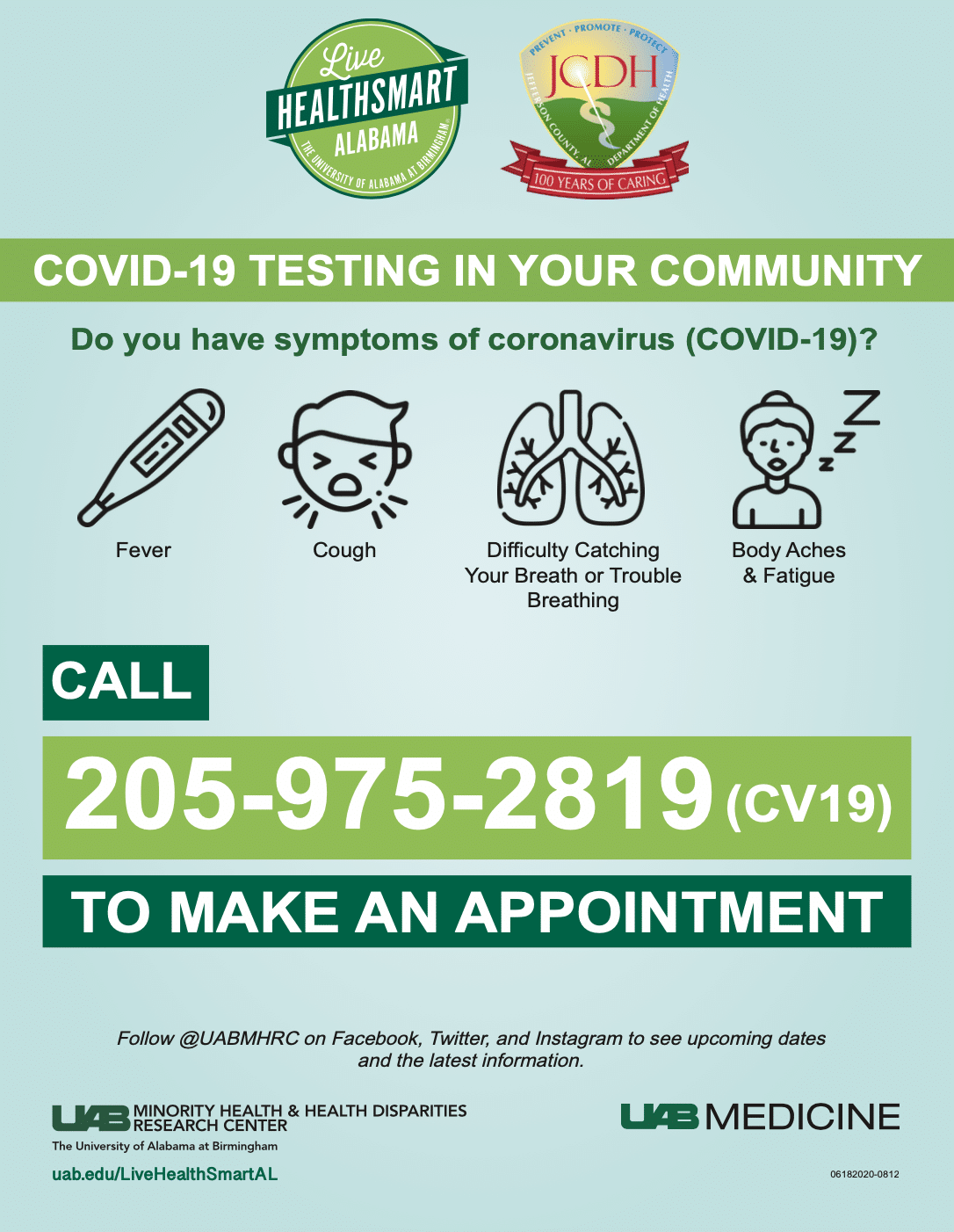 When you call to make an appointment, you'll likely leave a message and get a call back from a Patient Navigator. These Navigators are culturally sensitive, trained people who live in these or similar communities.
Some of them speak Spanish, some English, and they can help callers overcome any barriers to testing. They can also address any fears, frustrations, myths or misconceptions residents may have with regard to COVID testing.
Upcoming testing locations
Faith Chapel & Love Fellowship Christian Center

Wednesday, September 30
Thursday, October 1
Friday, October 2

Love Fellowship Christian Center

Monday, October 5
Tuesday, October 6

Mt. Canaan Full Gospel Church

Monday, October 19
Tuesday, October 20

Our Lady of Fatima Catholic Church

Wednesday, October 21
Thursday, October 22
Check here for more details on testing locations and times and call (205) 975-CV19.
What to expect when you get to your testing location
Unlike the more invasive test you may have had or heard of, these tests are quick, easy and relatively discomfort-free. The test is a simple swab in each nostril.
Results are available within 24-48 hours, delivered via phone by a trained Patient Navigator.
Sponsored by: