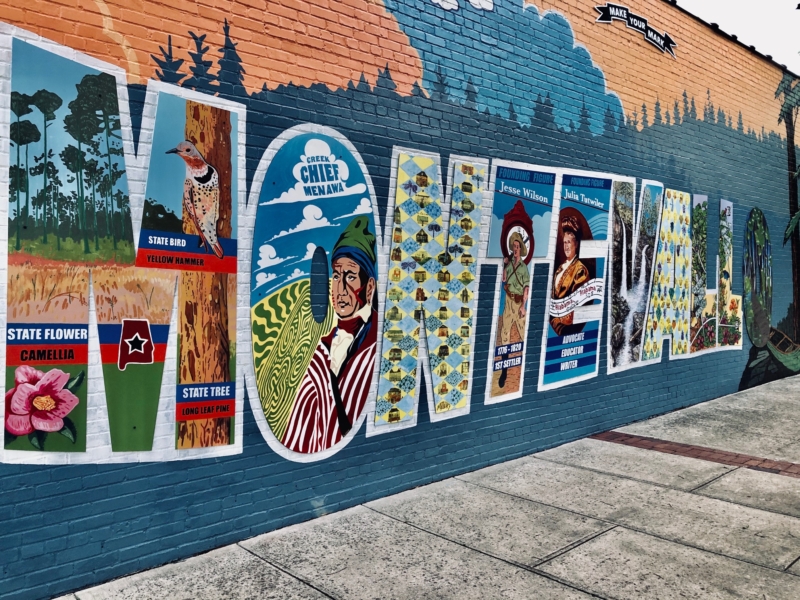 If you ever get a chance to visit the city of Montevallo, the college town about 35 miles south of Birmingham, checkout their colorful array of murals.
According to Montevallo Mayor Hollie Cost, the city's love of murals started a few years ago at one of the more unlikely places… a recycling center.
A bit of an eyesore (aren't most recycling centers), Montevallo art professor Collin Williams took on the task of transforming the site through public art. It was a huge success.
Building off that accomplishment, Williams and Cost collaborated on pulling together a mural camp for students from 5th grade to 12th grade. Local Montevallo students mentored the budding artists.
Their first project was the Nurture Nature mural on the side of the Subway facing a busy McDonald's parking lot. Aside from catching people's attention it educates folks about nature in and around Montevallo. Murals with a message is a trademark of Professor Williams' workshops and efforts.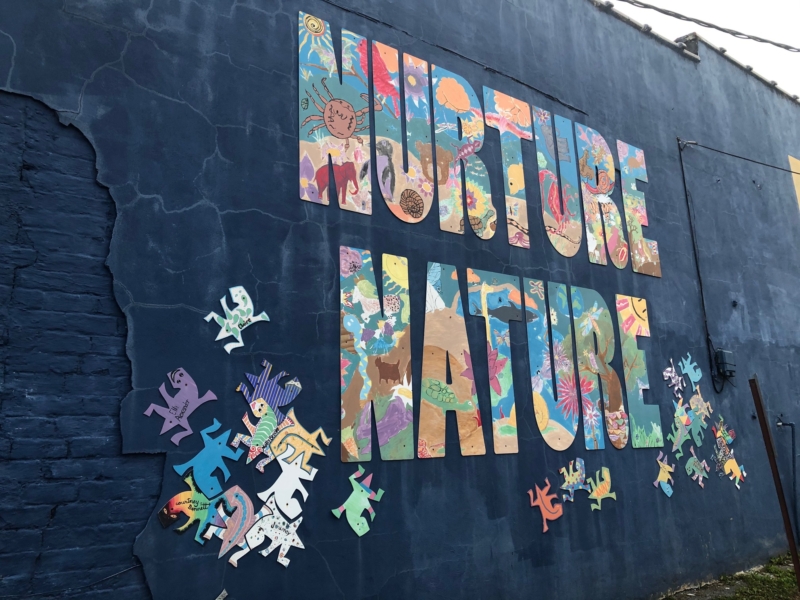 Town of Murals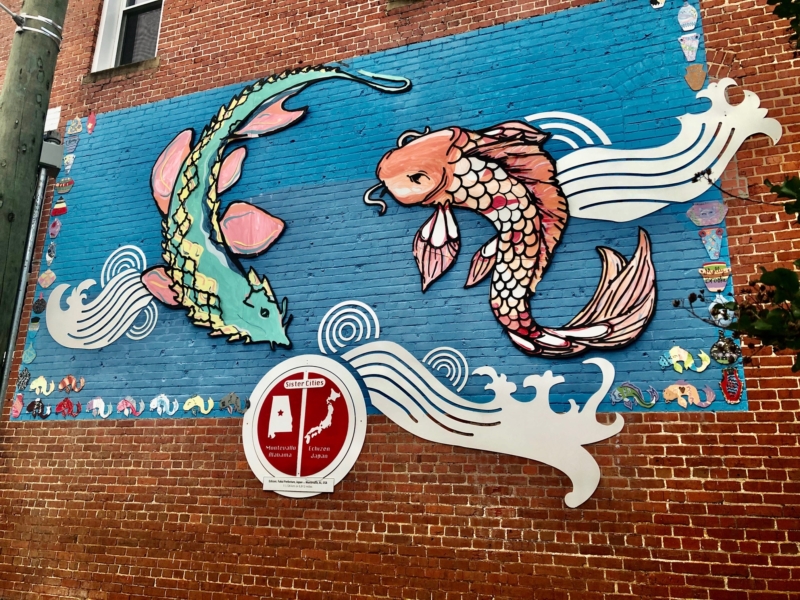 In May, I took the opportunity to visit the town. Besides the murals, you have the beautiful University of Montevallo campus, Orr Park and just outside downtown American Village, the Alabama National Cemetery and Ebenezer Swamp.  Be mindful, some of the places are not open because of COVID-19. Check ahead.
Back to murals – they are everywhere around town.
They include:
Mural depicting the relationship between Montevallo and their Japanese sister city
Mural on the side of a barbershop highlighting Monevallo's history
Murals at the Community Gardens, and the outdoor classroom by Ebenezer Swamp
New murals at the gateway of the city on the side of the new Slice, a dental office and Food Market. The artist is Birmingham's own Marcus Fetch.
According to Cost, there are also two inside the elementary school and middle
The Newest Mural – Move over Austin, Texas
The latest mural in town was unveiled just before the COVID-19 health crisis hit.
Playing off the infamous Austin, Texas tourist destination sign, Montevallo, with the help of the University of Alabama Center of Economic was chosen to develop its own iconic town sign.
A community wide project, five local artists paired up with local educational organizations and Main Street. They cut the ribbon on the project in March.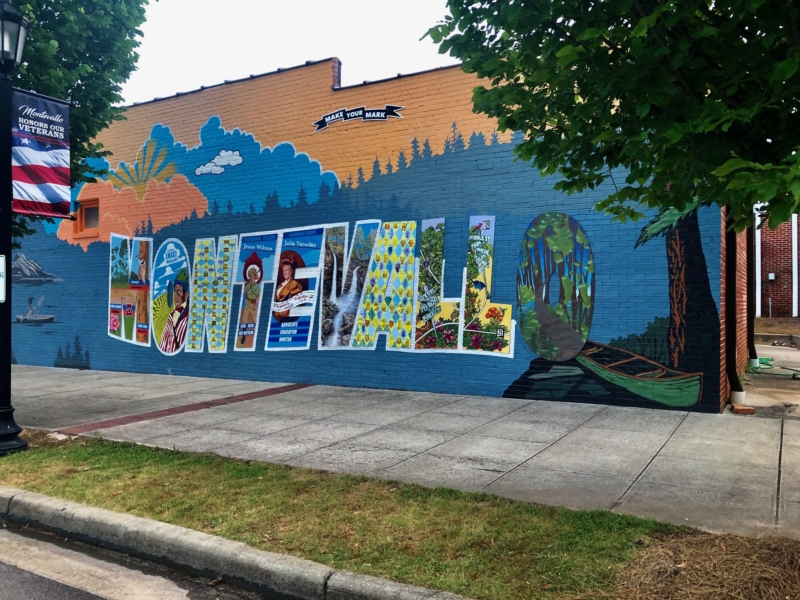 Why Murals Matter
Murals build community and make them vibrant.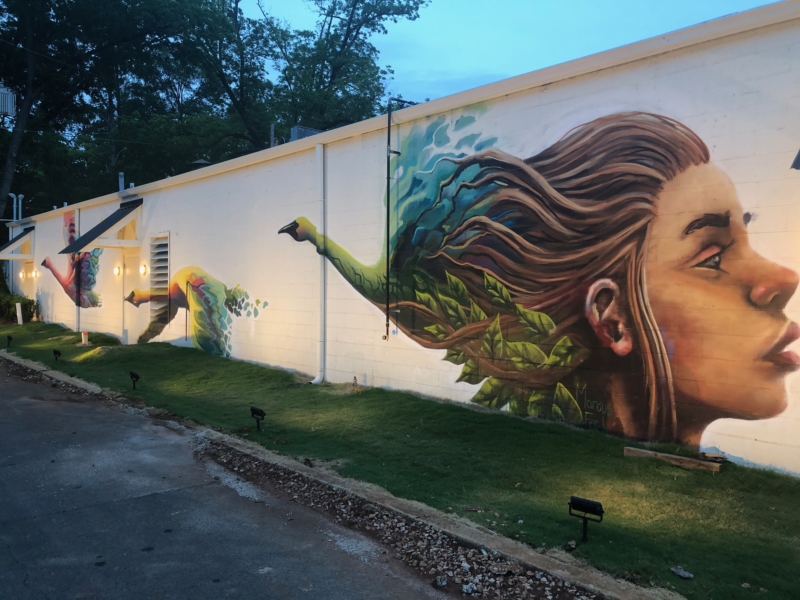 Mayor Cost summed it up best:
"I believe it (the murals) is a way to unite our passions in the community. It speaks to the spirit of inclusion that we have.  We bring everybody together over this common element. People may have different ideas, but everyone embraces it.  Everyone enjoys it equally. It sends a real message of who we really are. Everyone of them tells a story about Montevallo.  And that is what makes it special."