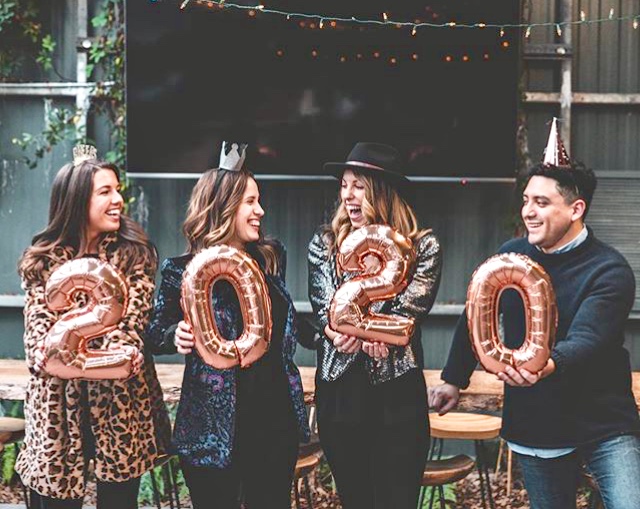 What's on the agenda this weekend, December 27-29? Find out below! Plus, discover some of the best parties and events taking place on New Year's Eve in Birmingham.
---
Featured Events
Find Your 2020 Home
Hoping to move to a new home in the coming year? What better way than checking out these open houses taking place the last weekend of 2019!
Encore, Encore!
Enjoy a special New Year's Eve concert with the Alabama Symphony Orchestra in Cheers! The New Year's Eve Concert. Conductor Christopher Confessore takes you along a joyous musical journey of waltzes, polkas and marches by Johann Strauss II and dance-inspired music from around the world. Tickets.
Celebrate in the GARTENBAR
We were all excited when Brat Brot reopened this year. Now help them party into the new year during their Saint Silvester's 2020 Euro Bash. Expect: a discotheque with DJ Coco and The Bham DJ, a free champagne toast at midnight and Feuerzangenbowle (double high fives if you know what that is!). Party throws down on Tuesday, December 31 from 6PM-1AM. Learn more.
Roar into the 20s
Slip into those flapper dresses, snap those suspenders and prepare to party 1920s at Iron City's Roaring 20s New Year's Eve Party. This is one of the biggest NYE parties happening in the Magic City, so grab your tickets now. Don't worry, prohibition will not be enforced! The celebration begins at 9PM.
Swing in the New Year
Where can you enjoy Topgolf game play, mouth-watering food, live entertainment and a fireworks show? At Topgolf Birmingham during their Glow All Out New Year's Eve 2020 celebration. Bays are selling out quick! Reserve now. Get glowy on Tuesday, December 31 from 9PM-1AM.
Start Your New Year Off Right
If you like a good party and football, take part in the Uptown Street Fest and Pep Rally on January 1 and the 14th annual TicketSmarter Birmingham Bowl on January 2. Live music, great food and drinks and much more. Tickets here.
Step Away From the Kitchen!
Christmas is over. Who has the energy to cook? Order from Waitr now-December 31 and receive FREE delivery. Use discount code BHAMNOW to score the deal!
Prep For New Year's Eve
Find the perfect outfit, confirm the ultimate babysitter and plan an amazing NYE in Birmingham. Party guide.
Glide on Birmingham
There's still time to enjoy the ice skating rink and ice slide at Brrrmingham's Winter Adventure in Railroad Park. The fun continues until January 5! Tickets.
All Weekend Long—December 27-29
It's a Wonderful Life: Live @ Terrific New Theatre. Fri. 7:30-9PM, Sat. 2:30-4PM & 7:30-9PM, Sun. 2:30-4PM. $30. Tickets.

Shadrack's Christmas Wonderland @ Birmingham Race Course. 6-10PM. $25+. Tickets.
Friday and Saturday—December 27-28
Karaoke @ Brown Derby. 8:30-11:45PM. 21+.
Friday—December 27
The Black Jacket Symphony Presents Purple Rain @ Iron City. 8-11PM. $30-$35. Tickets.

4th Annual New Year's Weekend Celebration Featuring Charlie Wilson @ The BJCC. $48.75-$125. Tickets.

DJ Charles the III Summer of 98 Dance Party @ Saturn. 9PM-1:30AM. FREE.
Saturday—December 28
Resolution Run @ Red Mountain Park. 8-11AM. $20. Register.

Moscow Ballet's Great Russian Nutcracker @ Alabama Theatre. 3PM. $29-$79. Tickets.

Loft Show @ MAKEbhm. 7PM. $7.

Christmas Serve Day @ Kelly Ingram Park. 8:30-11:30AM.

Adrenaline EDM Dance Party @ Saturn. 9PM-1:30AM. 18+. $5. Tickets.

RLB's NYE 2020 – Last Rumba of This Decade @ Rumba Latina Birmingham. 10PM-2AM.

Polymorph Bodyshop Extravaganza & Film Night @ East Village Arts of Birmingham. 7-10PM.

Goodwill, Good Will, Low Frequency Buzz, Ferocious Bubbles & Kate Taylor @ The Nick. 10PM. 21+. $10. Tickets.

Storytime: Giraffes Can't Dance @ Books-A-Million (Brookwood Village). 11AM.

Dream Nights with Sam Star @ Al's On Seventh. 11PM-2AM.

Results of Adults, People Years Dirty Lungs and Olympic Swindle @ The Nick. 10PM. 21+. $10. Tickets.

Automatic Slim Blues Band LIVE @ Black Market Bar & Grill (5 Points South). 9PM-Midnight. 21+. $5.
Sunday—December 29
Sober Sunday Tastings @ LeNell's Beverage Boutique. Noon-9PM.

Jackson Walls Duo Sunday Brunch @ Avondale Common House. 11AM-3PM.

Pokemon – League Challenge @ Card Addicts. 1-5:30PM. $10.
---
Upcoming Events
Dec. 31: Cheers! The New Year's Eve Concert @ UAB's Alys Stephens Center – Jemison Concert Hall. 6PM. $18+. Tickets.
Dec. 31: Saint Silvester's 2020 Euro Bash@ Brat Brot GARTENBAR. 6PM-1AM. 21+. $5.
Dec. 31: Iron City Roaring 20s New Year's Eve Party @ Iron City. 9PM. $75-$125. Tickets.
Dec. 31: New Year's Eve Party @ Topgolf Birmingham. 9PM-1AM. $240-$420. Tickets.
Jan. 1: Uptown Street Fest + Pep Rally @ Richard Arrington Jr. Blvd. N. 1-6PM. FREE.
Jan. 2: 14th Annual TicketSmarter Birmingham Bowl @ Legion Field. 2-6PM. $30-$50. Tickets.