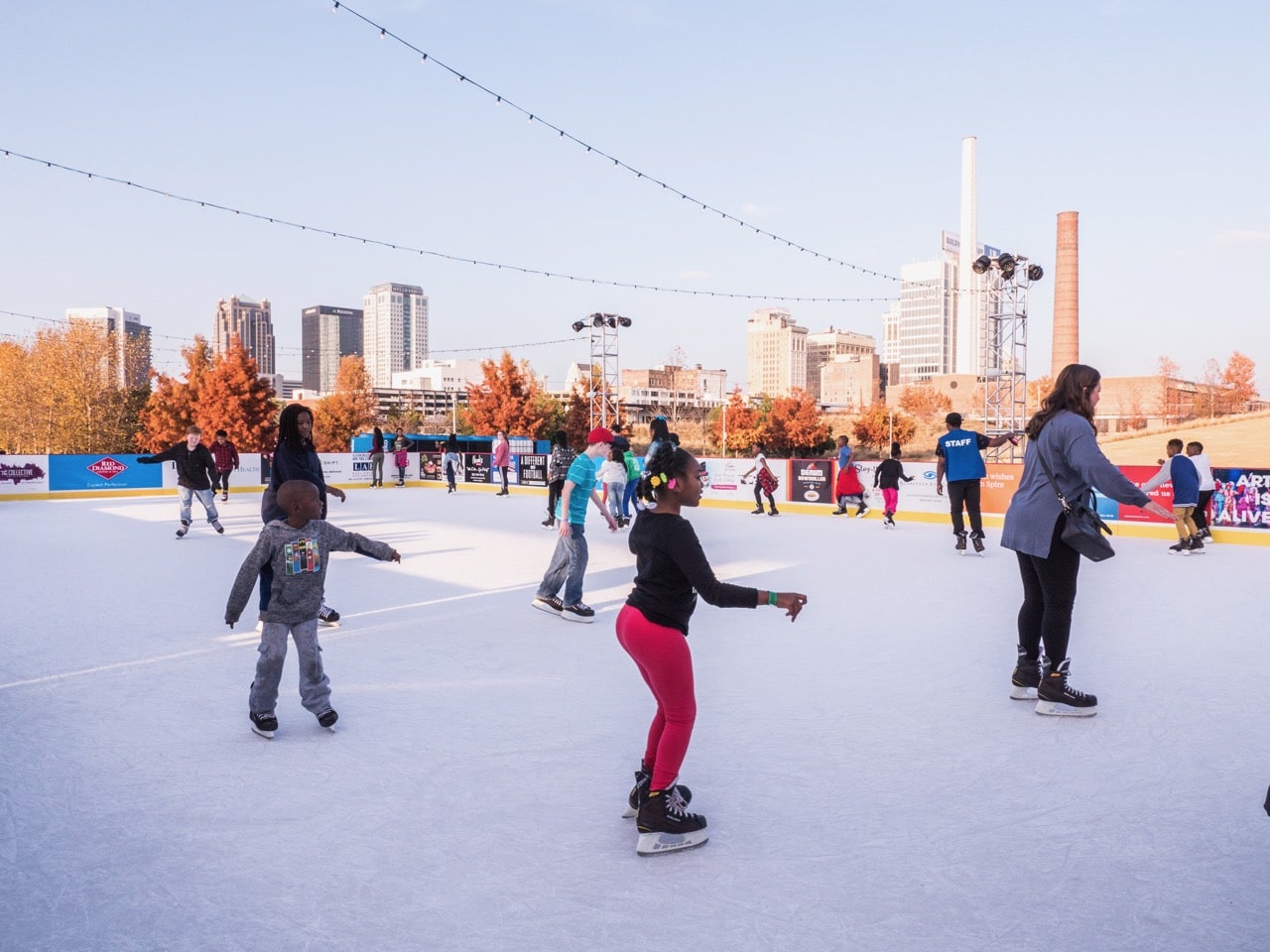 The winter solstice, AKA the shortest day of the year and longest night in the northern hemisphere, is happening on December 21. There are lots of celebrations and traditions associated with the solstice across the globe. Did you know that Stonehenge marks the winter solstice by framing the sunset? But you don't have to travel across the pond to commemorate the occasion—here's how to celebrate in Birmingham!
1) Celebrate the Solstice with Meditation and Yoga
A lot of people use the winter solstice as a time to reflect and turn inward in meditation. Birmingham Yoga is hosting a winter solstice celebration including reiki, meditation, crystal and sound healing and restorative yoga poses. Namaste.
When: December 18 at 6:30PM
Where: Birmingham Yoga. 605 37th St S, Birmingham, AL 35222
Cost: Cost $15 early bird, $20 day of
2) Check Out the Night Sky on this Winter Solstice Hike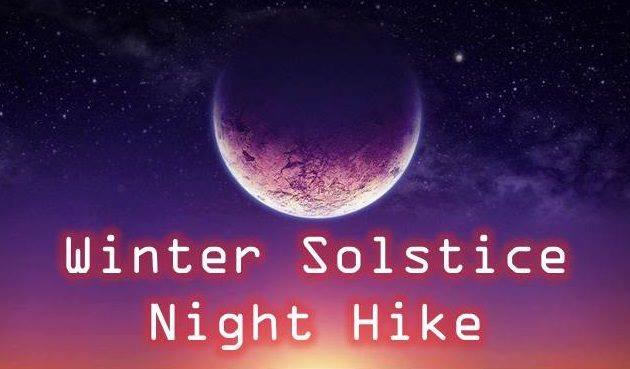 Why not spend the longest night of the year gazing at the stars? Oak Mountain is hosting a night hike to celebrate. Bring a headlamp or flashlight and some water and wear a coat. Just leave Fido at home (sorry, this isn't a dog-friendly hike).
When: December 21 at 5:30PM
Where: Oak Mountain State Park. 200 Terrace Drive, Pelham, AL 35214
3) Find the Light at Zoo Light Safari or Vulcan's Magic of Lights Holiday Light Experience
The solstice is only four days before Christmas, so it's the perfect time to check out a holiday light show. We'll need some extra light on the shortest day of the year, am I right?
The Birmingham Zoo's Zoolight Safari includes a million lights, holiday tunes, treats, and an appearance from Santa himself.
When: December 13-23, 26-30 from 5PM to 9PM
Where: Birmingham Zoo. 2630 Cahaba Rd, Birmingham, AL 35223
Tickets. Free for zoo members, $10 for non-members
Vulcan Park & Museum is also putting on a killer holiday light show. The 15-minute show illuminates Vulcan while festive holiday songs play.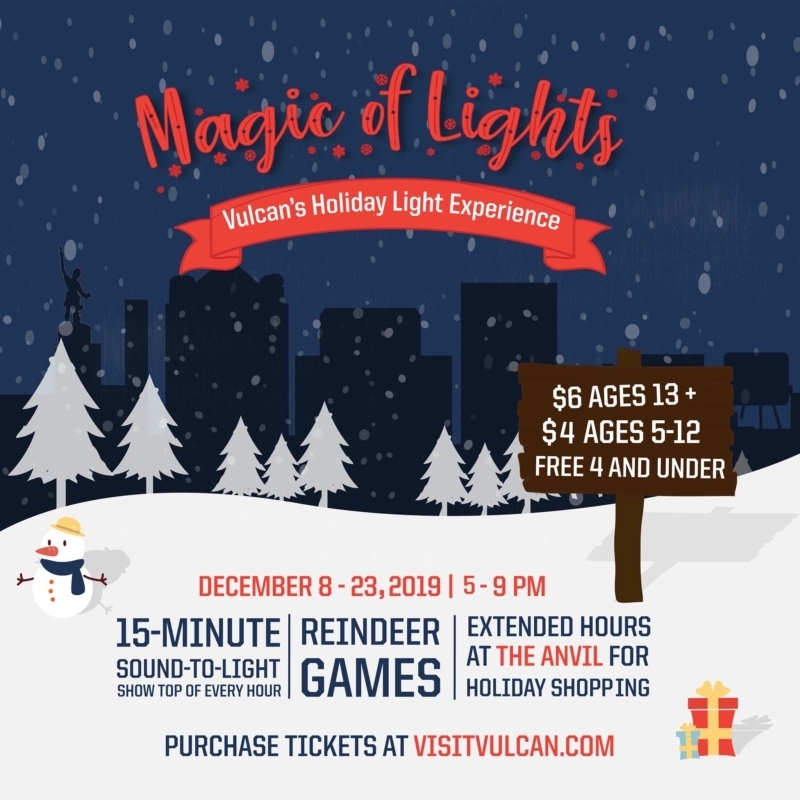 When: December 8-23 every hour from 6PM to 9PM
Where: Vulcan Park & Museum. 1701 Valley View Dr, Birmingham, AL 35209
Tickets. Ages 13+ $6, 5-12 $4, Kids under 4 FREE
4) Hit the Ice at Birmingham Winter Adventure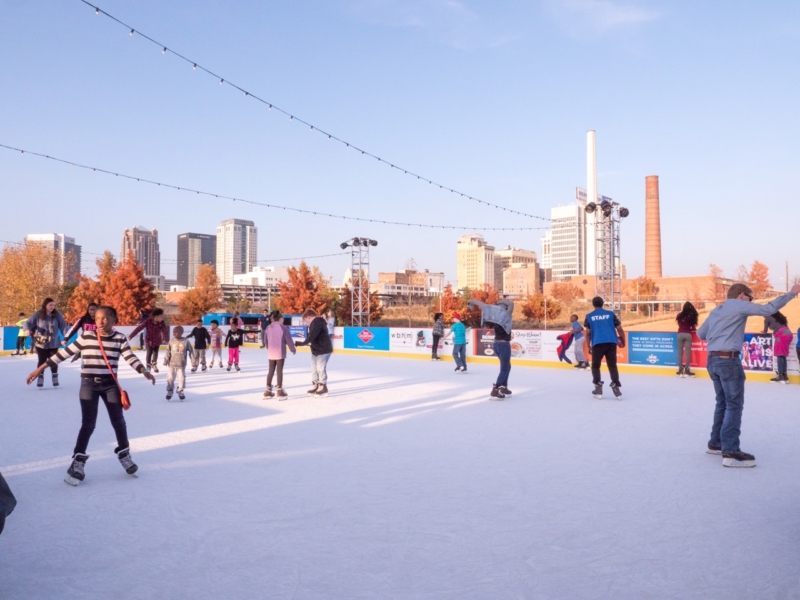 Visiting the ice rink—and new ice slide!—at Birmingham Winter Adventure in Railroad Park seem like a great way to mark the official start of winter, which is also on December 21.
When: December 16 to January 5

Mon-Thurs: 11AM – 9PM
Fri. & Sat.: 10AM – 10PM
Sun.: 11AM – 9PM

Where: Railroad Park. 1600 1st Ave S, Birmingham, AL 35233
Tickets.

Ice Skating: Adults $12, Kids $10
Ice Sliding: Adults $10, Kids $8
Combo: Adults $18, Kids $14
How will you celebrate the shortest day of the year? (Or celebrate the fact that days are about to get longer?) What did we miss? Let us know @BhamNow.