Sponsored
It's beginning to look a lot like Christmas, Birmingham! Now is the time to deck the halls and trim the trees. If you're on the hunt for that idyllic evergreen, never fear! Here are 7 places in Birmingham where you can pick out your perfect pine.
It's the Most Wonderful Time of the Year
We tagged along with Adamson Ford as they stocked up on their Christmas trees for the dealership this season. Adamson Ford has been boosting our Birmingham community for over 100 years, and they take that pretty seriously!
That includes shopping local for their holiday decorations. Here's where you can do it, too.
1. Mountain Scout Tree Lots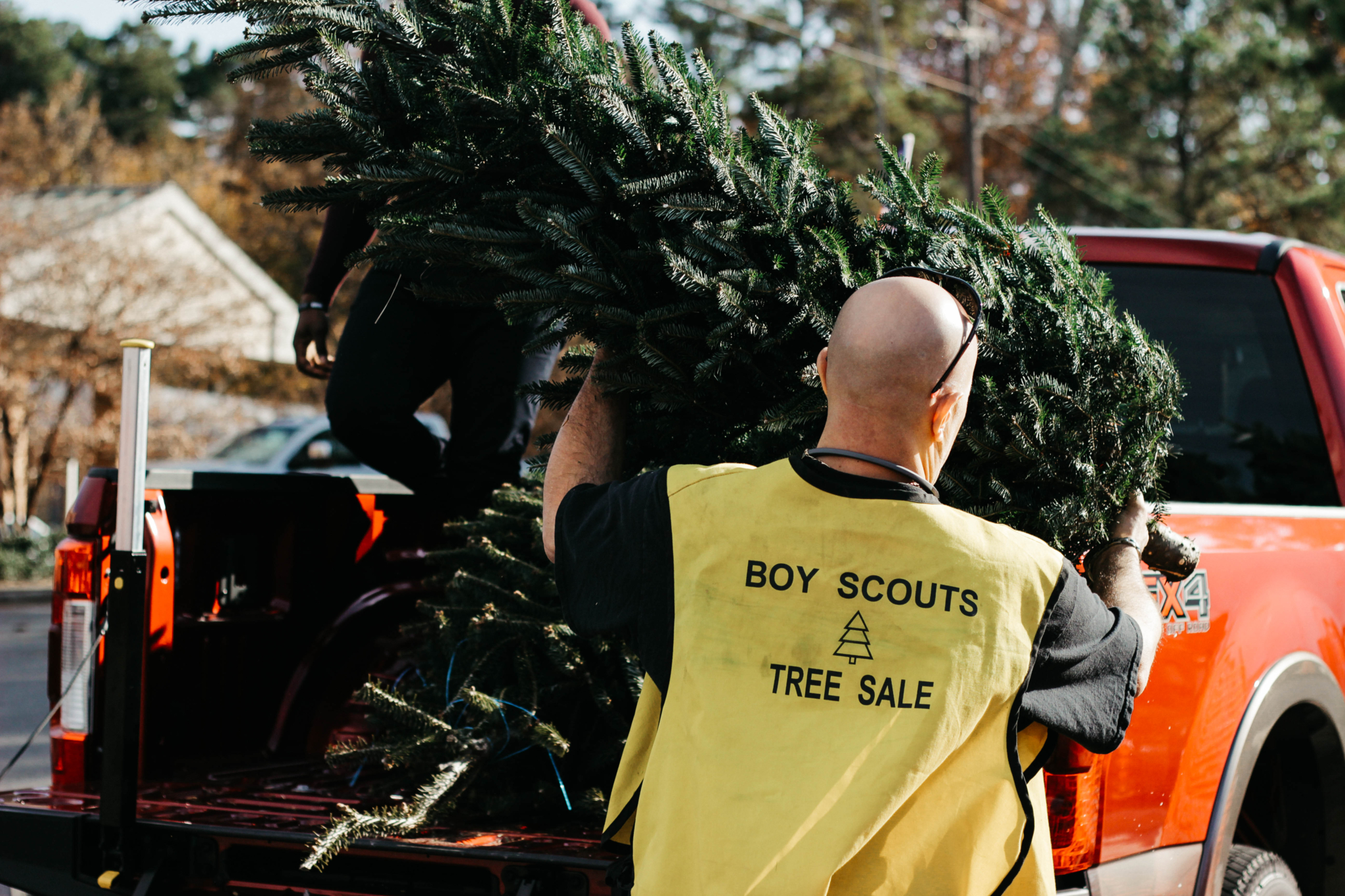 The Mountain Scout Tree Sale has three different lots over the mountain that raise money for local Boy Scout Troops. The lot is run by volunteers, parents, and Scouts themselves.
Vestavia
Scout Square
Address: 741 Montgomery Highway
Dates: Nov 23 – Dec 22
Hours: Sun-Fri 12:30PM to 9PM | Sat 8AM to 9PM
Hoover
The Grove Shopping Center
Address: 5561 Grove Blvd
Dates: Nov 29 – Dec 22
Hours: Open daily, 12:30PM to 9PM
Homewood
Shades Cahaba Elementary School
Address: 3001 Independence Drive
Dates: Nov 29 – Dec 22
Hours: Open daily, 12:30PM to 9PM
2. Pine Hill Farms
Pine Hill Farms is an old-fashioned Christmas experience! They offer fresh growing and pre-cut Christmas trees, fresh wreaths, gifts, complimentary parking, and hot beverages. Flocking (artificial snow), lighting and delivery service are available.
Address: 538 Pinehill Cir, Birmingham, AL
Hours: Open daily, 9AM to 6PM
Cut your own!
Website
3. Beavers Christmas Tree Farm
Beavers Christmas Tree Farm is a traditional Christmas tree farm experience, where you choose and cut your own! Hayrides are available on Saturdays and Sundays, and there's always free hot cocoa. All trees at Beavers are Alabama-grown.
Address: 10093 Bradford Trafford Rd, Trafford, AL
Hours: Fri-Mon, 9AM to dark
4. Old Baker Farm
Enjoy complimentary hot apple cider, candy canes, and a hayride through the Christmas trees! Est. 1899, the Old Baker Farm is a traditional family farm. Since it's founding, the Old Baker Farm has seen six generations of the Baker family.
Address: 1041 Farmingdale Road, Harpersville, Alabama
Hours: Open daily, 9AM to dark
Cut your own!
5. Poppy's Christmas Trees
With over 30 years of experience in the Christmas Tree business in the Birmingham area, Poppy's provides beautiful trees to individuals, businesses, & neighborhoods. Their trees come fresh from Avery County, North Carolina, and they sell trees, wreaths, bows, garland, and more.
Address: 4476 Montevallo Road, Birmingham, Alabama
Hours: Mon-Sat, 9AM to 8PM | Sun 10AM to 7PM
6. Clear Creek Christmas Tree Farm
"This is one of our favorite family traditions. It is owned by the sweetest family. The kids love riding behind the tractor to picking out our tree.

After cutting it down they love coming back to have hot chocolate and play with the toys. It is such a wonderful family experience."

Local review via Clear Creek Christmas Tree Farms' Facebook page
Address: 1201 Lamon Chapel Rd, Jasper, AL
Hours: Sat, 8AM to 5PM | Sun, 1PM to 5PM
Cut your own!
7. Howell Christmas Trees
For over 30 years, the Howell family has been bringing premium, Fraser firs to Birmingham. Care, service and experience are paramount here! Howell Christmas Trees specialized in trees for neighborhood yards and HOAs.
Address: 3923 Crosshaven, Vestavia Hills, Alabama
Hours: Open daily, 10AM to 8PM
Before You Go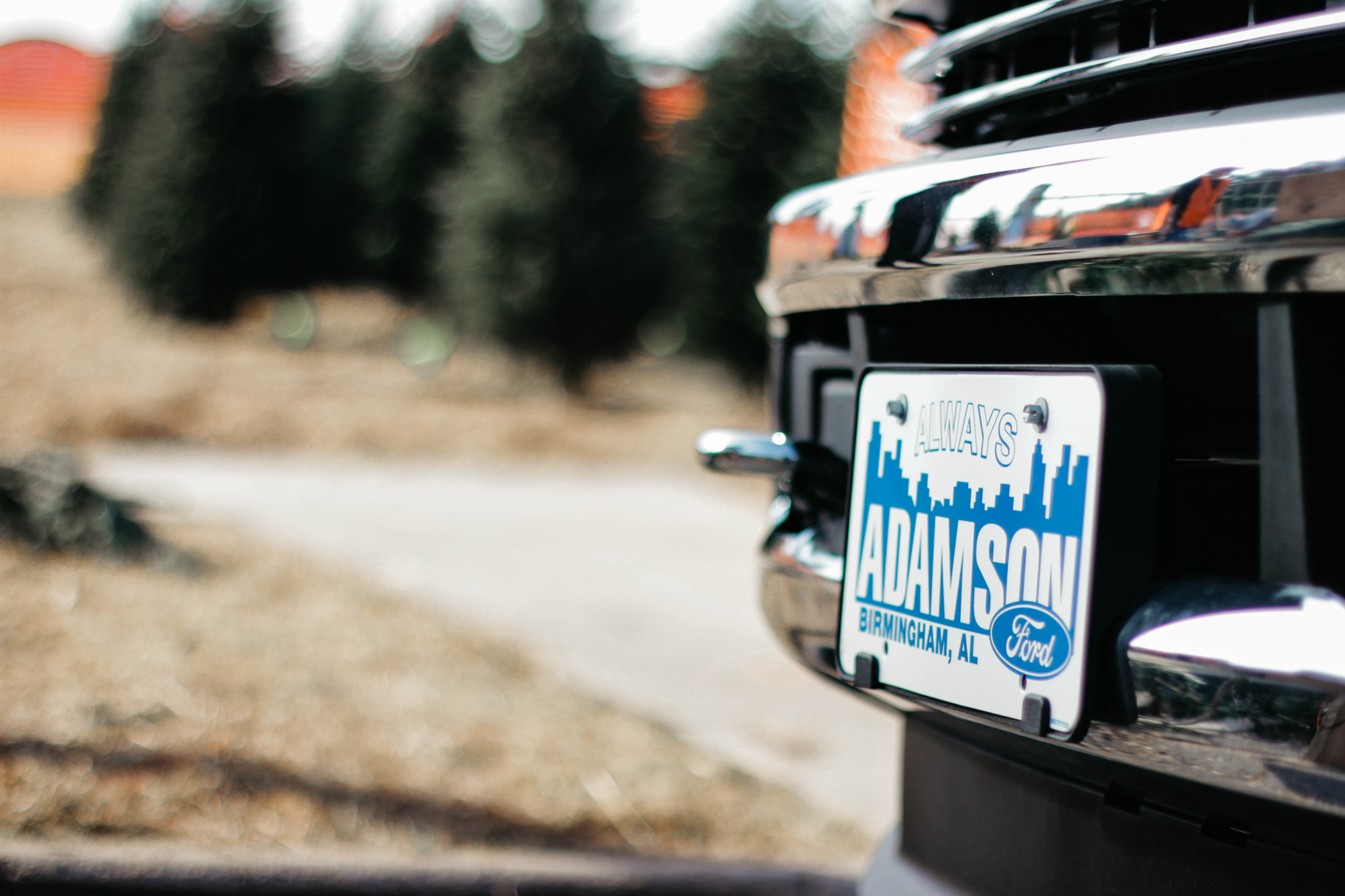 If you're looking for a Christmas gift that's really going to last, head down to Adamson Ford this month to check out their new and used offerings. This time of the year is all about family, and that's exactly how you'll be treated when you shop here.
P.S. You can definitely buy a Christmas gift for yourself—we won't tell.
Happy holiday season Birmingham! Did we leave anywhere off? Let us know on social @BhamNow
Sponsored by: