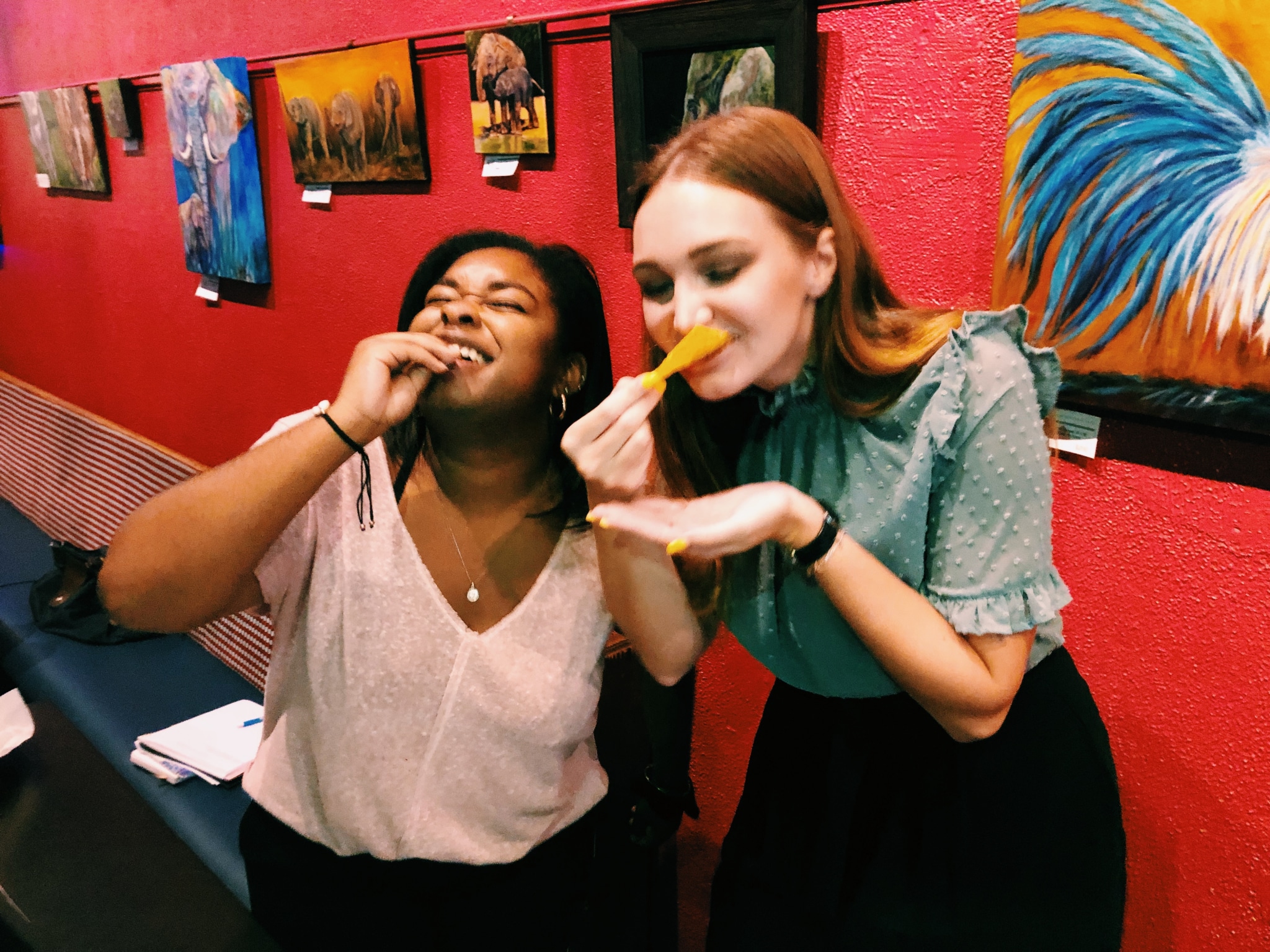 Game day gatherings are a staple here in Birmingham, AL. Even if your favorite team is a big fan of nail-biting 4th quarter comebacks, the most stressful part of game day can be feeding your guests. Ditch the time-consuming and expensive dishes—here are 3 easy, delicious, and cost-effective dips guaranteed to score big come game day!
The Ultimate Game Day Dish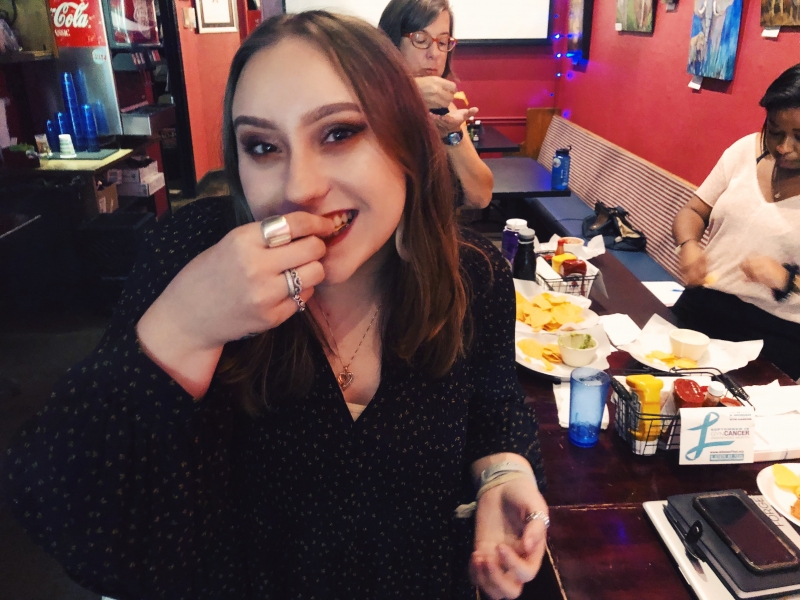 Homemade dips. They're easy to make, they're hot, they're filling—plus, everyone loves them! They look fancier than they are, so you can impress your guests with minimal effort.
I have personally made and tasted every one of these dips and can guarantee their deliciousness. This list has something for every flavor, so pick a favorite or try out all 3.
You can make these dips for under $25 each, and it's more than enough food to feed the whole team. Check them out, and be sure to let us know your favorite!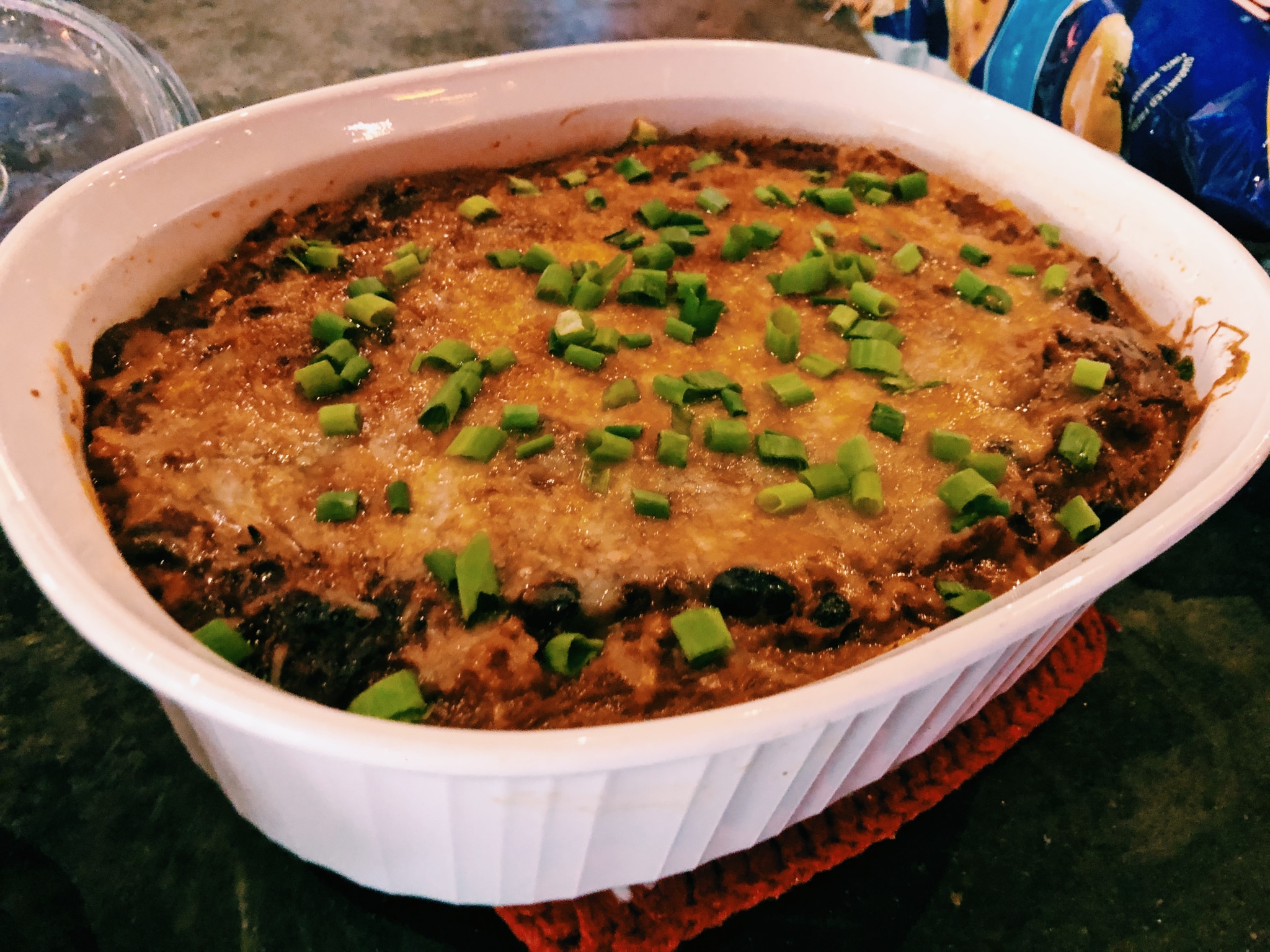 Slow Cooker BBQ Bacon Ranch Dip
When I think about Birmingham and football, I think barbeque. This dip is a Bham Now original! I tested it out on the team, and they gave their stamp of approval. Photo: Beth Cunningham for Bham Now
Ingredients
- Your favorite barbeque sauce

bonus points if you buy it local from one of the many delicious BBQ joints in Bham!

- Pork

I used a boneless loin ribeye roast

- 1 container of sour cream

- 1 packet ranch seasoning

- Your favorite BBQ dry rub

- 1 can black beans

- 1 can sweet corn

- Crumbled bacon

I cheated and used bacon bits

- 1 bunch green onions

- Shredded mozzarella cheese

- Shredded cheddar cheese
Instructions
The night before (or the morning of, if it's a night game), cover your pork with your dry rub seasoning and pat it in

Drop it in a slow cooker and cover with your favorite BBQ sauce

Cook for 6-8 hours on low

Take the pork out and shred with a fork. It will fall right apart!

Put the meat back in and add crumbled bacon, black beans, and sweet corn

Add some more barbeque sauce

Cover and let cook a while longer on low

Mix ranch seasoning packet into container of sour cream

Add the whole container to the slow cooker and about 1 cup of shredded mozzarella

10. Turn oven to broil and let it heat up

11. Mix it all together and transfer to an oven-safe dish

12. Cover with shredded cheddar

13. Broil until the cheese on top starts to brown and bubble
Notes
Toppings
Green onions! Chop them up and sprinkle on top when it comes out of the oven
Dipper
Chip: I recommend corn chips like Fritos
Veggie: Carrots! Tip: buy larger carrots and cut them into rounds for better dipping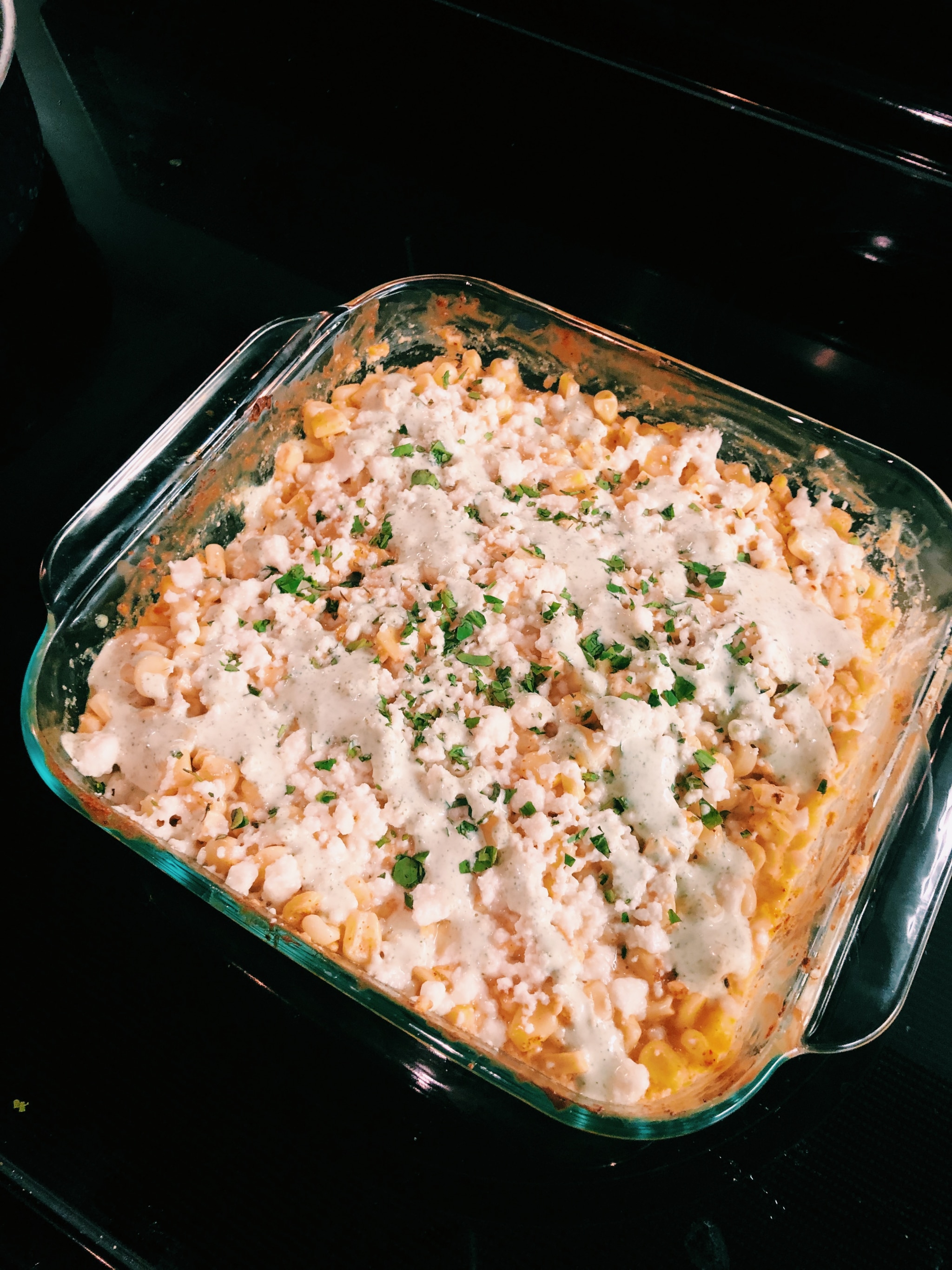 Elote (Mexican Street Corn) Dip
Elote is the proper name for Mexican grilled street corn—and oh man, is it delicious. This dip is inspired by the flavors of elote, so beware—you may end up eating the whole pan with a spoon. BONUS! This option is vegetarian. Photo: Beth Cunningham for Bham Now
Ingredients
- Corn. It's great if you can grill it on the cob and shave it off

but if you don't have time for that, buy it frozen! I did 1 bag white corn, 1 bag sweet corn

- Olive oil

- 1/2 red onion

chopped

- Cilantro

- 2 limes

juice 1

- 1 tsp chili powder

- 1/2 tsp cumin

- 1 tsp garlic salt

- 2-3 tbsp mayonnaise

you can use vegan mayo if you prefer. This may sound weird but it's an important ingredient in real street corn!

- Cojita cheese

Mexican crumble cheese—you can find it at most grocery stores

Toppings

- Chopped cilantro

- Slice some fresh jalapeño if you're a spice lover!

- Cojita cheese

- Chili powder

- You can also throw some cilantro

sour cream, lime juice, and salt in a blender to make a quick dressing to drizzle over the top
Instructions
Heat up olive oil in a skillet

Dump in frozen corn and cook, stirring occasionally, until corn is thawed and has some char

Preheat oven to 350°

In an oven-safe pan, mix charred corn, chopped red onion, juice from 1 lime, chili powder, cumin, garlic salt, mayo, a little chopped cilantro, and about 1/2 cup crumbled cojita cheese

Bake for 15-20 min

Squeeze some lime juice over the top when you take it out!
Notes
Dipper Chip: Corn tortilla chips! A Mexican staple for this Mexican-inspired dip
Veggie: Cucumber to keep cool if you go a little heavy on the spice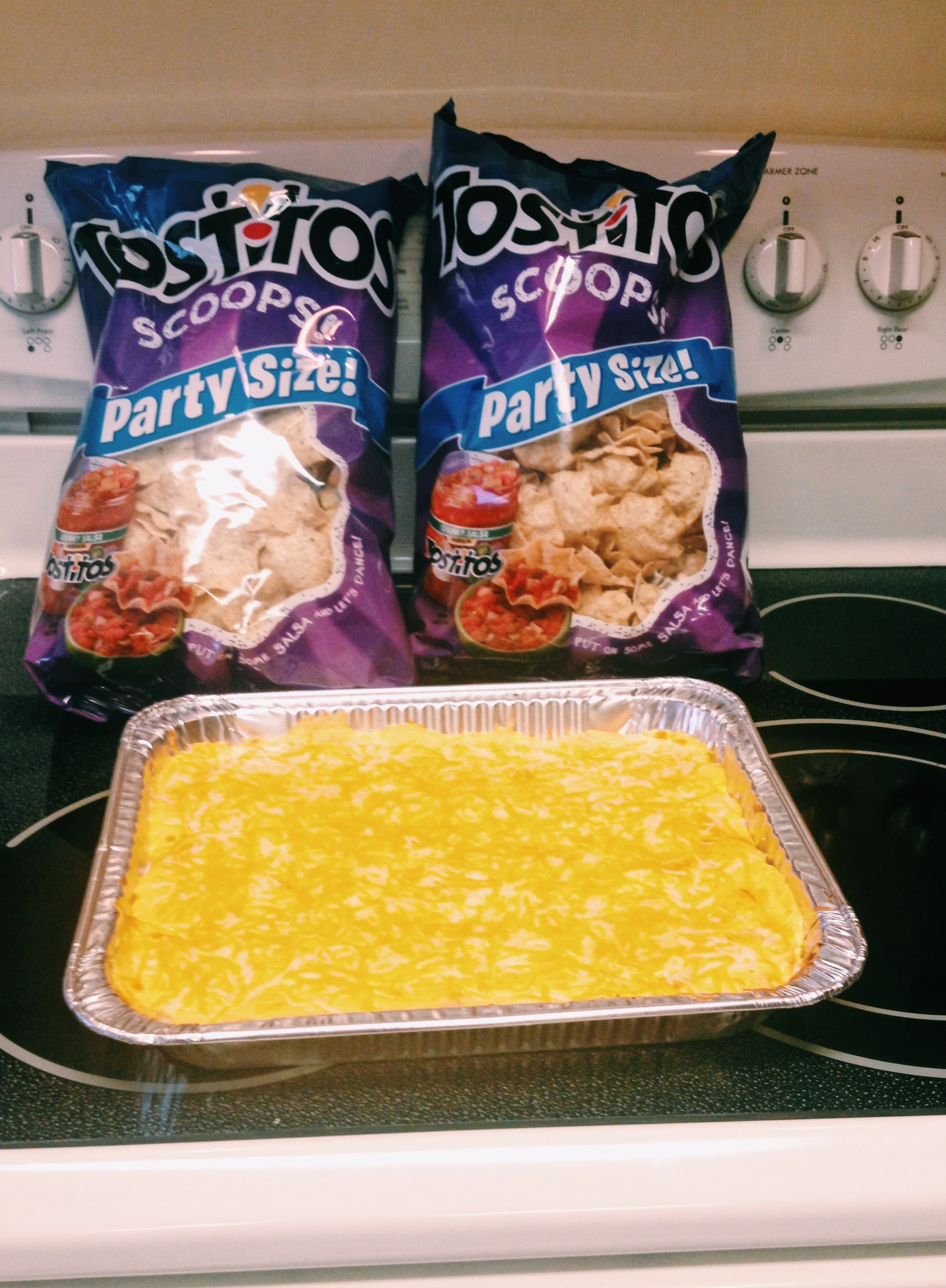 Buffalo Chicken Dip
A game day staple if there ever was one. This was a favorite in my house growing up, and this photo came from a watch party at my sister's! Photo: Beth Cunningham for Bham Now
Ingredients
- 1 rotisserie chicken

- 1 package sour cream

- Your buffalo sauce of choice

I say the spicier, the better

- Ranch dressing

- Cheddar cheese

Toppings

- Chives are a great topping for this dip

or more buffalo sauce if you like it really spicy!
Instructions
Clean and shred the rotisserie chicken

Toss chicken in buffalo sauce

Preheat oven to 350°

Soften cream cheese in a bowl

Add ranch dressing to taste (I use about half a bottle) and mix with cream cheese

Layer or mix (I prefer mix) cheese/ranch mixture and chicken

Cover with a generous layer of shredded cheddar

Drizzle buffalo sauce over the top

Bake for around 20 minutes
Notes
Because, duh. Buffalo chicken dip is a common find at any game day gathering or tailgate. There are about a thousand variations that people swear by, but I have to say—after much testing, I think this way is the best.
Dipper
Chip: This is highly contested, but I prefer tortilla chips with my buffalo chicken dip. Some people say corn chips are the only way to go.
Veggie: Celery and buffalo are a classic pair.
What's your favorite game day dish? Let us know on social @BhamNow!