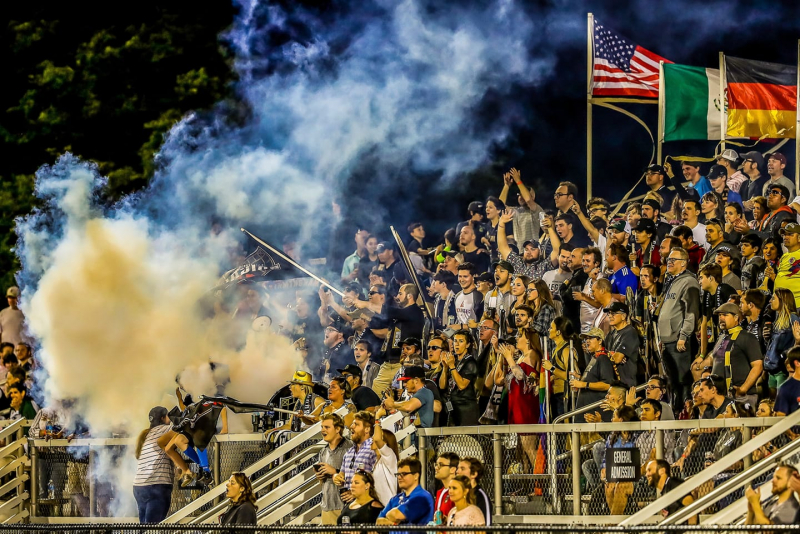 When I moved to Birmingham from the UK, I was ecstatic to learn pro-soccer was on the way. I set about getting to know people I could join to watch future games and found Magic City Brigade, the Birmingham Legion FC supporters group who have unwavering loyalty to the team and provide a sea of noise within the stadium. Find out more about the Brigade and how they've developed a vibrant community for people who share a common love for soccer in Birmingham.
1) Who are Magic City Brigade?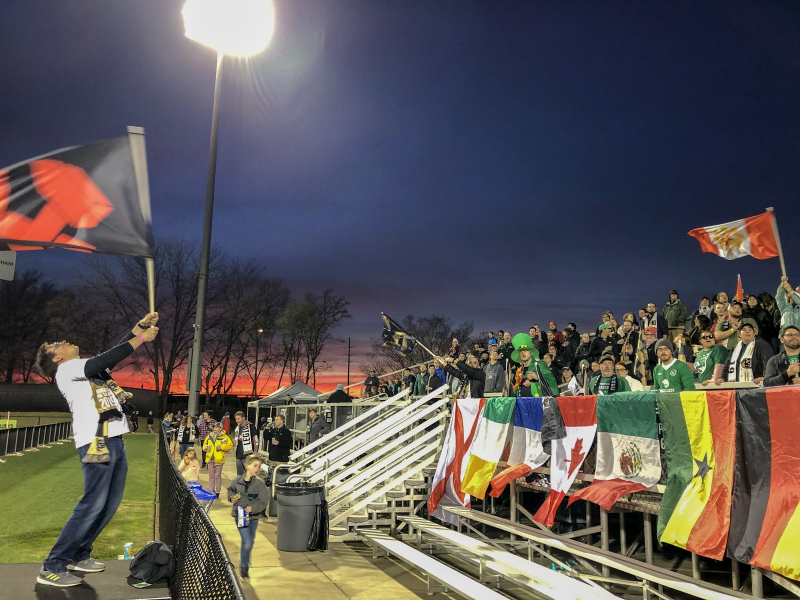 Magic City Brigade are a group of die hard soccer nuts who will support Birmingham Legion FC week-in, week-out, through thick and thin!
But don't be intimidated – they're also super friendly.
You'll find them (or should I say us) warming up for games at pregame tailgates, gathering inside BBVA Field plaza to welcome fellow fans, and marching as one to the supporters group section just before kick-off.
They encourage the team throughout a 90 minute game with non-stop chants and songs, wave black and gold flags and prime the smoke machine in prep for a goal.
Simon Illes, Vice President of MCB sums up what the Brigade is about,
"It's exhilarating to be a part of the beating heart of the atmosphere at Legion FC home games. We've seen people go from showing casual curiosity to wanting to stand in our supporters group section every week! That's the goal – to grow passionate support for the team and to create louder and louder atmospheres to intimidate the opposition and encourage our team".
2) The early days of the Brigade started off with just four fans
The Brigade was founded by Forrest Collins in 2014, then a freshman at UAB, who had the idea to form a soccer supporters group before a team had yet to kick a ball.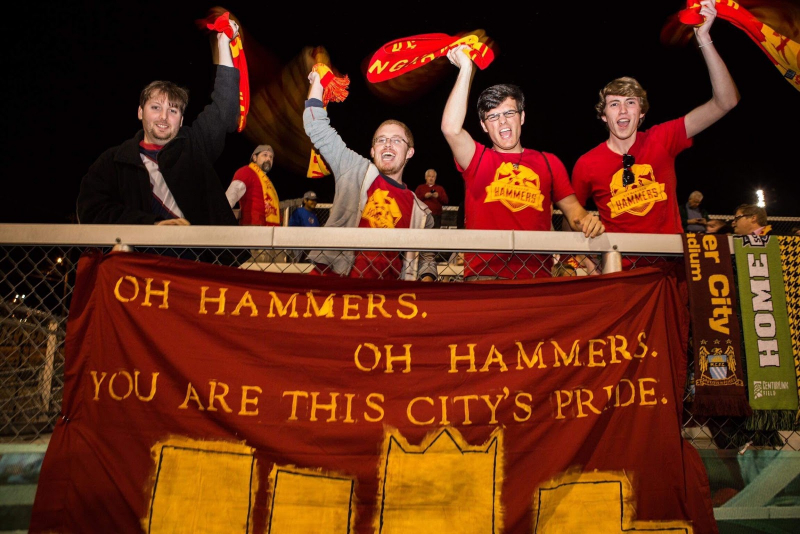 "I remember four of us showing up to a UAB Men's exhibition game versus Atlanta Silverbacks – it was February 14, 2014. The Birmingham Hammers soccer team were trying to establish themselves on the soccer scene and we wanted everyone to know there was an appetite for grassroots soccer in Birmingham. We got a lot of looks – we were essentially supporting a team that didn't exist"
The Birmingham Hammers served as the Brigade's soccer outlet from their first games in 2015 to their last season in 2017, before Birmingham Legion FC kicked off their pro-soccer campaign in 2019.
Forrest said,
"I've been thrown aside by how quickly it's all blown up. The amount of people we've connected with and the fact that so many people want to have fun being part of the Magic City Brigade experience is exactly why I started this. We've gone from establishing 40 members by the end of the Hammers last season, to over 200 members and counting this year during Legion FC's inaugural season. The bigger the family the bigger the fun!"
3) Fast forward to 2019 – find out how an average Legion FC game day plays out for the Magic City Brigade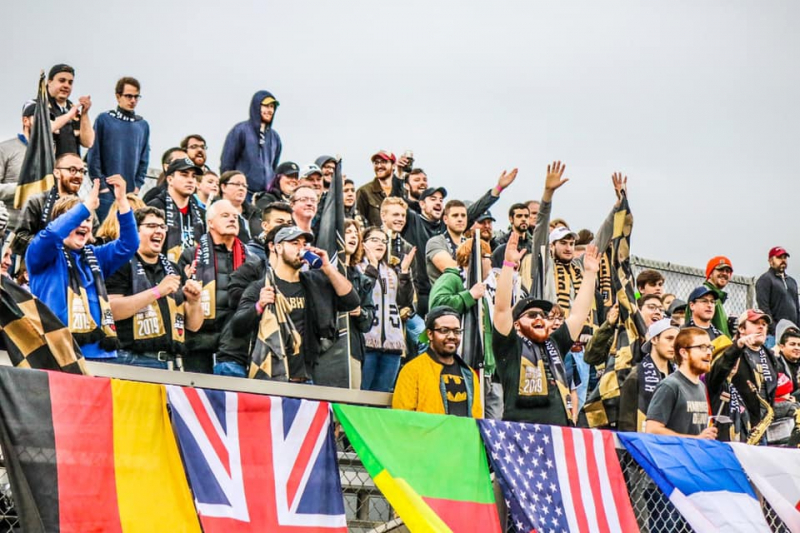 Pregame tailgating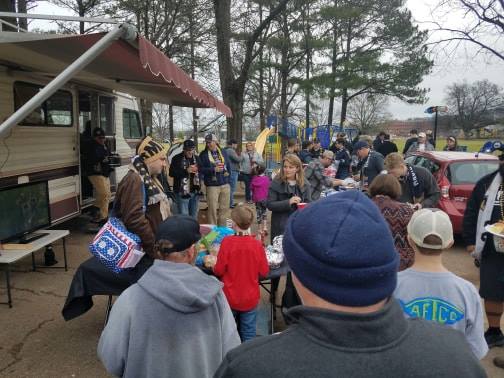 Tailgates begin in the parking lot outside the stadium about five hours before the game; just to make sure there's enough time to grill some burgers and enjoy a few cold ones before heading in.
The party hub is a Winnebago called Marge, owned by Brigade member Trent Giles, who "slapped together" a custom made grill specifically for tailgates. An unsung hero of the Brigade who is always first to arrive and last to leave.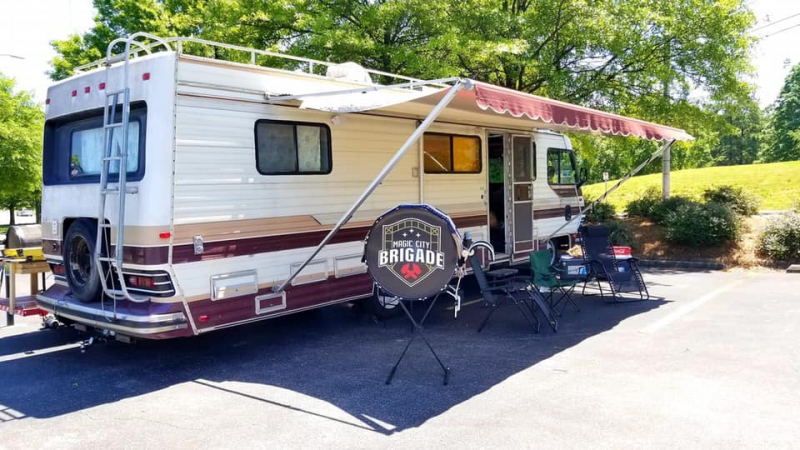 The tailgate is a chance to discuss the last performance and to debate who Coach Tom Soehn should start.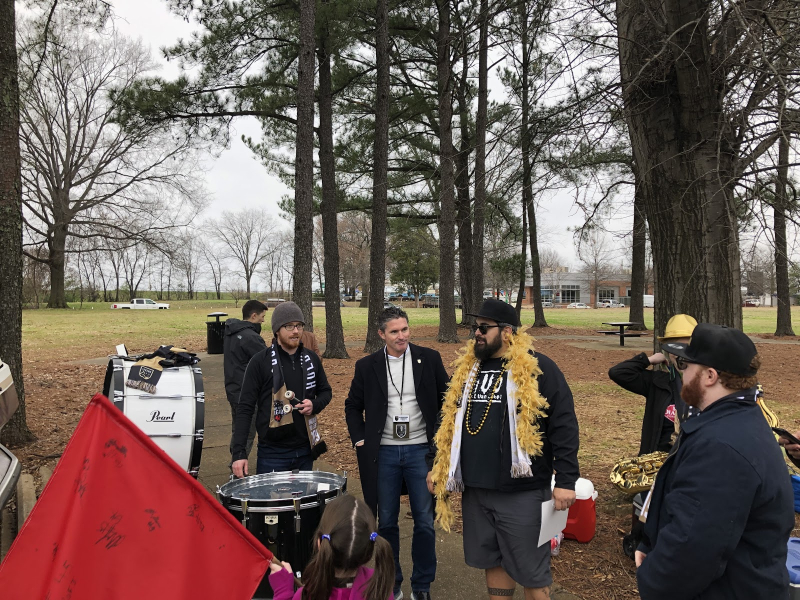 It's also an opportunity for anybody who wants to find out more about the Brigade, to join in. Don't be shy!
Pre-game gathering inside the stadium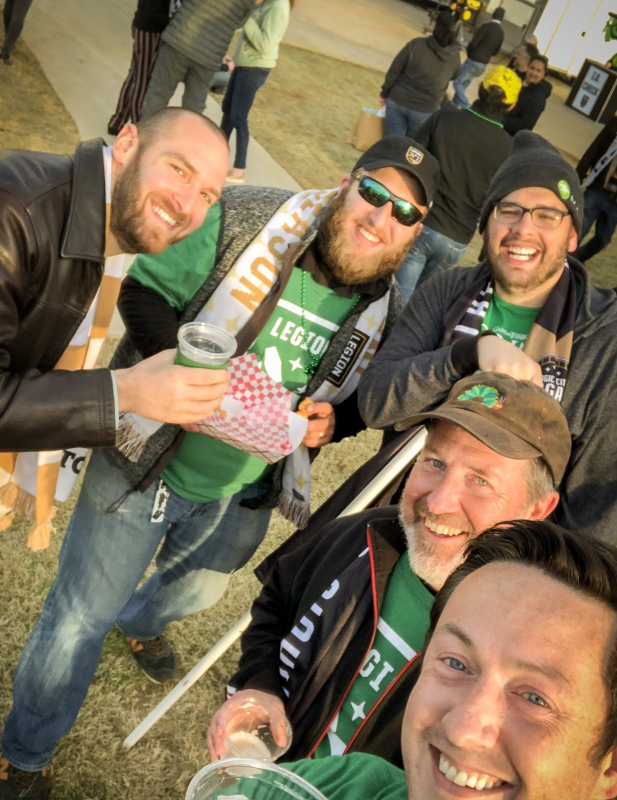 This is where the tailgate party, minus the grill, heads on into the stadium complex. There's plenty of food trucks inside though!
The drums and saxophones come out and the Brigade start finely tuning their voices in preparation for the game. I'm told a beer always helps.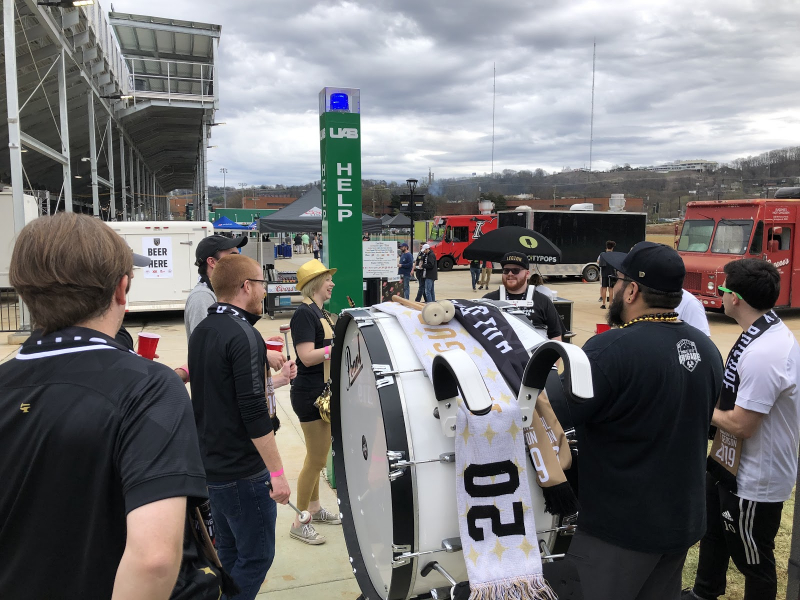 Another great opportunity to speak with the rowdy and loud group of people wearing the coveted Magic City Brigade Scarfs. They won't bite!
Marching in together to the supporters group section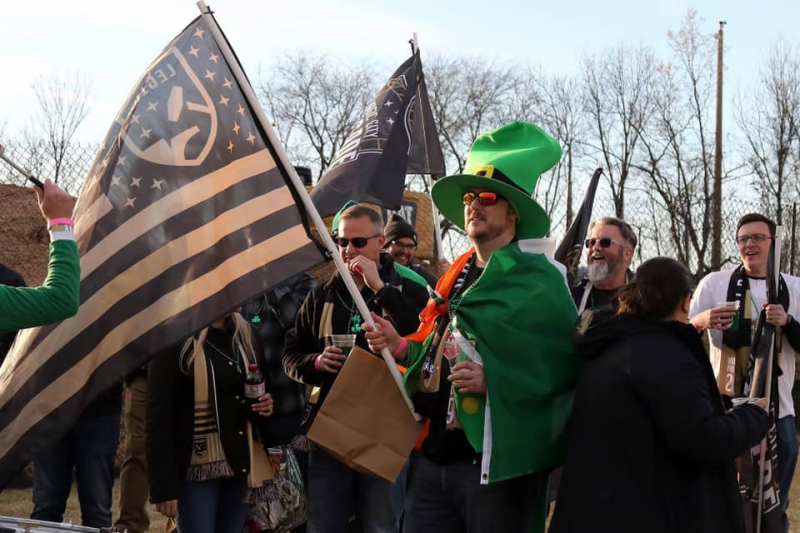 About 30 minutes prior to kick-off, the Brigade march to the supporters group section. Think of it like a conga but with less finesse. They make up for it with drums, waving flags, and people who are determined to make as much positive noise as possible to encourage the players who by now are warming up on the field.
Chants and songs led by a capo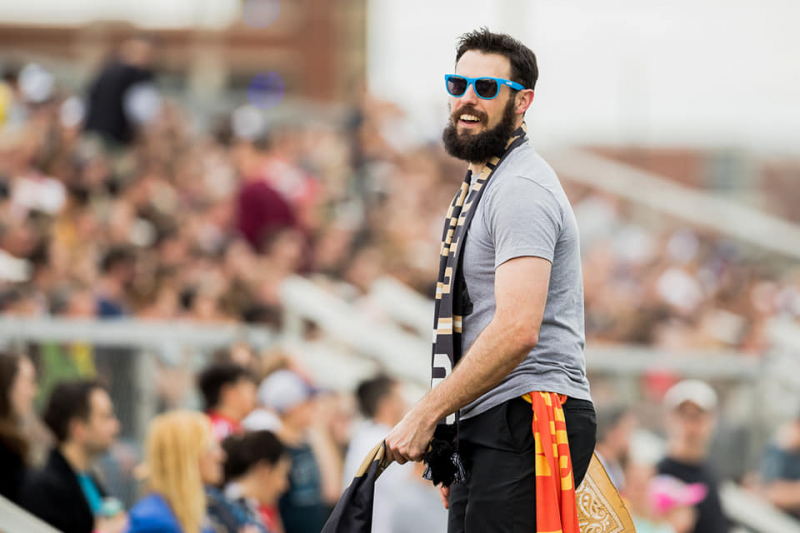 It's game on! A capo leads a section of fans in cheers, and synchronized movements of flags, banners and scarves.
Brigade's Capo, Nic Gulas (who looks a lot like our Bham Now Vulcan) leads the chants in the supporters group section,
"I love singing 'C'mon you boys in black' (which we switch to 'boys in white' depending on which jersey we're wearing), but my favorite is probably 'Push it' (by Salt n Pepa) which works well with the drums and sax, and gets the crowd going!"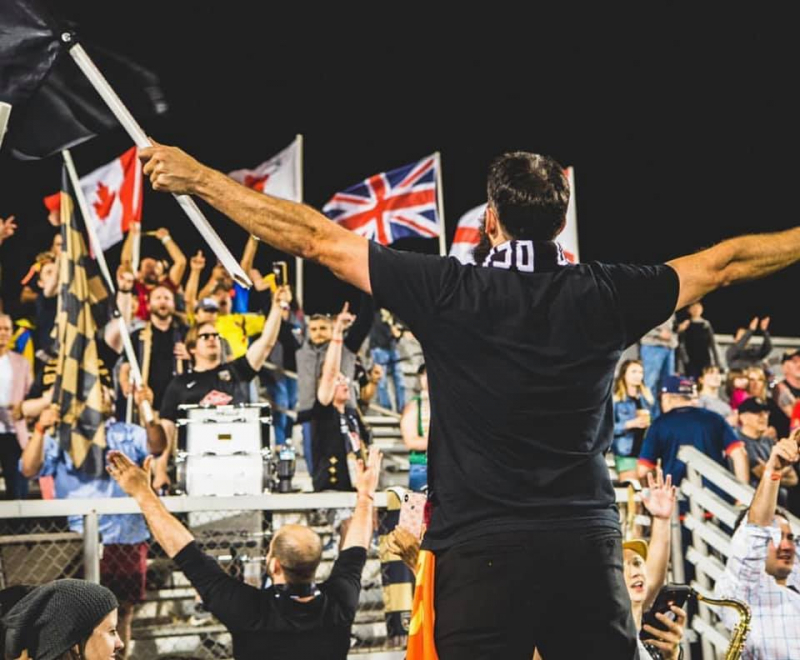 Nic also instigates the now traditional "Hammer-Down" chant which is shouted back and forth between both sides of the stadium, with the Brigade shouting "Hammer", while a chorus of fans on the opposite side of the field respond with "Down"! Great fun when you hear it!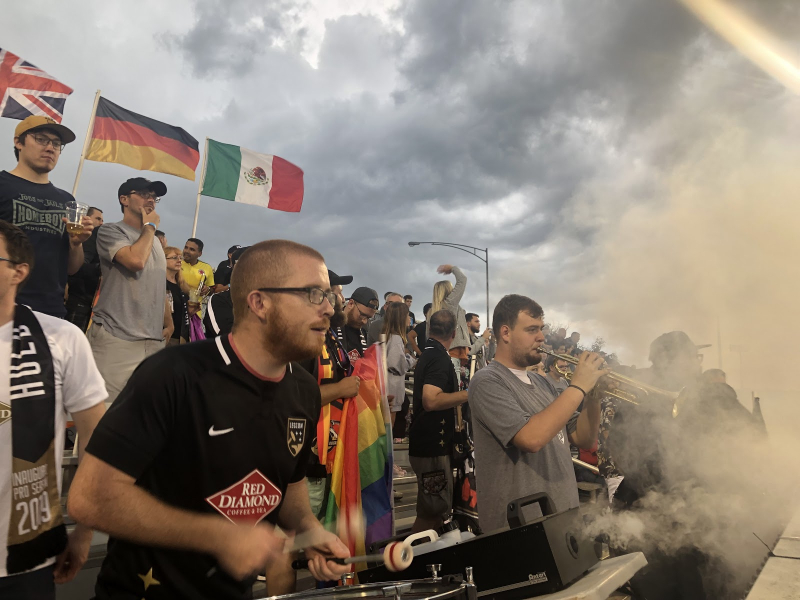 Learn some of the other Brigade chants HERE.
What about when Legion FC are on the road?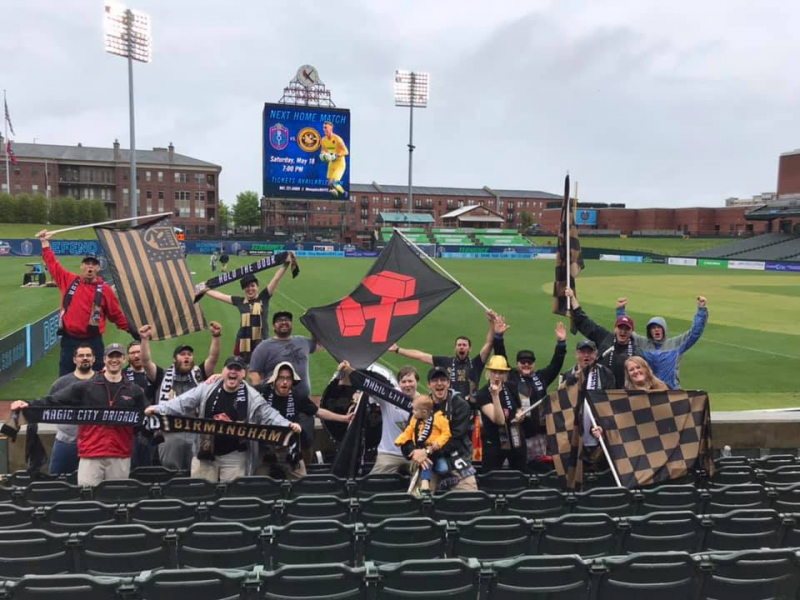 While some members have travelled to a few of the Saturday away games, including a group trip to Memphis, the USL Championship Eastern Conference spreads far and wide – from Kansas City to Pennsylvania, and Ottawa to Tampa Bay.
But, you'll almost always find a contingent of Brigade members at Birmingham District Brewing Company attending watch parties when Legion FC are on the road at the weekends. Just turn up!
Birmingham District Brewing have even honored the supporters by creating an English style extra special bitter called The Brigade!
4) Great support means a lot to the Legion FC players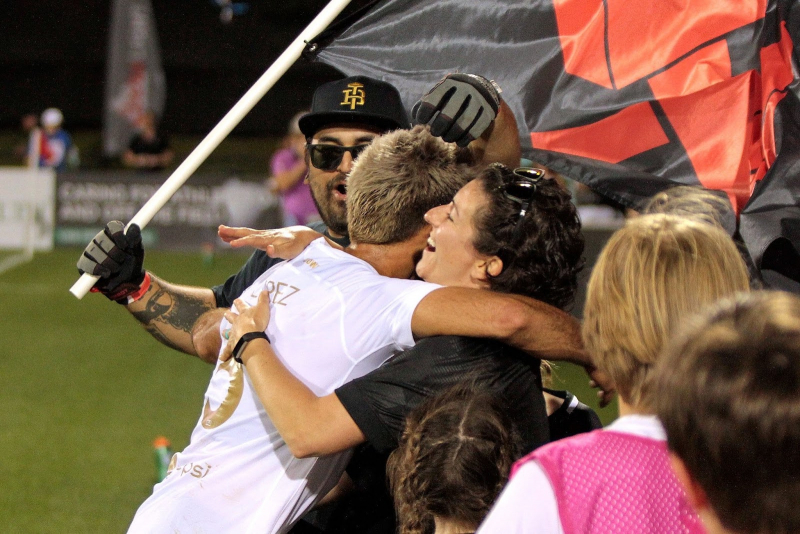 Birmingham Legion FC no.5, midfielder and club captain, Mikey Lopez, told Bham Now,
"The crowd has been amazing. They definitely give us a lift when we need it. Their energy pushes us to fight to the very end regardless of the score. It's been amazing playing in front of them and I hope they continue to support us through everything".
Legion's no.9, centre forward and Birmingham native, Chandler Hoffman, told us,
"The support from day one has been incredible. It gives us a huge boost as players. We want nothing more than to score goals, win games and reward the fans for all of the passion!"
5) It's not just a group of soccer supporters, it's a family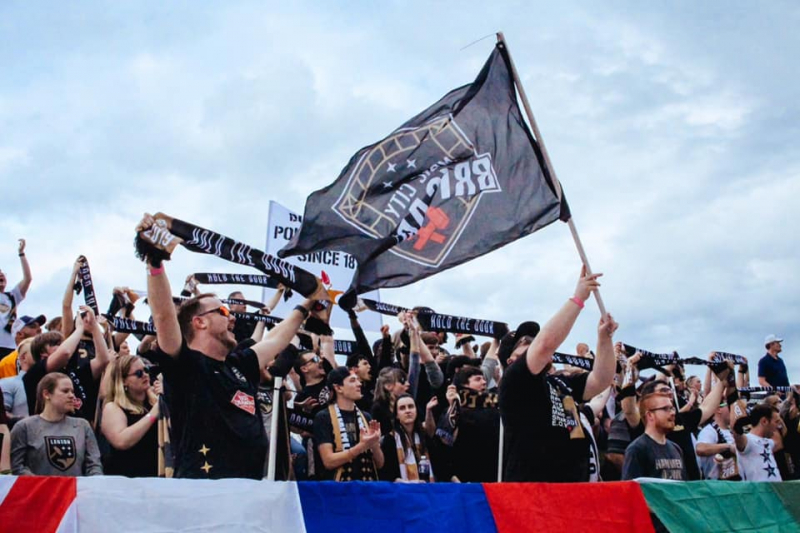 From a personal point of view, as a newcomer to Birmingham, the Magic City Brigade have been a lifeline in terms of meeting a fantastic group of new people whom I now call my Brigade family.
I moved from a situation of having many friends in Wales, to hardly any here in Birmingham. This changed when I joined the Brigade.
When my wife doesn't want to go to the game, I know I can just turn up and be with my other family (which includes fellow Bham Nower Pat Byington)
There's 17 regular season home games to attend (as well as cup games and potentially play-off games) and also 17 away games that will have a watch-party. That's a lot of time spent together and the bond between members feels stronger each game.
The fact the atmosphere is so fun, the group is open to all, and is so child friendly, means I'll be bringing our young daughter to more games as soon as she can say 'Hammer Down'!
Jessica Michelle (who plays saxophone for the Brigade) told me,
"The MCB is truly like a second family to me. My son and I both love coming out to the games. Not only to support our team, but to support the city of Birmingham. We've been involved since the days of the Hammers and to watch it grow and evolve has been amazing."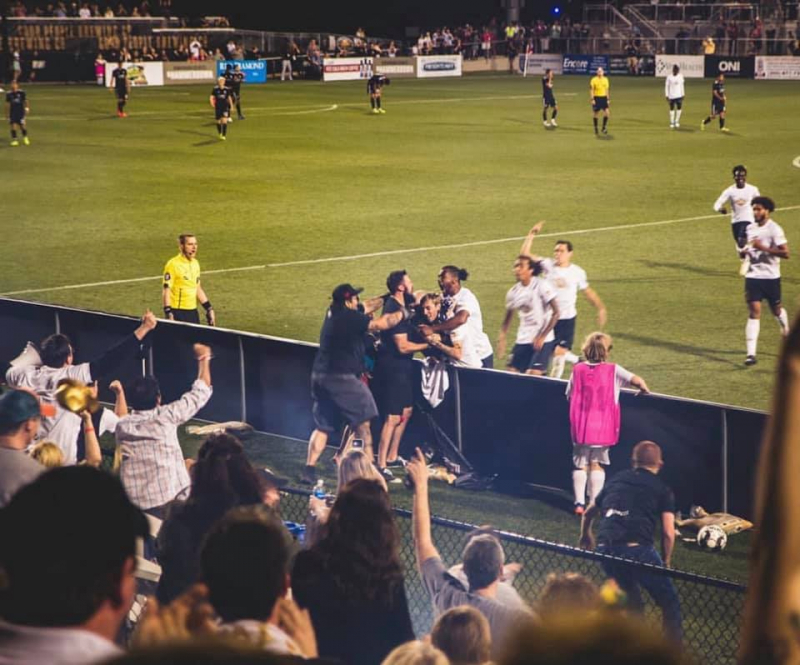 Christopher Cone describes the Brigade as a "place where the camaraderie and love of the game become a family. My kids love it. They come up here and won't miss a game, it's allowed me to spend more time with them. That's why I love the Brigade."
Glenn Stephens added "The Brigade is family. We look after each other, we're always trying to have fun. Just a few days ago a few of us got together to play soccer. It's a shared connection of rooting for the team that has forged and developed friendships and it's good for the team to know that no matter the result, there'll still be people behind them."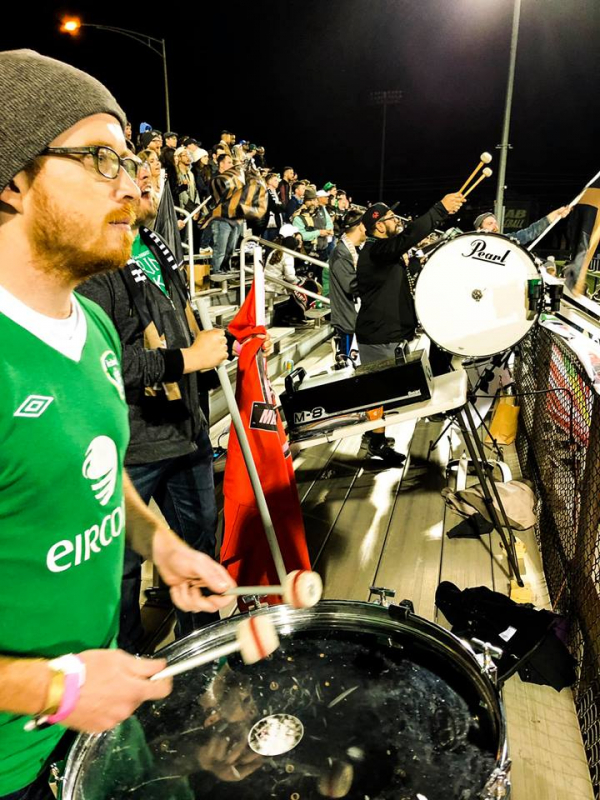 I'd agree with Simon Illes (another British import) when he says "I probably would never have met most of the people I have become friends with, without being member of the Brigade. One of the greatest draws of soccer is that it brings people from very different backgrounds together for a common cause – supporting the team you love. Give it a try! Come out to a game and stand with us in the supporters section. You'll have the most fun in the stadium and you might make a friend or two!"
Check out Magic City Brigade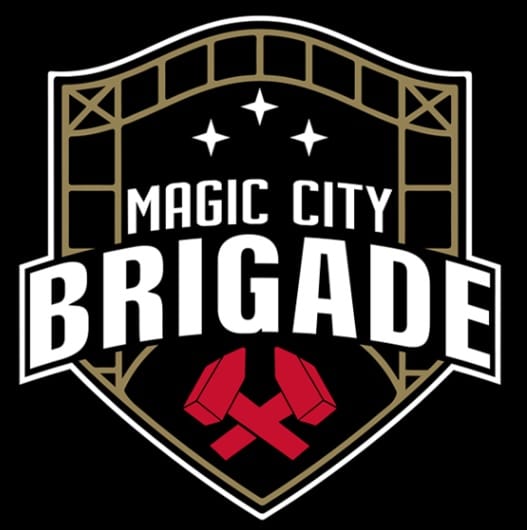 If you'd like to know more about joining Magic City Brigade, head to their website: www.magiccitybrigade.org. Look out for them on Instagram/Twitter @mcbrigade14 or visit their Facebook page.
You could also turn up at the tailgate, or Birmingham Legion FC game, and ask anyone you see who's wearing a Magic City Brigade scarf. I'm glad I did!
Heading to a Birmingham Legion FC game? Tag us on social @bhamnow