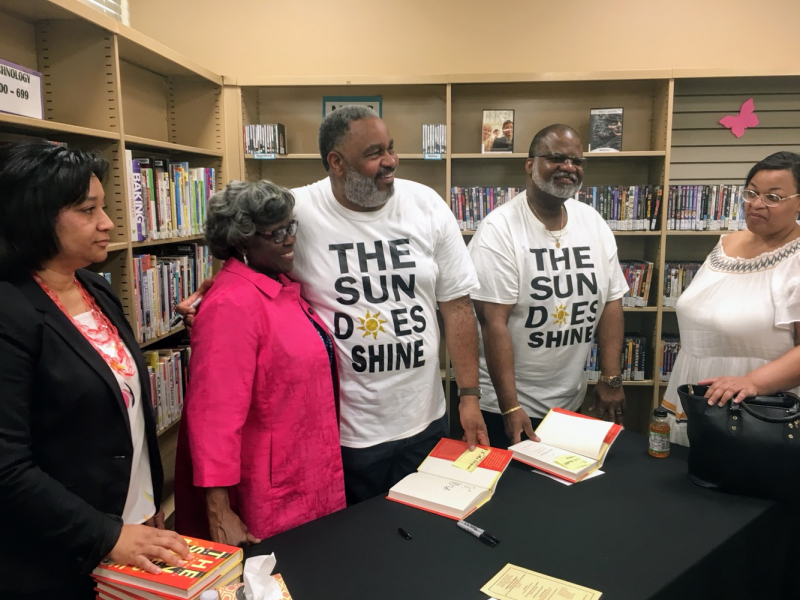 Yesterday, Anthony Ray Hinton spoke to a crowded house at the North Avondale Library. Everyone came to hear the man whose memoir Oprah chose—not only for her Summer 2018 book club, but for her next movie.
Who is Anthony Ray Hinton and what is his story?
Anthony Ray Hinton is man who seems like a neighbor, an uncle, a friend: middle-aged African-American, graying beard, warm smile, and a gentle voice. If you saw him walking down the street wearing his "The Sun Does Shine" t-shirt, you'd have no idea he spent almost 30 years on death row for two Birmingham murders he didn't commit.

In 1985, while he was out cutting the grass for his Mom, he was arrested and charged with two counts of capital murder. Investigators said an old Smith and Wesson at his mother's home—that hadn't been fired for years—matched the bullets used in the crimes.

Hinton had a long and winding road during the years he lived in a 5×7 windowless cell, awaiting execution which could have arrived any day. Finally, after years of litigation, the US Supreme Court—in a unanimous decision—reversed the conviction.

Though a new trial would have been possible after this, it never happened. Instead, the State of Alabama dismissed charges against Hinton after firearms experts tested evidence and confirmed that bullets from the crime scene didn't match the weapon from Hinton's mother's home.

Now, Hinton works with the Montgomery, Alabama-based Equal Justice Initiative and travels the world to share his story and educate people about prison reform and the importance of education and voting.

Top takeaways from Anthony Ray Hinton's talk

While I'd heard of Hinton from a friend who lives in London, I wasn't sure what to expect. After listening to his deeply moving story, I came away with these key takeaways for things we can all do to move toward a world where other people don't suffer the same fate Mr. Hinton did.
1. Support education for everyone
According to Hinton, 5 of the 200 men on death row had graduated high school. The others had dropped out when they were in 7th or 8th grade because "nobody cared." Here are some ways to make a difference in a young person's life:
Be a mentor. You can do this through organizations like Big Brothers Big Sisters or many other programs throughout Birmingham. Many religious organizations sponsor mentoring programs.
2. Vote. Get other people out to vote.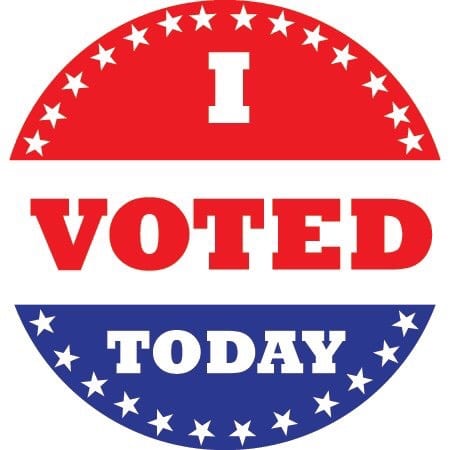 Changing laws and systems requires legislators, judges, district attorneys, and other elected officials who care—about all types of people, and about justice. Find out when elections are happening. Learn about who's running and what they stand for. Vote. Then help others get out to vote.

Ballot Ready is a great non-partisan resource that will help you learn about who's running for any given election and what referendums are on the ballot. You sign up to receive notices for your specific area.

While people tend to pay the most attention to Presidential elections, these smaller, local elections have a much bigger impact on people's lives than most people realize.

3. Read Anthony Ray Hinton's memoir "The Sun Does Shine: How I Found Life and Freedom on Death Row"
Everyone I've talked to who's read this book said they loved it. Oprah loved it so much she's making a movie about it.

The Birmingham Public Library has several copies available in different formats. Of course Amazon has it, as do many other bookstores.

4. Learn more about prisons in Alabama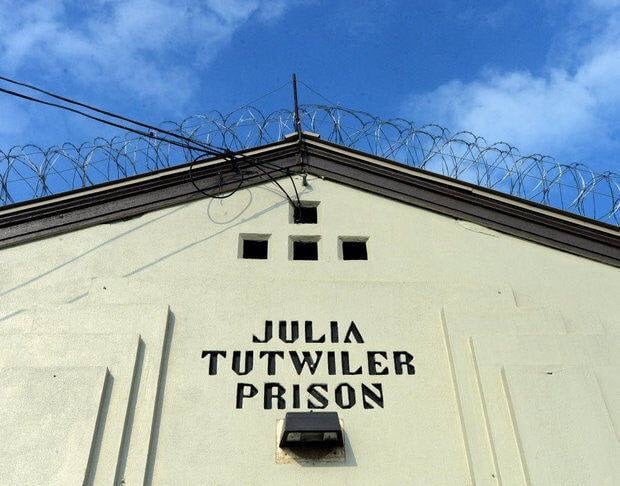 At one point, Mr. Hinton had the opportunity to speak to a group of students from Hayes K-8. He suggested that every young person should spend a month at Holman. Then they would know to focus on their education, making a plan for their life, and staying on the right path. He made it clear that prison is nothing like the glamorized accounts you see on tv or in the movies.
If you want to learn more about Atmore, Alabama's notorious Holman Correctional Facility—without spending a month there—you can watch clips from an MSNBC series called "Lockup."
5. Support programs that help former prisoners transition into everyday life
Although many such programs exist in the Birmingham area, Mr. Hinton felt lost after his release from prison. He is grateful to his good friend Lester and his wife. They let him live with them in their home until he was ready to be out on their own.

Hinton said there programs need that reach out to people who are being released from prison: "would you like some clothes? Would you like a meal? Would you like to see a psychologist?"
People also need practical help with adjusting to civilian life—finding housing, employment, transportation, medical and dental help, and so on.

If you'd like to get involved in a local "ex-offender programs" (which may be working with innocent people as well), here are a few:

Lovelady is not just a thrift store. The Lovelady Center supports women who are leaving Tutwiler Prison.
The Offender Alumni Association works to to create a network of former offenders who inspire each other to reduce recidivism, to establish healthy relationships in their communities, and to provide opportunities for economic, social, and civic empowerment.
The Dannon Project helps many people in transition, including nonviolent offenders.
There are many more of these types of re-entry programs and services, and all of them need people to get involved.

6. Learn more about the Equal Justice Initiative, where Anthony Ray Hinton now works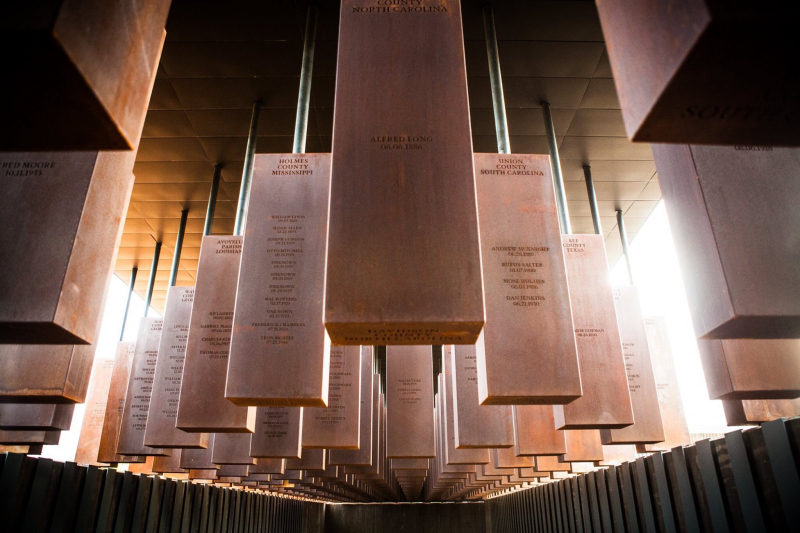 If you've heard of the National Lynching Museum, which opened a year ago in Montgomery, you've heard of the Equal Justice Initiative.

Founded by Hinton's former attorney and current employer Bryan Stevenson, the Equal Justice Initiative is advocating for "a statewide indigent defender system and adequate compensation for appointed attorneys … in Alabama. Until poor defendants and inmates have quality legal representation at all stages of the capital process, the crisis of counsel in the state will hinder the ability of the criminal justice system to yield fair and just results [in death penalty cases]."

If you'd like to be part of helping to make sure others don't suffer the same fate as Mr. Hinton, visit Equal Justice Initiative to learn more about concrete steps they recommend.

7. Read MLK's "Letter from Birmingham Jail"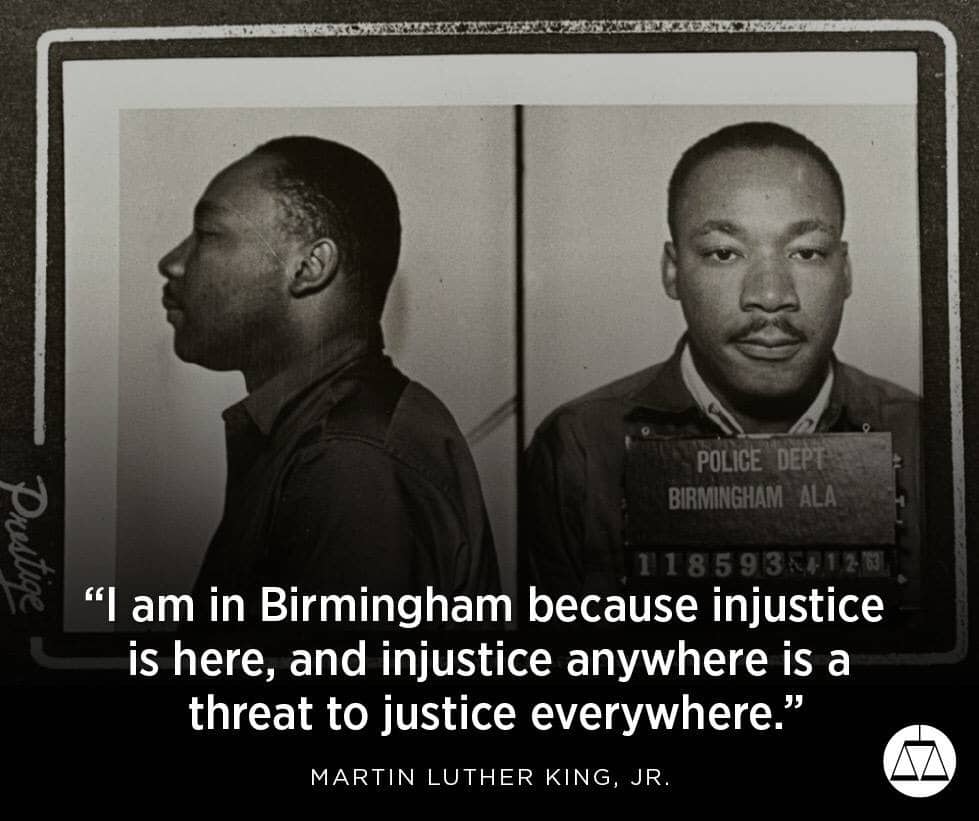 Injustice anywhere is a threat to justice everywhere. We are caught in an inescapable network of mutuality, tied in a single garment of destiny. Whatever affects one directly, affects all indirectly.

Dr. Martin Luther King, Jr., Letter from Birmingham City Jail
Floyd Council, Executive Director of the Birmingham Public Library concluded the event by encouraging everyone to read Dr. King's Letter from Birmingham City Jail, also known as "The Negro is Your Brother." You can listen to Dr. King reading a later version of the letter here, or read an earlier draft here.

---
If you missed yesterday's event and would like to watch, CBS42 livestreamed it.

There's a reason audiences around the world are coming out to hear Anthony Ray Hinton's story. He's a powerful storyteller with a strong message. There's a lot for all of us to learn from what happened to him, how he handled it, and what he learned along the way. And, there are many ways any of us can get involved in creating a more just world for everyone, starting right here in Birmingham.