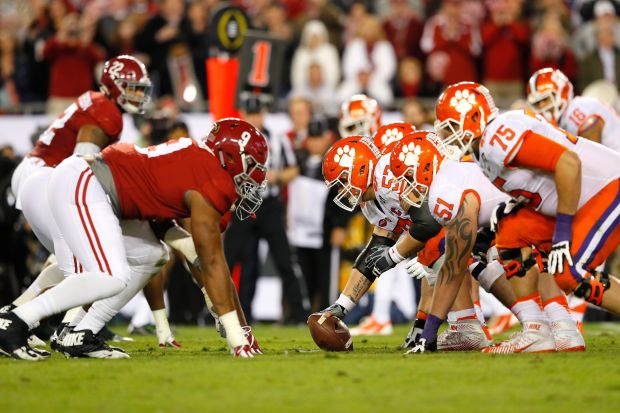 The University of Alabama and Clemson University go head-to-head in the 2019 National Championship on January 7. Here's what to know, where to watch in Birmingham and how to go to the live game.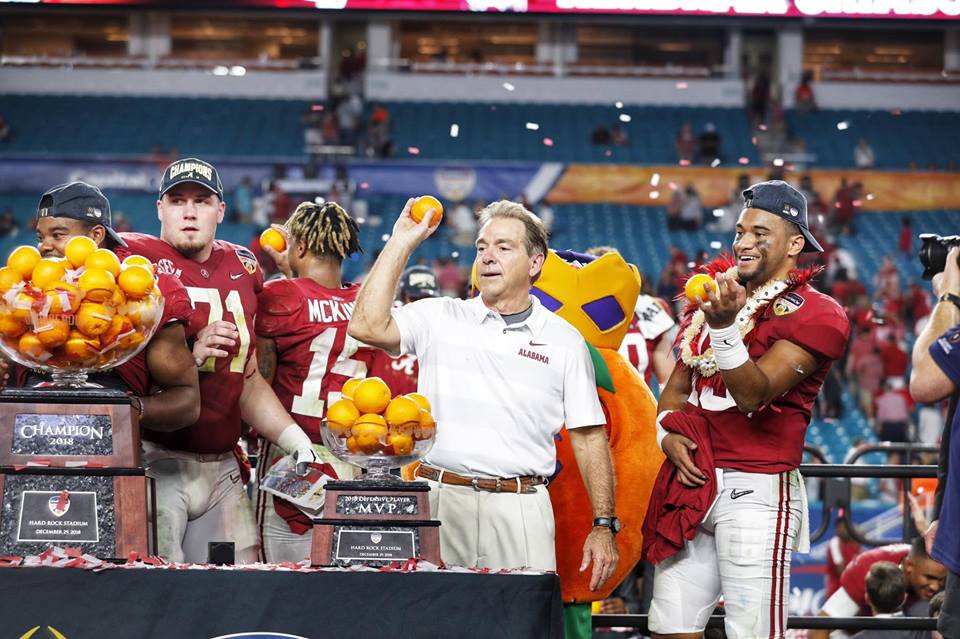 Date: Mon., Jan. 7, 2019
Time: 7PM
Where: Levi Stadium, Santa Clara, California
Channel to Watch: ESPN (TV and online)
Competing Teams: University of Alabama (No. 1) vs. Clemson University (No. 2)
Previous Meeting: The two teams have previously met four times in the College Football Playoffs.
2018 College Football Playoff National Championship: University of Alabama beat Georgia, 26-23
Tickets and Travel Info
Want to catch all the game-day action in person? Well, you may be in luck. News on the social media street is that there are still tickets are up for grabs—and for under $400. (Check seatgeek.com for available tickets and prices.)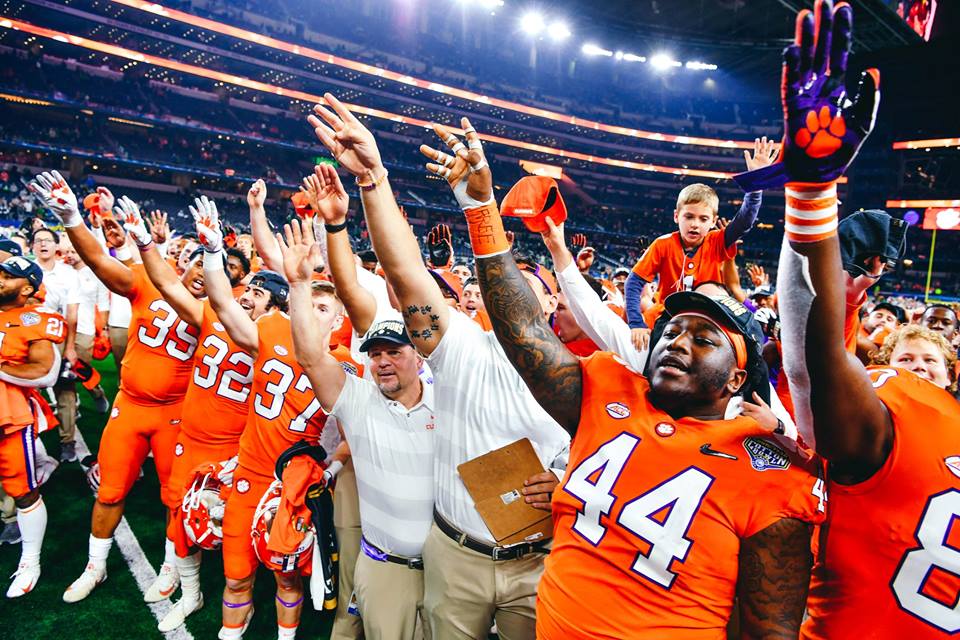 But, wait. Isn't the game all the way across the country in California? Yes, that's true. Won't it be difficult to book a flight on such short notice? No, probably not. Here's why.
American Airlines and United Airlines have added nonstop flights from Birmingham Shuttlesworth Airport to California—specifically for the game. Rather nice of them, don't you think?
"We're excited that our airline partners are adding nonstop flights, making travel to the west coast much faster for college football fans traveling from Birmingham. Fans that fly BHM will be able to easily get to college football's biggest game of the year with no unnecessary layovers or connections."

Sylvester Lavendar, Birmingham Airport Authority's Interim President and CEO
But if you want tickets, you better act fast—flights leave as early as Friday!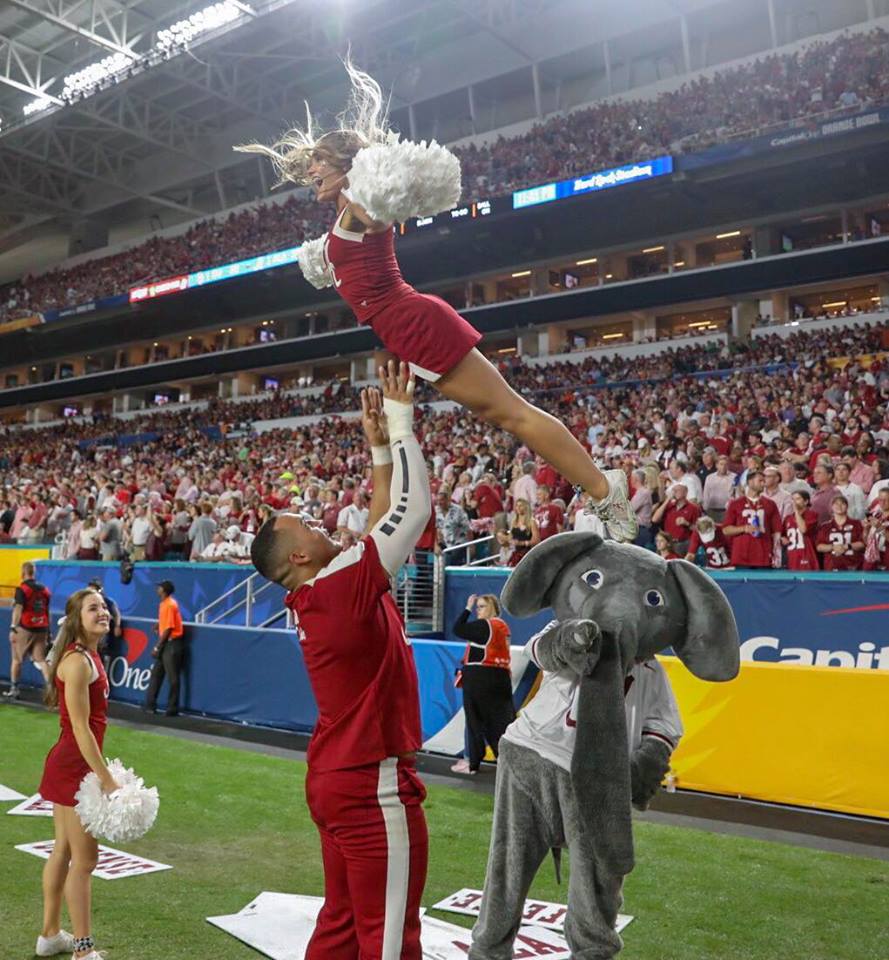 United Airlines is offering two direct flights from Birmingham-Shuttlesworth Airport to San Francisco International Airport—one departing on Friday, January 5 and the other on Saturday, January 6. Airfare prices range from $919-$2,565 round trip.
Flights through American Airlines will depart on Friday, January 5. All nonstop flights will return to Birmingham on Tuesday, January 8. Airfare prices range from $1,291-$1,840 round trip.
Tickets can be booked directly through the airlines.
Where to Watch in Birmingham
If you're planning to watch the game alongside other football fans in Birmingham, then here are some places who are sure to have their TVs tuned in:
Black Market Bar + Grill
Address: 1035 20th St. S., Birmingham, AL 35205
Game Day Hours: 3PM-2AM
Blackwell's
Address: 3151 Green Valley Rd., Vestavia Hills, AL 35243
Game Day Hours: 11AM-12AM
Hickory Tavern
Address: 595 Brookwood Village, Homewood, AL 35209
Game Day Hours: 11AM-12AM
On Tap Sports Cafe
Address 810 Inverness Cors, Birmingham, AL 35242
Game Day Hours: 10:30AM-11PM
SLEEK Sports Bar
Address: 1005 20th St. S., Birmingham, AL 35205
Game Day Hours: 11AM-12AM
Sky Castle
Address: 2808 7th Ave S., Birmingham, AL 35233
Game Day Hours: 11AM-10PM
Overtime Grill + Bar
Address: 100 Frankfurt Cir. Birmingham, AL 35211
Game Day Hours: 11AM-10PM
Are you excited for the big game? We want to hear your predictions!