Sponsored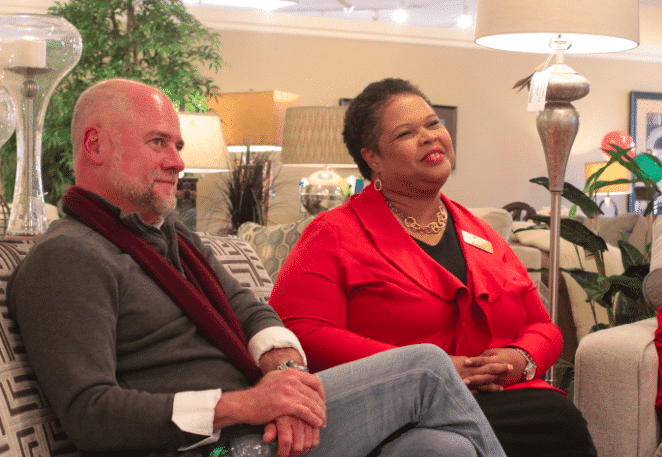 A little less than a year ago, Ronald McDonald House expanded to 73 rooms for families on its Southside Birmingham campus, near Children's of Alabama and UAB Hospital.
Once the paint was dry and the new rooms were ready to be lived in, La-Z-Boy Furniture Galleries furnished the new suites, guest rooms, and common areas such as their dining room and den, with rugs, chairs, sofas and accessories.
This Thanksgiving season, because the new rooms are now fully furnished and well used, both Ronald McDonald House and La-Z-Boy Furniture Galleries have 73 reasons to be thankful.
10 year relationship
Ronald McDonald House and La-Z-Boy have a special relationship.
"We have had a relationship with the Ronald McDonald House for 10 years now," said Curt Morris, owner of La-Z-Boy Furniture Galleries in Birmingham. "You gotta love your family. When you talk family it is not just your personal family. It's the family you have with your business. It's the family you have with your community. It's the family that brings everything together and provides something to be thankful for. And for La-Z-Boy that includes our Ronald McDonald House family.

The Ronald McDonald House is the most uplifting thing for me. They provide rooms, meals, and we are so glad to be a partner, when I go there it just wells up in me. I am so thankful to them."
Katherine Billmeier, Chief Executive Officer at Ronald McDonald House echoed Morris's feelings about La-Z-Boy.
"We're so grateful to La-Z-Boy for many reasons. Not only have they furnished our Ronald McDonald House, they've become familiar friends to our guest families by preparing countless home-cooked meals and sharing warm smiles. I cannot tell you how much this means to the families after a long day at the hospital.

At the Ronald McDonald House, family means hope, support and never feeling alone. Guest families have each other, volunteers and staff to lift them up. We couldn't give our guest families that kind of peace of mind without the support of the community and companies like La-Z-Boy."
One way to show thanks – Giving Tuesday
Both Morris and Billmeier encourage one additional way, people can show gratitude toward the Ronald McDonald House Charities and that is Giving Tuesday on November 27.
This year, every Giving Tuesday gift given to Ronald McDonald House will be matched.
It is all about family and La-Z-Boy and Ronald McDonald House have 73 families that need your help.
Sponsored by: