Partnered Content
Have you ever wondered what coworking is? Have you seen #workatforge floating around Instagram or Facebook? Do you work remotely or from home? Self employed? If you answered yes to any of these questions, you may be interested in learning about Forge coworking space.

What is Forge? 

Forge is currently Birmingham's first and only professional coworking space. Other coworking spaces in Birmingham include The Hub, MAKE Bham and Social Venture. Forge is currently the only coworking space that is geared toward professionals only. A coworking space is a space from which all kinds of people can work. This includes entrepreneurs, those who work remotely, and the self-employed creatives with big dreams. The facilities at Forge are state of the art and the space is stylishly decorated. Kim Lee, founder and CEO, is committed to those that call Forge their home 40+ hours a week and does everything she can to make sure they have what they need.

Forge is located in the Pizitz building and overlooks the Food Hall. The working space runs around the edges of the building. Next time you're grabbing a drink at The Louis or breakfast from Alabama Biscuit Co., look up. See those people? They're working in Forge.

Happy Birthday, Forge!

Forge recently celebrated its first year of business with a lunch party. There was balloons, champagne, lunch catered by Ono Poke and cupcakes. The Forge community came together for a celebration of the space and the founders. After just one year, the space was full of people celebrating and spending time together — a huge testament to the supportive environment found at Forge.

A Little Background 

The fearless leader: Kim Lee, Founder of Forge 
Lee has a Bachelor's degree in Business from Samford, and a Master's in Counseling from Covenant College. Her first job after graduation was for a window-washing company as a business-development team member. Though this seems like a sharp detour from a path that would lead to coworking, Lee cites this job as the place where she really fell in love with business in this way — business as service and hospitality.

"When we moved back to Birmingham and I went back to work, I discovered this concept of coworking. I thought to myself, 'This, somehow, combines everything we love. We love building community, serving the city, growing the city, providing ways for people to work and building an ecosystem for small businesses.'"

Some people may come to lament the fact their job becomes monotonous, the same thing day in and day out. That is not the case when running Forge. Kelsey Sizemore, Marketing and Community Manager at Forge, feels like there is never a dull day — and that is one of her favorite things about working at Forge. She also notes one of her favorite things as the fact that she gets to meet so many different types of people based on all the unique people that call Forge their work home.

"I like the variety of getting to interact with a lot of people here. It's fun that there are people doing a lot of really different jobs, so I get exposed to a lot of different things I never would have known about otherwise."

Apart from the difficulty of finding the perfect downtown location, Lee basically had the idea from the start and has been able to execute her plan well. Although Forge opened later than she had originally planned, it has been an immense success and something that brings both her and Forge members joy and utility everyday.

How Does Bham Feel About Coworking? 

The response from the community has been supportive and people are very interested in the concept of coworking. Not only that, but people are coming from all over to check out Forge. Many of the companies that work from Forge have noticed that their client meetings tend to be onsite simply because people really want to check out Forge and see what's going on. That is definitely a perk of working from Forge — everyone wants to come to you!

The kitchenette on site features fruit-infused water, coffee, tea and snacks. The black / brown / white / gold color scheme is modern but still funky and creative. Natural light floods the workspace. Forge features three conference rooms, plenty of workspace, rentable desks and full offices available for rent. The location is unmatched, especially when the lunch hour rolls around. You can easily pop downstairs to the Pizitz Food Hall and choose from poke bowls, sandwiches, mediterranean food and more.

Lee is also dedicated to furthering the education of all Forge members. She hosts events like lunch-and-learns and happy hours that allow members to meet each other and learn more. Events held include marketing seminars, discussions on small businesses and more.

Upcoming event: How to Start A Podcast with Knox and Jamie of The Popcast, September 26, 12pm – 1pm

Forge Testimonials 

"Working at Forge has reinvigorated my business. I am more motivated, productive, and fulfilled now that I have the balance of self-employment and workplace culture. The best professional decision I have made was to move to Birmingham and start my own company…the second was to develop this company while working at Forge." – Suzanne Humphries, Interior Designer

"Since day one there has really been a sense of community and collaboration at Forge. There is something to be said for the creative and entrepreneurial spirit you find here, that you can't find working from home or your typical office." – Connor Hand, Agent Leads for Big Gen Inc.

"I've been working at Forge for a year now.  I have found a strong sense of community working at Forge.  The familiar faces and great business connections really have helped me as an entrepreneur and my company move forward.   Kim and Kelsey have been so wonderful and helpful every single day. The events that happen at Forge are so helpful to the journey of a small business owner.  I'm grateful to have them happening right there in my workspace. I can partake of continuing education while I eat lunch and still stay focused and on track with work.  Working at Forge has been a game changer for my journey as a small business owner and I'm grateful to work there." – Jacqueline Jones, Owner of One Degree MMM Marketing and Creative Agency

Interested In Attending A Learning Event at Forge?
Join Forge members and other locals to learn all about podcasting from Knox and Jamie, hosts and founders of the nationwide hit podcast The Popcast. The Popcast focuses on current events and pop culture with a witty and informative tone. Topics include movies, television, books, celebrities and music. The hosts are quirky and hilarious. Do yourself a favor and check it out. Then come in and learn how to turn your interests and passions into a podcast.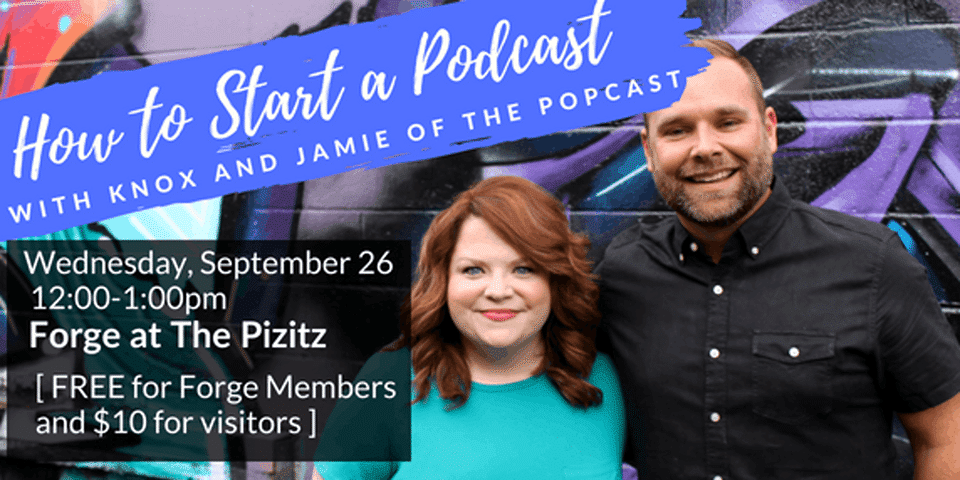 Event Details:
Location: Forge, of course!
Date: Wednesday, September 26
Time: 12pm – 1pm
Tickets: FREE for Forge members; $10 for Forge guests. Sign up here.