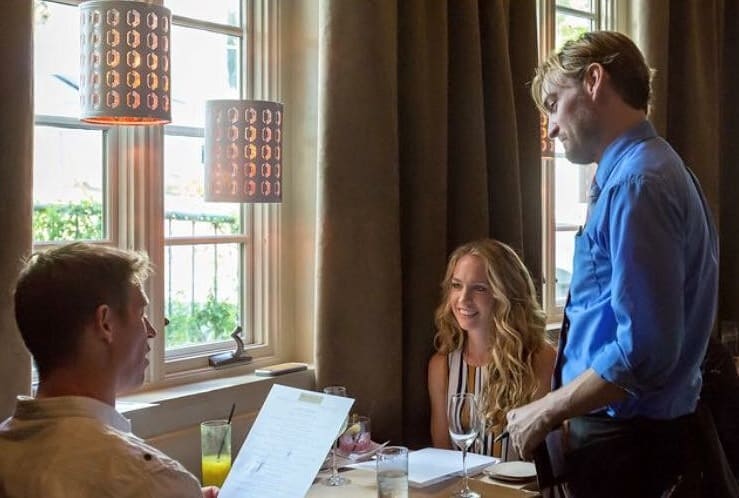 OpenTable has released their 2018 list for 50 Best Southern Restaurants in America, and you better believe that three of Birmingham's best—Cafe Dupont, Highlands Bar and Grill and Hot and Hot Fish Club made the list.
Scoring
How were the restaurants scored you ask?
OpenTable chose their top 50 restaurants by weeding through reviews of 27,000 spots in the "Southern" cuisine category from all 50 states. Reviews collected spanned from June 1, 2017 to May 31, 2018. Each restaurant's overall food rating was then analyzed until the top 50 were finalized.
Highlands Bar and Grill
Is there any surprise that Highlands Bar and Grill made Open Table's list for one of the best southern restaurants in America? Definitely not. Especially considering the amazing year it has had (and it's only July!).
Remember how this past May, Highlands Bar and Grill won the outstanding restaurant award from the James Beard Foundation? They sure did! Read more.
Keep on creating those incredible cuisines and desserts Frank Stitt and Dolester Miles, and we'll keep coming back for more!
Cafe Dupont
With classic cooking styles paired with locally grown ingredients that make up a menu that changes daily, Cafe Dupont truly is one of the best!
Just look below at the stellar review.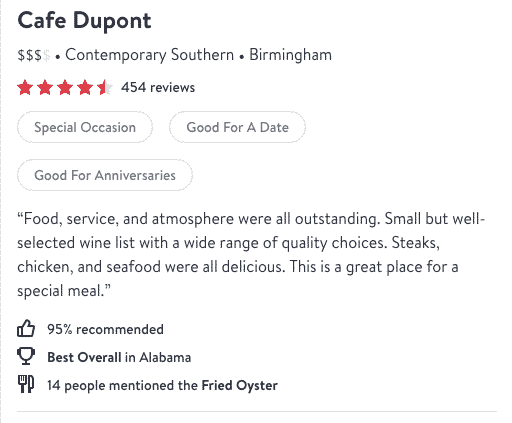 Hot and Hot Fish Club
French, Southern and California-styles of cooking make up the menu at Hot and Hot Fish Club in downtown Birmingham.
Throw in its roomy dining room and bar that serves ever-changing dishes and cocktails and there's only good experiences when you visit.
Bonus Points
What's also cool about OpenTable's list is that though many restaurants on the list are states from the Northeast and Midwest. Southern restaurants popping up in other states? See, we are pretty fab in the South – especially in Birmingham!