Sponsored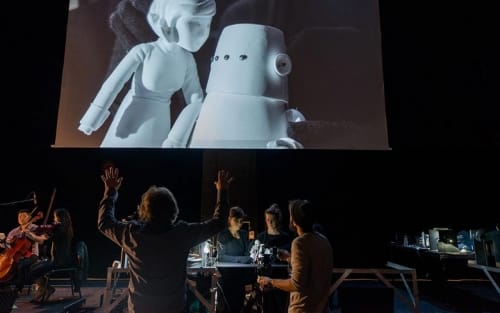 You don't want to miss this fascinating multimedia event at
UAB's Alys Stephens Center
on
February 16
and
February 17
! Catch
Kid Koala's
graphic novel come to life in "Nufonia Must Fall".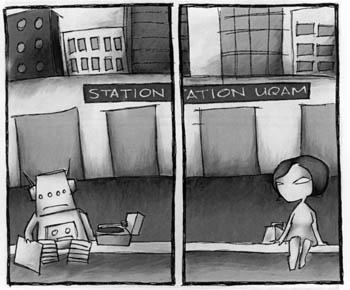 You Had Me At Robots
This love story about a robot and a lady named Malorie is right up my alley. "Nufonia Must Fall" features puppets, live music and video, all blended together for a unique performance experience.
Watch a team of puppeteers bring a music-loving robot to life in miniature sets  in "Nufonia Must Fall".
This live, multi-dimensional adaptation of Kid Koala's graphic novel happens in real time, all while a live string quartet plays alongside electric instruments!
Technically Live
One of the most appealing aspects of this show to me is the intricate visual relationship between the stage and the screen. Blending a live performance with a silent film has to be a feat!
Fifteen people make up the live production, involving a team of puppeteers, technicians and musicians. Under the direction of Oscar-nominated production designer KK Barrett ("Her," "Where the Wild Things Are," "Adaptation," "Being John Malkovich"), the performance is cinematically lit, filmed and projected on a large screen.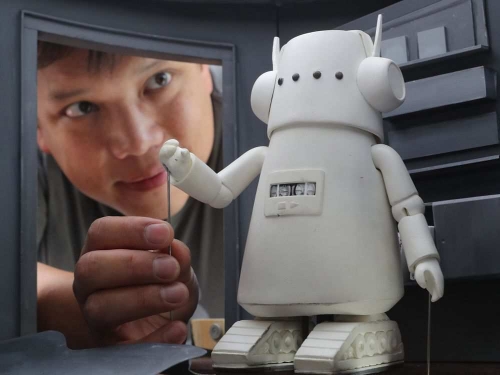 There's That!
Kid Koala, accompanied by the Afiara String Quartet, performs his original score on piano and turntable. In a recent interview, Kid Koala told ART DEPARTMENTAL that the story behind "Nufonia Must Fall" is mostly about himself  …  as a robot who pens romantic melodies.
"Well,(laughs)I'd say it's a thinly veiled autobiography. It's the story of a robot that's trying to write love songs but can't sing, so he has to sort of live a little life before he realizes how to access that part of him I guess."
 Buy Tickets
Purchase your tickets online via this link to UAB's Alys Stephens Center website. I've heard so much buzz about this on social media, so I would go ahead and scoop them up now. This show is a hot event in Birmingham!
Master Class With Kid Koala
Wait, what?! You can take a free master class with Kid Koala on February 17 from 1 to 2 p.m. but you MUST RSVP by calling or email the number/address here.
In the class, Kid Koala will share his take on life and the experiences he's had as an artist through anecdotes, photos, videos and musical demonstrations. Subjects explored include how inspiration can take many forms, the significance of multidisciplinary arts in today's world and how making mistakes in art can often lead to the opening of many new doors.
Sponsored By: