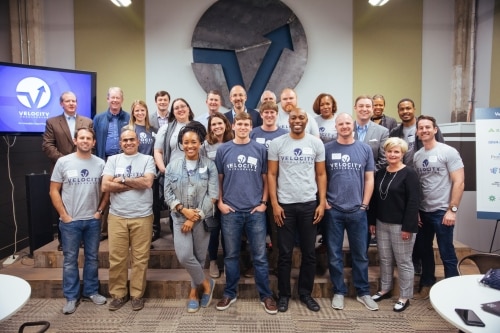 Innovation Depot had a party to celebrate the beginning of its Velocity Accelerator Program. Get to know the founders and companies here!
The Launch Party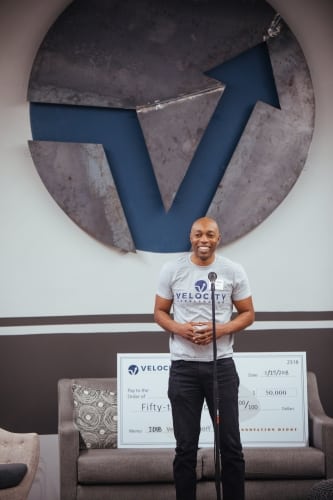 The launch party for the 2018 Velocity Accelerator teams gave them the chance to meet supporters of the Velocity Accelerator Fund, current Depot members, and many of the alumni from the program's first cohort.
The teams gave elevator pitches to help guests get familiar with their companies and will have the next 12 weeks to continue honing their speeches.
We feel honored to be a part of Velocity and are confident that the resources and relationships we will be able to tap into through the program will really help us to improve and scale our business." – Tommy Mayfield, Founder and CEO of Wyndy
The Velocity Accelerator Program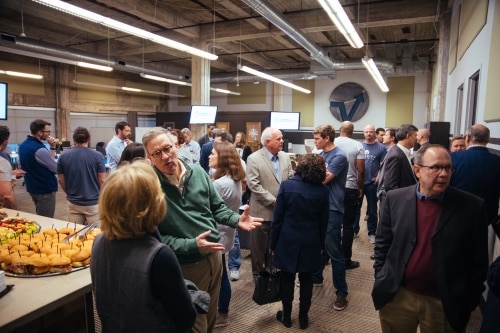 This kick-off launches the second year of Innovation Depot's Velocity Accelerator Program for high-growth tech startups.
Basically, the program selects 7-10 tech startup teams from over 100 applicants who they think have the most potential for growth and success.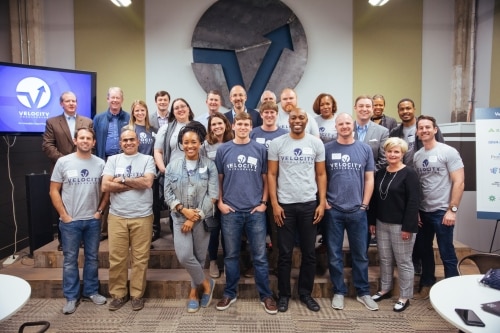 Then for 13 intense weeks the teams scale their businesses under a Managing Entrepreneur-in Residence who guides them through growing their companies.
Innovation Depot provides the Velocity Accelerator companies with an incredible work environment, the chance to connect with investors and be mentored by industry experts, and resources to invest in their idea.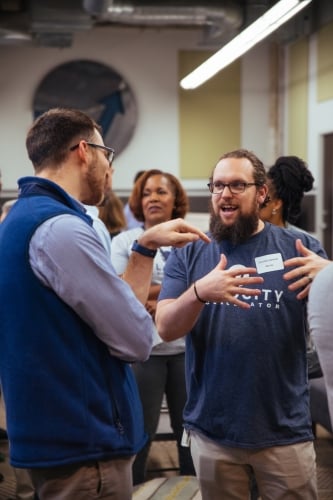 We look forward to the chance to put our heads down and work extremely hard through the program to launch and grow Dirtbook and gain the traction we need to accelerate from our local Birmingham market to other key markets across the country." – Colt Byrom, Founder of Dirtbook
In fact, Innovation Depot gives each company $50,000 at the beginning of the program and after Demo Day, the opportunity to receive follow-on funding to keep their businesses in Birmingham.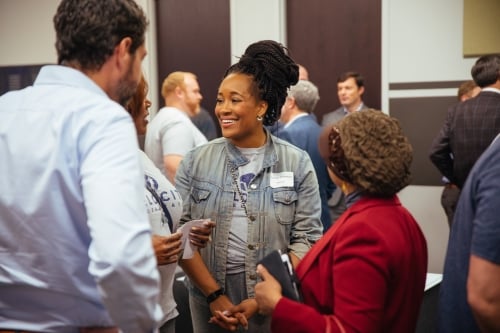 Supporters of the Velocity Accelerator Fund are great companies like Regions Bank, Alabama Power, BBVA Compass, Blue Cross Blue Shield, Protective Life, UAB, Encompass Health, EBSCO, Brasfield & Gorrie, Altec, the Community Foundation of Greater Birmingham, McWane, and Hoar Construction.
On April 23rd, the teams will each give their final pitches to supporters and investors at Demo Day at Iron City.
The Teams
This year's teams include four Birmingham-based companies and three that have traveled from San Jose, Atlanta, and Nashville.
Wyndy: Wyndy is a mobile app that makes it easy to find, book, and pay college sitters. All sitters are full-time college or graduate students who have successfully applied and cleared a background check.
Axle Advertisements: Axle Advertisements enables brands to run targeted OOH campaigns with measurable results on semi-trailers nationwide, while allowing carriers to earn additional revenue by leveraging the idle space on their trailer.
SmartAlto: Smart Alto makes a text messaging robot that helps real estate agents respond to leads, 24/7. Their text messaging robot automatically qualifies, nurtures, and books appointments with real estate leads.
Mixtroz: Mixtroz (mixer + introduction) solves the problem of networking at live events which can be awkward, unstructured, and unprofitable. Mixtroz is a technology that drives live event attendees from the digital space (mobile phone) to physical space (event) in real time while collecting valuable data. They are like "LinkedIn" but live!
Dirtbook: Dirtbook is a B2B and B2C marketplace app for the construction industry. Dirtbook will create a large, easy to use database system that helps users match their construction projects' and developments' dirt needs and provide anything they might need related to dirt and development. It's Dating for Dirt!
SimpleShowing: SimpleShowing's app allows consumers to schedule home showings on-demand, on their own, without a real estate agent.
Anchorspace: Anchorspace turns vacant and underutilized office/retail spaces into revenue by offering multiple lease options for tenants and a secure transaction platform for landlords.
Don't know what Innovation Depot is? Check out their website to learn how they support and grow technology startups in Bham!