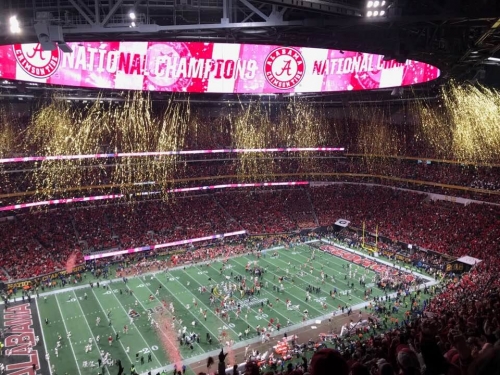 The Alabama Symphony Orchestra (ASO) is celebrating the University of Alabama's 17th National Championship with a 26% discount on their upcoming "We are the Champions" concert dedicated to inspirational sports music.
The concert is scheduled for Saturday, January 20, 2018 at 8pm at Samford University's Wright Center. The 26% offer commemorates the 26 points scored by the Crimson Tide in their 26-23 victory over Georgia.
Here is the message announcing the discount from the ASO.
College football season might be over, but let's keep the revelry going with an evening dedicated to great music inspired by sports! The voice of the Crimson Tide and fan favorite Eli Gold will join us as Emcee for a program featuring music from Rocky, The Natural, Rudy, Olympic themes, college fight songs, an orchestral setting of "Casey at the Bat," and much more! Get your tickets today and join us for an evening you won't soon forget!

To celebrate Alabama's stunning National Championship win, we're pleased to offer 26% off at We are the Champions, for the 26 points that the Crimson Tide scored! Use the code "ROLLTIDEROLL" to redeem your discount today!
Seeing legendary Eli Gold emcee the program will be a treat and maybe he'll recreate last night's game winning touchdown.
It should be a fun fantastic evening for all sports fans, not just Bama fans. In fact, the symphony plans to play both Auburn and Alabama's fight songs.
Again, remember, use the code "ROLLTIDEROLL" to redeem your discount.