Did you know there's a diner in the basement of the East Lake United Methodist Church? Juanita Jones and Mitchell Nash tell us how this small business serves up a heaping helping of love, right in the heart of East Lake!
Located at 2nd AVE S and 78th St S, in the basement of the East Lake United Methodist Church, the Downstairs Diner began in 2007, where the dining room and kitchen of the previous elementary had operated. This kitchen serves not only local, regular patrons, but also school aged children during the summer.
Juanita Jones –  I've spent twenty-seven years working this food location, the last ten years as the diner and seventeen years before that as a school lunch room.  Our basic operation is the diner. We serve lunch from 11-1 Monday through Friday.  The money made from the business goes back into the business and supports the ongoing programs provided for the community.
We have community appreciation days where the featured group, such as law enforcement or business owners, eat for five dollars.  We have Senior Appreciation days on Tuesdays and Thursdays where anyone over the age of 60 can eat for $4.00! That's ongoing, and funded through a grant we received to help with that. We also do catering for local events and churches.

Our most popular dish is fish on Fridays. Baked or fried, every Friday. I tried taking it off the menu, but had to put it back on because they all came looking for fish. If we didn't serve fish on Fridays, there'd be a riot!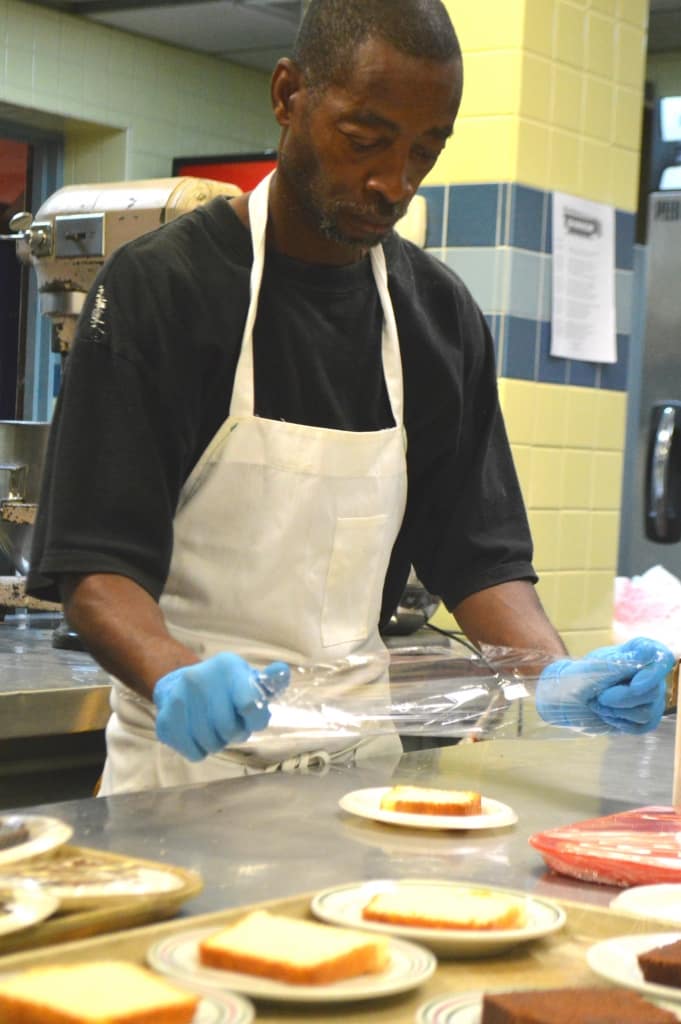 We have a summer feeding program where any child 18 and under eats for free every weekday for free. Any child for anywhere, lunch and a snack. We feed around a hundred to a hundred-fifty every day since that program opened in June. They eat here every day at noon in the large separate dining room. That is funded with a grant through the State of Alabama. It's an open house. The kids in the neighborhood come to eat here too. It's not just Alethiea House and the local daycare. Anyone 18 and under can come from anywhere and get lunch for free during the months of June and August.
The best thing about running this business is that I get to know a lot of the customers names and get to know them. I'm happy that people in the neighborhood have a place to go and eat lunch. Scheduling and coordinating the meals and programs is not a problem for me since I've been doing it so long.  The hardest thing about this operation is trying to get good help to work in the kitchen and keep up with the dishes.

My hope for Birmingham moving ahead is that our diner continues to grow.   And that the farmers market and  the neighborhood just explodes with more people, kind people and that everyone just comes together.  We're working awfully hard at it!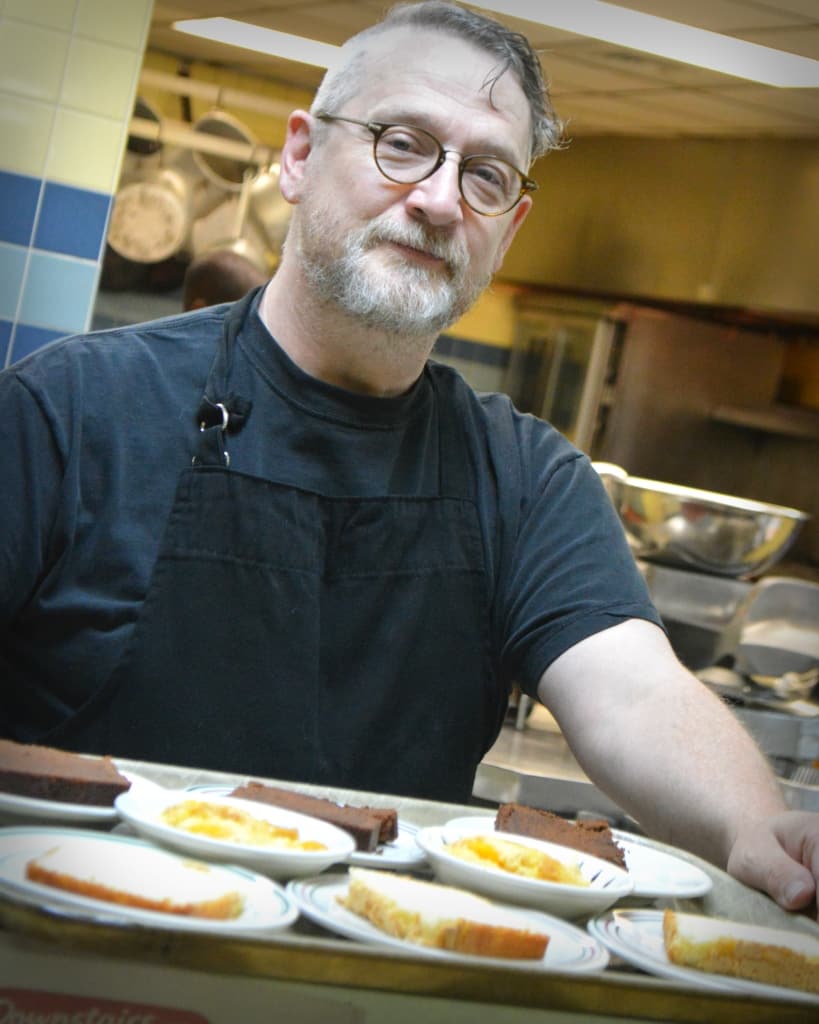 Mitchell Nash – I'm so glad to have this summer feeding program. If the kids weren't coming here, I think many of them would probably go hungry.

P.E.E.R. is housed here at East Lake UMC.  It produces the farmers market and the market bus that goes around to the schools during the school year in the afternoons to sell fresh produce snacks as an alternative to chips, candy or cookies.  Kids can buy a fresh piece of fruit. It also goes to senior centers and the health department.
Backdoor Bakery also operates out of this space.  Our most popular item is cheese straws. I sell hundreds of pounds of cheese straws every week. I had one order last week for seventy-five pounds of cheese straws! Do you know how much a cheese straw weighs? About an eighth of an ounce. That's a lot of cheese straws! The same customer will order two to three times as much during the holidays.

We purchase a lot of the fruits and vegetables we need from the farmers who are here at market here on Saturdays.  A lot of the ingredients I need for the Backdoor Bakery are also purchased through the market.

My hope for Birmingham as we move forward is that resources would be provided that these underserved neighborhoods need. AndI also hope that there will be the city level representation that these neighborhoods need. We get forgotten a lot. (East Lake)
What I want people to know about this area is that East Lake is a wonderful place to live and work and play. I grew up here. I live in a house that's been in my family since 1949. The diversity of people in this area is amazing. Ages, races, cultures, but everyone gets along and lives together. We're just neighbors. We're just friends. This church tends to be the heart of so many neighborhood activities and it's great to be a part of that. We are under-resourced neighborhood, if you will. But neighbors can walk here and get a healthy, nutritious lunch for next to nothing. You can't get this for seven dollars for anywhere around and you certainly can't get it for four dollars as a senior citizen!  To me, that's the coolest part about this diner.
Find out more about the Downstairs Diner, including their weekly menus at:
https://www.facebook.com/Downstairs-Diner-923842257635860/
Recent food related small business post: