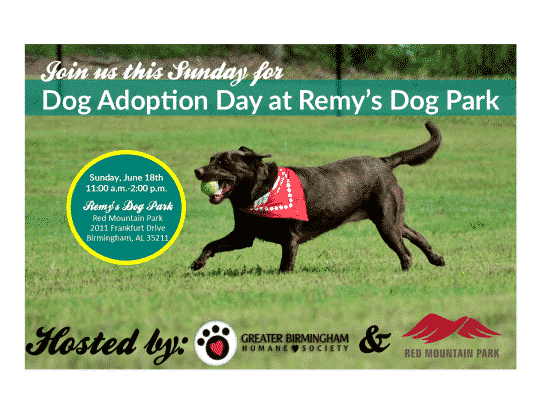 This Sunday, some great pups are looking for homes. Bring your family, including your furry members, to find your perfect new addition.
The first Adoption Day will be Sunday, June 18th. This off leash adoption event is one like no other. In order to find the best fit for your family, you will get the chance to introduce your pets to your possible new addition. This event will help give those adopting a chance to see the personality of all the lovable pups in a playful environment and around other dogs. Adoption Day is a great opportunity for all of the adoptable dogs to socialize outside of the shelter, as well.
The event will take place at Remy's Dog Park at Red Mountain Park from 11am to 2pm. Partnered with the Greater Birmingham Humane Society, there will be up to 12 dogs looking for their forever home.
https://www.instagram.com/p/BVVNURYlp0U/?taken-at=414168388
Remy's Dog Park has three areas for doggie fun laid across 6 acres of land. The park was named after donor Ken Jackson's Jack Russel Terrier- Shih Zu Mix.
https://www.instagram.com/p/BTmQ_90jdBA/?taken-at=414168388
A unique feature of this dog park is the Special Needs Area intended for shy, elderly, injured and recovering dogs, which will be utilized during Adoption Day. Over 600 hours of volunteer work went into the entire facility before its grand opening in 2014. The hard work paid off when the dog park was named one of the 10 Great Southern Dog Parks by Southern Living. It was the only dog park in Alabama mentioned.
I have always had a passion for animals. I am excited about [Adoption Day's] potential, we are lucky to have this kind of facility to be able to help find animals homes in a unique way. This event could potentially be modeled everywhere with local shelters and dog parks working together in their communities.

– Ken Jackson, donor of Remy's Dog Park
Sunday is for the dogs! Head over to Red Mountain Park for this special dog park adoption event.