Searching for talent or looking for a job?  In today's, Bham Now tech spotlight we feature Fetch Talent, LLC, a  new business with an innovative hiring platform.
Fetch is working to make it easier for potential employees and companies to connect in today's competitive job market with a new talent driven hiring platform.
This exciting hiring platform has set its sights on Nashville to expand its business.
In an interview with Chase Morrow and Jason Hutson, co-founders of Fetch, Bham Now learned the exciting details of their multi-sided plans for growth.
Fetch's Expansion
Accordingly, there are two main avenues of growth the startup has and will experience.
First, Fetch has added two new hires, a platform "Coach" and professional business developer.
This slideshow requires JavaScript.
Caitlin Schweizer, will be responsible for coaching the talent looking for jobs. Shelia Kaye Fondren will bein charge of solidifying new business relationships.
Mrs. Olson and Mrs. Fondren both come from national organizations. Olsen was a recruiter at Google, in New York City, while Fondren was the VP of HR for Enterprise Holdings
"I love new companies and growing new business; I did it before and I want to do it again."

– Shelia Kaye Fondren exclaimed to Bham Now
Clearly, the two women are crucial parts to this expansion into Nashville.
Hiring is the first step, but marketing will be the true narrative for Fetch's future success.
"The goal, as we grow, is to have a room full of coaches and hiring ambassadors on headsets engaging with business clients and talent.

Jason Hutson, stated to Bham Now
What exactly is Fetch Talent, LLC?
Focusing on "passive talent", those who may not be actively looking for a job, or not wanting it known, the company is able to organically match talent with open positions.
The platform for businesses will charge a flat rate to host the job openings on the website platform. Then, talent is able to upload resumes and descriptions of their expertise to the platform.
Through advanced analytics and algorithms, Fetch is able to automatically match the talent – potential employee to the business.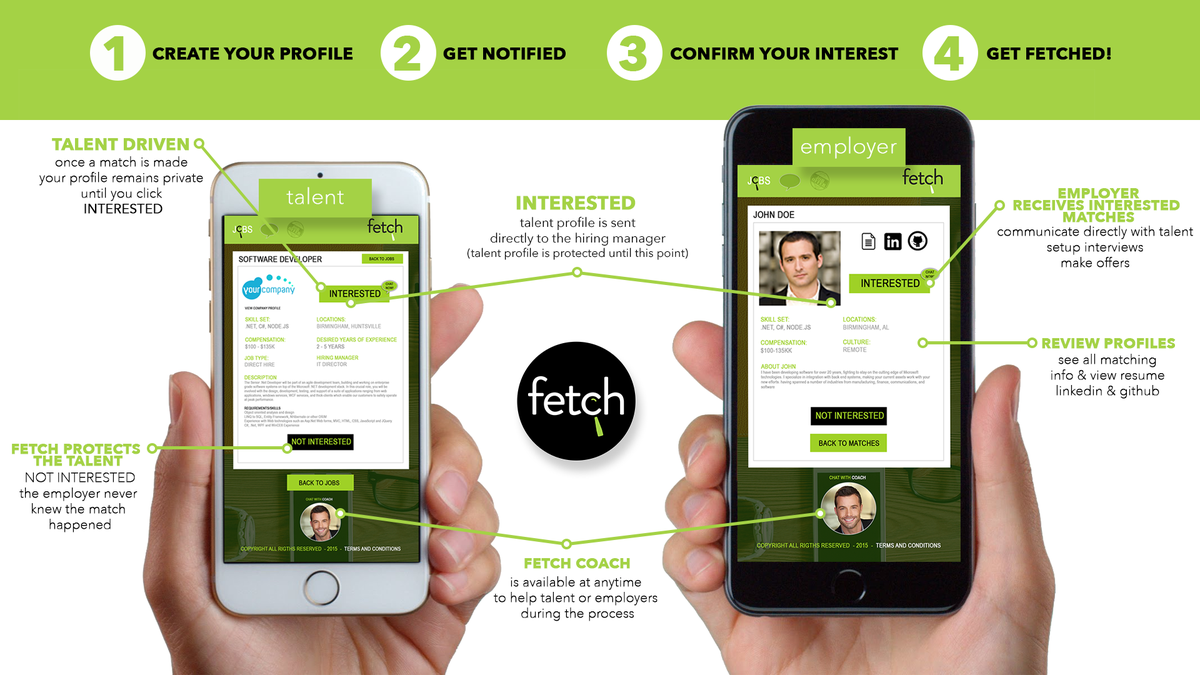 "The talent no longer wants to deal with those people (agency recruiters or Linkedin) and they're blocking all of that out and using platforms like Fetch, because it's secure.

Nobody knows you sign up on Fetch. You get matched and get to read the description of the jobs.

Then no company knows you are on the platform, unless you choose interest.

Our tagline is 'you're nobody until you decide to be somebody'".

– Hutson
Essentially, the problem Fetch is trying to solve is simple – a bias and lack of caring for business talent in the recruiting agency world. In the past, the incentive for a recruiter is to match as many people to a job to turn a commission profit.
The company is looking to benefit both parties through jobs, and a new product is in the works to make this much more attractive.
Finally, the two co-founders said this new product gives incentive to talent to become mini ambassadors.
A company will pay extra to "boost" a job opening, through Fetch and to all the talent associated, which will allow the talent to refer other talent, unassociated talent, for a piece of the profit pie; only if the referral takes the job.
The product is not offered yet, but as any relatively new startup, the game is all about speed, and Fetch is aiming to be on top of the game soon.
---
Expansion in personnel and products. Fetch encapsulates the true Birmingham entrepreneurial spirit; helping both business and you.