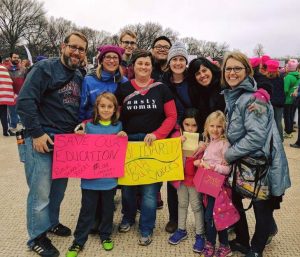 On Saturday, January 21, scores of Birmingham residents converged on the nation's capitol for the Women's March on Washington.  The crowd (some estimates are over a million) came from every corner of the country and the world to advocate on behalf of women's rights and human rights.  Some of the Alabama delegation documented their experiences through social media posts and photos.
According to Vox News,
…political scientists say they think we may have just witnessed the largest day of demonstrations in American history.

According to data collected by Erica Chenoweth at the University of Denver and Jeremy Pressman at the University of Connecticut, marches held in more than 500 US cities were attended by at least 3.7 million people.
The google docs spreadsheet, where counts are being tallied across the world shows that Birmingham contributed between 5000-10,000 participants to the historic event.
See photos/videos from locals who were there:
The Biga family on a full DC metro train, headed to the march (Peggy Biga)

Peggy Biga describes the trip to Washington:
"The travels here were amazing, starting with the cheers we all received as we boarded that last flight outta Bham to DC. The airport staff were fired UP!! The flight attendant said every flight she ran today to DC was full of marchers, and she was fired UP! Almost our entire flight was made up of marchers (there was one really uncomfortable guy sitting behind me), and when we landed everyone cheered and wished each other a great march.  Unity and solidarity."
Monica Crews 9 am: "Just crossed the Potomac. We are almost there!"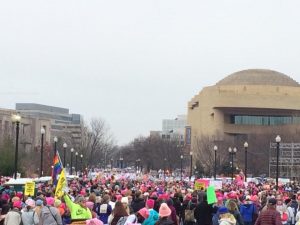 Karen Graffeo – "And so it begins. The conductor told us that we have made history for Amtrak for sold out trains into DC. We arrive soon to the mall for the march. The collective joy on the train is heart warming. We feel so happy and patriotic. We appreciate the support and love from our Facebook tribe. Thank you dear ones."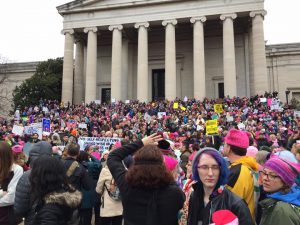 Latasha Watters

"I can't even begin to get a picture of how enormous the crowd is!"
Meg McGlamery – "Thank you for all the love. From overseas and home, I truly appreciate the calls, texts, messages, thoughts, and prayers. Stand up, speak out. We are in this together." 
💚#WomensMarch

Peggy Biga, speaking about her son, Avery, " THIS is our future. This 10 year old bad hombre is owning this march. There are a ton of amazing youngsters here with a lot to say.  He marched with us from 8 am until about 5 pm in a sea of people. His legs only tired around 3-4 pm when we were in the middle of the march near the Washington monument, with what felt like about 100k people in a 2 block section. He was such a trooper, and even more than that, such an advocate for others. He chanted, he sang, he danced, he let people take his picture, he talked to people, he pushed us forward through crowds….he marched like a champion. I'm so proud of him. One day, he is gonna make big difference.  Yesterday was the beginning to the movement of resistance. We are the people and we will demand that our voices will be heard."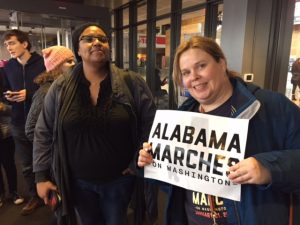 Carmen Wooten Preston, coordinator for one of the Alabama bus transports, bid a tired, but happy Katie Elkins goodbye as they arrived home in Birmingham at 8 a.m. this morning.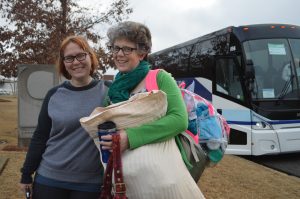 Katie says, "Although we couldn't see the stage or hear the presentation, it was just amazing to be with so many people, peacefully making their voices heard."
As they unpack their travel bags, march participants will undoubtedly also unpack their reflections on this historic event.
For those wishing to become involved, march organizers offer this invitation on their website :
"Our march forward doesn't end here: Now It's the time to get our friends, family and community together and make history."
https://www.womensmarch.com/100/
Check out our gallery of photos taken by march participants.
This slideshow requires JavaScript.
Latasha Watters got this video clip of the D.C. march:
Please note: We will continue to update this post with real experiences from local Birmingham residents.  We welcome for you to send your photos/videos for our gallery to hello (@)bhamnow.com