"Johnny Apple Seed" is my favorite blessing, even though it's a simple child's song. Above is composer and songwriter Michele Brourman giving it a mature upgrade, but I still love to hear kids sing it before sharing a meal.
The short and sweet tune reminds me of attending Camp Sumatanga in Gallant, Alabama, where we would sing "Johnny Appleseed" before every meal.
There is a spiritual connection between food and nature, and I can thank the Methodist church for opening my eyes (and stomach) to the sweet message found its lyrics. I feel this same connection when visiting our state's farmers and witnessing the fruits of their labor. One of my favorite ways to rekindle this connection is with a trip to purchase apples from an Alabama apple farm!
The state has handful of apple orchards, some where you can even pick your own apples. While the picking season ends at the end of October, the orchards below continue to sell the fruits of their labor until they run out.

Crow Mountain Orchard
6236 County Road 39 Fackler, AL 35746
256-437-9254
Crow Mountain Orchard, while not open for tours, boasts over 20 varieties of apples that they sell to the public. From Ginger Golds to Pippins, along with more common ones like Gala and Golden Delicious, Crow Mountain apples can also be purchased at seven different farmer's markets.

Scott's Orchard
2163 Scott Road, Hazel Green, AL 35750
(256) 828-4563
Scott's Orchard is the largest apple orchard in Tennessee, but they are technically located in Alabama. Confused? Don't be! The 150-acre farm stretches across the state line. They serve apples, peaches, cider, apple and peach cider slushies, vegetables, honey and molasses.
1695 Co Rd 1141, Cullman, AL 35057
Steele's Orchard is located in Cullman, and they give tours of the orchards (unlike most) in addition to selling apples and apple goods on site. Steele's Orchard has a gift shop and bakery that's open through December, selling everything from southern fried pies to apple-wood chips for barbecuing.
Now, what to do with all those apples after your day trip? My personal favorite is this healthy breakfast muffin, made with candied ginger and whole-wheat flour. You can also find this recipe on the Bham Now Facebook page.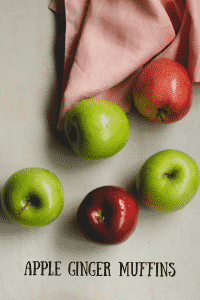 Apple Ginger Muffins
2 cups all-purpose flour
1/4 cup firmly packed brown sugar
1 tbsp. chopped candied ginger (available at asian markets)
1 tsp. baking soda
1 tsp. cinnamon
1/4 tsp. salt
1 c. small-diced apples
1/2 c. vegetable oil
1 eggTopping:
2 tbsp. flour
2 tbsp. brown sugar
1/2 tsp. cinnamon
1 tbsp. butter
1 tbsp. candied ginger, chopped finely
Directions: Preheat oven to 400 degrees. Line 12 muffin cups with paper baking cups In large bowl, combine flour, brown sugar, ginger, baking soda and salt; blend well.In medium bowl, combine apples, oil, and egg; blend well and Add to Your dry ingredients; stir just until dry ingredients are moistened. don't over mix! Divide batter evenly among muffin cups.
In a small bowl, combine the topping ingredients and sprinkle over batter. Bake for 18 to 22 minutes or until an inserted toothpick comes out clean.