They all have been honored by the esteemed Explorers Club.  Congratulations, James McClintock!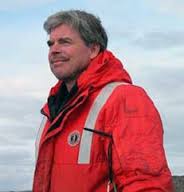 UAB's James McClintock, Explorers Club Fellow
James McClintock is being honored by an organization that has recognized famous explorers for more than a century, including; Sir Edmund Hillary, Theodore Roosevelt, Charles Lindbergh, Neil Armstrong and Sally Ride. The longtime UAB researcher's fellowship in the Explorers Club recognizes his significant scientific contributions in the field of geographical exploration.
The Explorers Club was founded in 1904 to unite explorers through fellowship and to promote field research, furthering the instinct to explore. There are 25 chapters worldwide.
An expert in polar and marine biology, and best known for his exploration and research in Antarctica, McClintock has also written two highly acclaimed books Lost Antarctica: Adventures in a Disappearing Land and A Naturalist Goes Fishing. He has also published 235 scientific publications.
As a Fellow, McClintock looks forward to bringing forward his perspective on climate change and the acidification of the oceans to the Club.
Check out below two videos about McClintock's work.  One is a video narrated by Harrison Ford (yes, Indiana Jones or for Star Wars fans Han Solo) and his TEDx Birmingham lecture about climate change and its impact on the polar ecosystem.