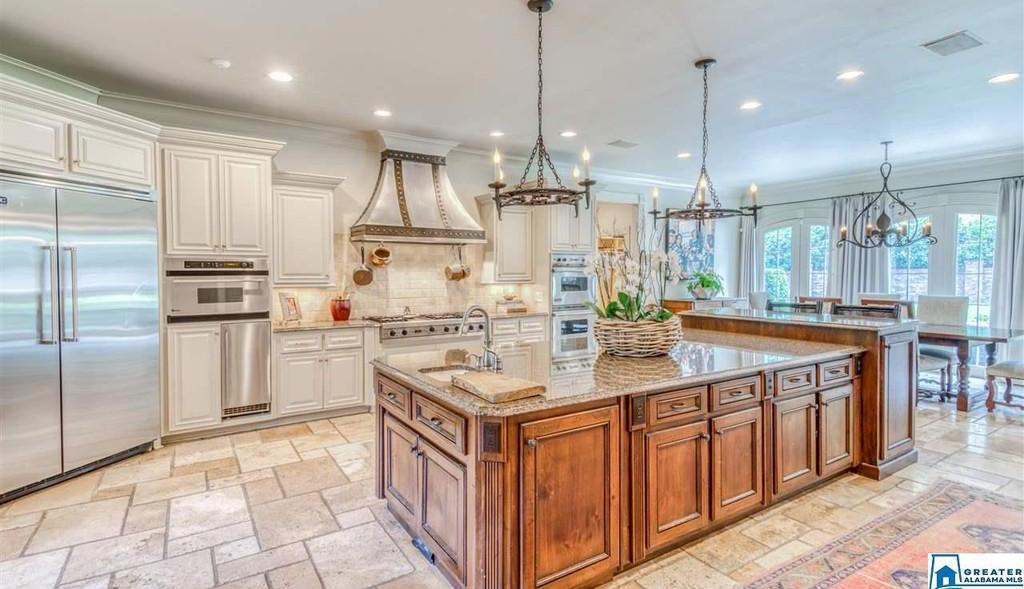 In my opinion, a great kitchen truly makes a home. Especially here in the south, food is so often how we show love and hospitality to our friends, families and guests. These gorgeous kitchens are currently up for grabs in Birmingham, and they fit all kinds of budgets. Check it out!
Under $500K
1. Hoover
Vaulted ceilings, saltwater pool, large master bedroom, oak hardwood floors… sign me up. The open kitchen means you can stay in the middle of the action without letting your pots boil over.
Check out the listing here.
Listing Agent: John Franklin, RealtySouth
Address: 5205 Southcrest Ter, Hoover, AL 35244
4 Bed | 5 Bath
Square Ft: 4,121
Listing Price: $469,900
2. Trussville
This brand new construction in a new community is perfect for families looking to make a place their own. The details are beautiful, from the quartz counters to the hardwood floors to the custom cedar mantle fireplace.
Check out the listing here.
Listing Agent: Beth Hansen, Webb & Company Realty
Address: 2727 Grand Oak Trl, Trussville, AL 35173
4 Bed | 3.5 Bath
Square Ft: 2,724
Listing Price: $449,900
Between $500K-$1M
1. Hoover
Top of the line kitchen appliances, built-in wine cooler, warming drawer, ice maker, huge granite kitchen island, Viking 6 burner stove… and that's just the kitchen. Sold yet? I know I am.
Check out the listing here.
Listing Agent: Tom Davis, Keller Williams
Address: 2301 Bellevue Ct, Hoover, AL 35226
5 Bed | 4 Bath
Square Ft: 3,824
Listing Price: $685,000
2. Vestavia Hills
Located in the heart of Vestavia, this home sports a gourmet kitchen with subzero/five-star appliances. The large master suite has an oversized double shower and custom closet, and the outdoor space is huge and gorgeous.
Check out the listing here.
Listing Agent: Manda Luccasen, RE/MAX Southern Homes
Address: 1321 Parliament Ln, Vestavia Hills, AL 35216
4 Bed | 6 Bath
Square Ft: 6,616
Listing Price: $875,000
Over $1M
Mountain Brook
This luxury home offers an incredible main-level master suite, a media room, bar room, billiards room, rec room with kitchenette—not to mention the jaw-dropping gourmet kitchen.
Check out the listing here.
Listing Agent: Lucy Parker, Ray & Poynor Properties
Address: 2963 Shook Hill Pkwy, Mountain Brook, AL 35223
6 Bed | 9 Bath
Square Ft: 16,320
Listing Price: $3,395,000
Want to get all the latest in Birmingham buzz delivered straight to your inbox, from the coolest homes to the hottest bars? Be sure to sign up for our newsletter today.