Want to add your event to our calendar? Click here.  Email events at (@) BhamNow dot com for promotional options.
---
View Events:
---

This Week at Unity Market!
October 24, 2020 @ 4:00 pm

-

7:00 pm

Free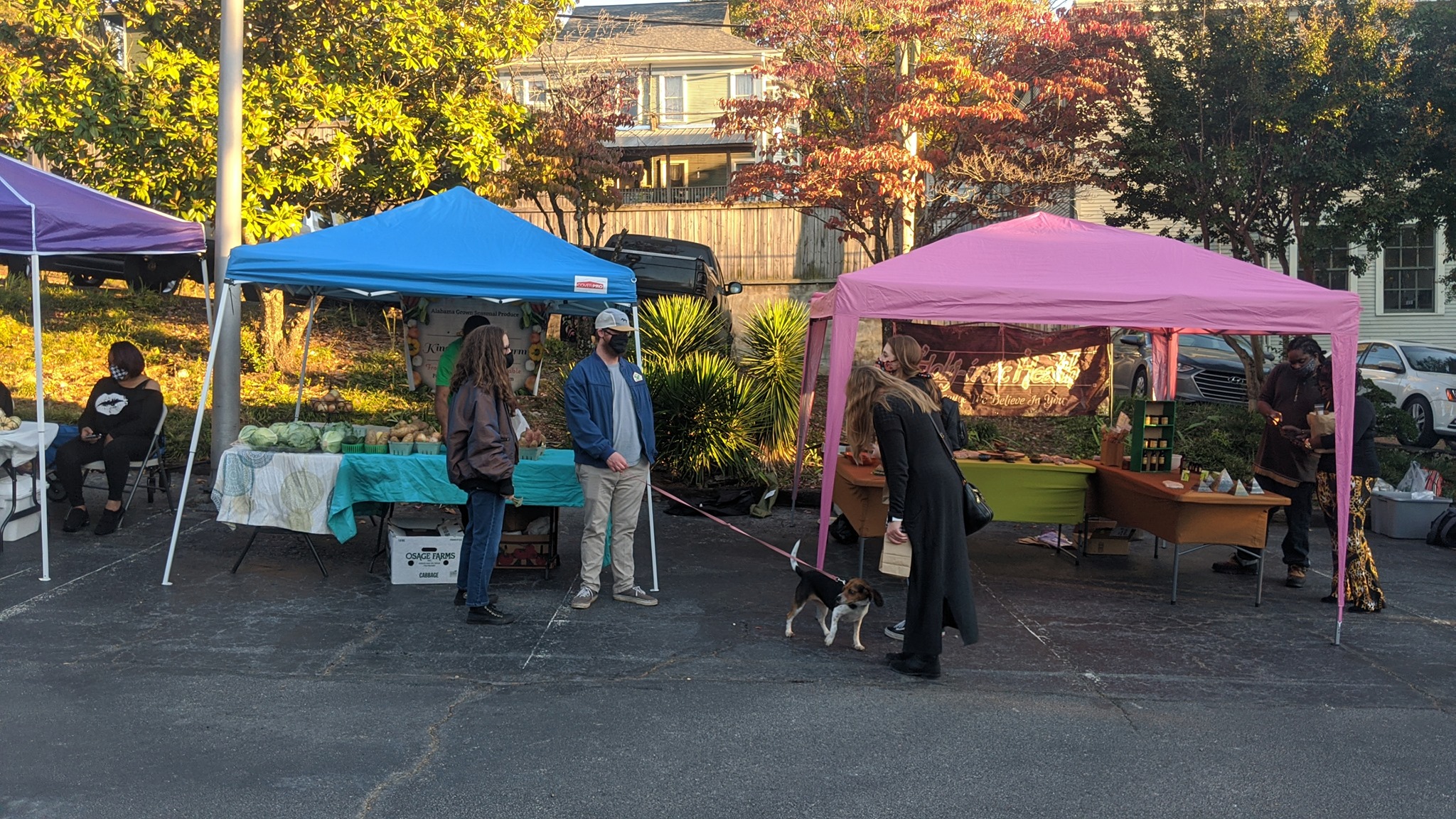 Unity Market is bigger n badder than ever this week! Come on out and support Birmingham-area businesses and shop local – this season and always! We've got RENDEZVOUS FOOD TRUCK, with a mouth watering menu full of not-so guilty plant-based pleasures, and everybody's favorite Thai food – Tay-Thai Street Food!  Plus a slew of new arts vendors – let's show them some love this week! We're getting festive and stringing up our holiday lights at Unity, and we'll be slinging some hot drinks to keep you toasty – come out and soak in the fall weather with us!
Reminder:  Just two more weeks of our Saturday 4-7pm weekly schedule until we move to our Monthly Winter Schedule in November – FIRST SATURDAYS of the month from 3-7pm! See how we're adding that extra hour of daylight? That's so you can come out while the sun's still out, watch the sunset with us, or hit the market under the holiday lights with the fire rolling! Starting in November, we'll also be booking live music and performances for your entertainment!
THIS WEEK'S VENDOR LINEUP:
Rendezvous Food Truck
VAE Creative
Steel City Naturals
Ultimutt Bakery
Aplomb Aromatic
Freedom Song
Cathead Biscuits and Bakery
Ben's Bread
Kind Harvest Farms
Wild Violet Gardens
Forgotten Ways Farm
Tay Thai Street Food
Eastaboga Bee Company
Encore Dessert Bar
Coosa Fancy Heritage Farm
*Keep checking back in because we'll be posting some sneak preview photos, too!
PICNIC BASKETS:
The market also prepares a bundle that features different goodies from some of our vendors each week, put together in a cute lil picnic basket for you! Pop over to the lawn or the park right across the street to enjoy, or take it home to someone you love – these make amazingly adorable gifts! This week's baskets:  Tomato and zucchini loaves (GF), garden pickles, bean salad with lots of fresh herbs, and some homemade candies! $20 ($3 off if you bring back your basket), all proceeds support Lectures on the Lawn and live performances.
ACCEPTING DONATIONS:
*new socks for Be A Blessing Birmingham through October to donate to those in need! Our goal is 100 pairs, help us get there!  They are also looking for jackets, tents, sleeping bags, blankets, and mens gloves – you can bring all  these to Unity Market and we'll deliver for ya!
*glass bottles (in a bag or box that we can keep) for Wild Violet Gardens' upcycled building materials
*nonperishable foods, and any produce that you don't need to donate to the Free Farm Stand in Fountain Heights
LECTURES ON THE LAWN:
This is a weekly community event sponsored by Unity Market that starts every Saturday right after the market at 7pm. Each week we invite a new speaker – someone who is doing big and beautiful things in our community – to come out and share their insight with a small, distanced group on blankets and chairs on the lawn. We're excited to welcome Brett Meredith of the Community Food Bank of Alabama! See you on the lawn right after the market!
THANK YOU:
Thank you so much for being a part of our vision to support people and businesses that are doing good work in our community and to build up our local economy! Shop local, buy real food from farmers, support artists, and let's all be a part of our city's growth and prosperity!
---
---
Want to add your event to our calendar? Click here.  Email events at (@) BhamNow dot com for promotional options.