Want to add your event to our calendar? Click here.  Email events at (@) BhamNow dot com for promotional options.
---
View Events:
---

The High Divers & Cicada Rhythm
January 11, 2020 @ 9:00 pm

-

January 12, 2020 @ 2:00 am
Read Time <1 Minutes
Good People Brewing presents: Saturn Nights with The High Divers & Cicada Rhythm
The High Divers have been covered by Rolling Stone, Paste, Performer Magazine, KDHX, practically every outlet in their hometown of Charleston and are consistently named one of the best bands in South Carolina. Now, with their new Sadler Vaden-produced EP, Ride with You — an emotion-clad and wholly triumphant project — this four-piece are poised to break out on a national scale.
"Sadler wanted us to really focus on songs that were entwined with our lives and real experiences, which got us writing from a much deeper level. There are songs about losing friends to suicide, trying to live with gratitude while struggling with PTSD, abusive relationships, busting out of your close-minded hometown, and finding peace falling in love with yourself and someone new. We would play Sadler a bunch of songs, and then we'd play one that was really close to our chest, and he'd say "Why didn't you play me that one first, that's the song!" We were hiding from songs that felt too vulnerable and raw, while that's exactly what he was looking for."
"I'm still kickin'!" frontman Luke Mitchell howls with guttural intensity on the closing track. "Still Kickin'" is the snow-capped peak of this new batch of music and the statement piece of the band members' lives in this moment. "It happened so fast / Do you understand how lucky you are to be sitting here?" he provokes the listener to engage with their state of being, as well. The air slips out of his lungs in hurricane gusts, but it's his conviction that is especially moving.
The raw, unsettling realization that life could slip from your grasp any minute is the bedrock of the EP, which was recorded at East Nashville's Jeremy Ferguson-owned Battle Tapes Studio. The band, consisting of the married Luke (vocals, guitar) and Mary Alice Mitchell (keyboards, vocals), Julius DeAngelis (drums) and Kevin Early (bass, vocals), learned that hard lesson nearly two years ago when their touring van was T-boned by a semi-trailer truck. They rose out of the wreckage with broken bones, deep scars, and a new perspective on human existence.
Swelling with melancholy, the title cut "Ride with You" mourns that empty feeling born out of small-town life and needing something more reinvigorating, while "Stick Around" is an urgent call-to-action in the wake of numerous friends falling prey to suicide. "If you're hurting, your house is haunted / You just need a friend around," Mitchell beckons, his hand extending in an enveloping token of compassion.
Out of Hilton Head Island, the band members played in various entities, including multiple cover and original bands in their youth, but wouldn't link up as a proper collective until 2014. With Mary Alice calling upon her classical piano training, she would seamlessly add a whole new element that would perfectly compliment Luke's songwriting sensibilities, where her gifts have never been more suited. Her voice, a force of its own, is a perfect counter-balance to Luke's woody timbre.
Mary Alice and Luke tied the knot two years ago, and that romantic entanglement allows the band to display even more heart and tremendous amounts of sacrifice. "Being married and out on the road can be challenging, but we make a good team and have a good support system in place. We are each other's creative counterpoint, and we're constantly working. We have to remind ourselves to try and have a day off every now and then, to do normal 'married couple' things."
Ride with You was born out of struggle, but across these six tracks, there emerges warmth, love, understanding, and freedom. "Having to do the thing you're most afraid of for your job is hard. We're a little more nervous than we used to be driving from city to city. It's really put touring into perspective for us. We always took it seriously, but now, it's much more so. We always hold it in higher regard," says Luke. Mary Alice chimes in, "We try to give it our all onstage because it's like…what if I don't get to do this tomorrow?"
The High Divers have never sounded better. Even as they are forever haunted by that fateful day, their spirits are intertwined together in a powerful new way. This new EP then underscores their courage, determination, grit, and ability to forge an even brighter future against all odds. Working with Vaden as a producer helped them find a sound that they are excited to share as they continue to tour the country.
"Working with Sadler was one of the highlights of our creative lives, and his ability to cut through the bullshit and get at the heart of the song was so refreshing. This is some of the best work we've done as a band, and Sadler was there in the trenches with us the entire time."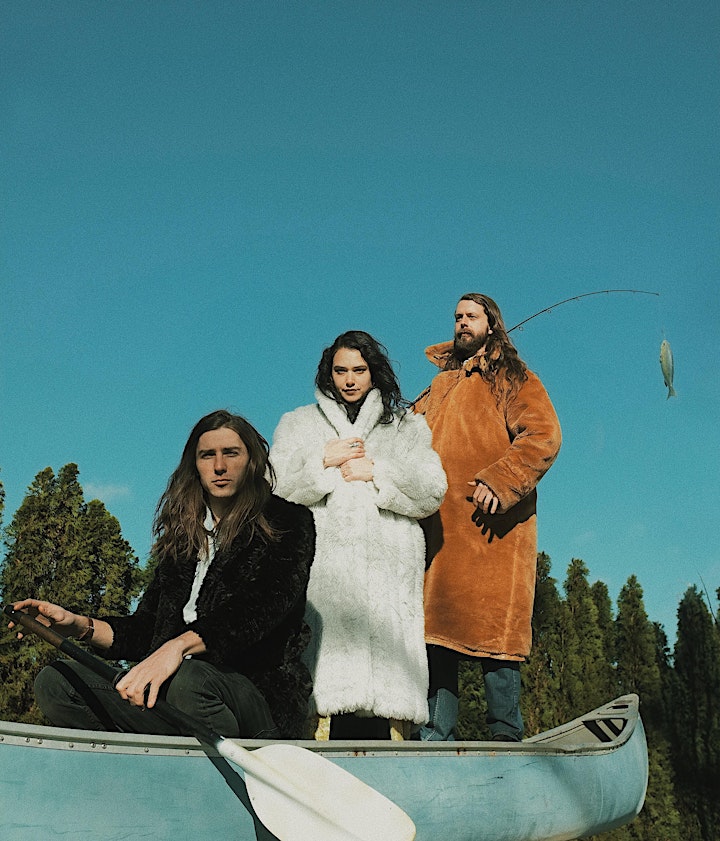 Athens, GA-based indie folk band Cicada Rhythm are set to release their third full-length Everywhere I Go on April 27 via New West Records. The 12 song set was produced by Kenneth Pattengale (of Milk Carton Kids), with additional production on 3 songs by Oliver Wood (of The Wood Brothers). Upright bassist Andrea DeMarcus and guitarist Dave Kirslis embraced Everywhere I Go as a patchwork album, tracking songs that blend orchestral folk-pop and ramshackle roots-rock in recording studios, living rooms, and gospel churches throughout Tennessee and Georgia. Like interstate poets, they sing about the country unfolding outside their car window at highway speed. American Songwriter premiered a full stream of the album ahead of its release. In a 4-out-of-5 star review, they praise Everywhere I Go as "intriguing and captivating," adding, "The duo's rootsy underpinnings are the threads that bind these eclectic tracks, aided enormously by the pure, immediate and moving vocals of DeMarcus whose characteristic tone falls somewhere between LaVere and Billie Holiday." Everywhere I Go is available for preorder now via New West Records and will be out tomorrow digitally, as well as on vinyl and CD.
The Boot recently featured the album's latest single, "Shake Up," praising, "Guitarist Dave Kirslis' unique vocals kick off the rootsy, rock-driven tune, and stunning harmonies from bassist Andrea DeMarcus take the song's breezy melody to a whole new level." Previously, PopMatters premiered the video for the album opener, "America's Open Roads," stating, "While it opens up with a line as harrowing as 'every day starts with a terrible dream,' the song ultimately raises our spirits and reminds us that we are better together than divided. Its accompanying music video…is an ode to both the beautiful and tumultuous threads that tie America together." The video can be viewed/shared HERE. With the announcement of the new record, Cicada Rhythm released the first single from Everywhere I Go, which was highlighted as The Bluegrass Situation's Song of the Week. They noted, "t's a bluesy call to women — or anyone else — who feels less than the world around them. With a sly snap to her vocals and the gusto of a little punk-dripped roots, singer Andrea DeMarcus counts her value to a cascade of drums and instrumentals helmed by partner Dave Kirslis."
Fans of Cicada Rhythm's debut will remember the socially-conscious "Do Not Destroy," an eco-friendly song that urged its listener to take care of the natural world. Much of Everywhere I Go follows in that song's footsteps, forming a bridge between two dynamic records. "We're changing, but we haven't lost our sincerity," explains DeMarcus. "A lot of the songs are still emotional. They're raw, which has always been an important part of our sound. We haven't lost our identity; we've just grown around it."
Related Events
---
---
Want to add your event to our calendar? Click here.  Email events at (@) BhamNow dot com for promotional options.