Want to add your event to our calendar? Click here.  Email events at (@) BhamNow dot com for promotional options.
---
View Events:
---

Thanksgiving Drive Thru Free Mask & Free Food Giveaway
November 21, 2020 @ 10:30 am

-

1:30 pm

Free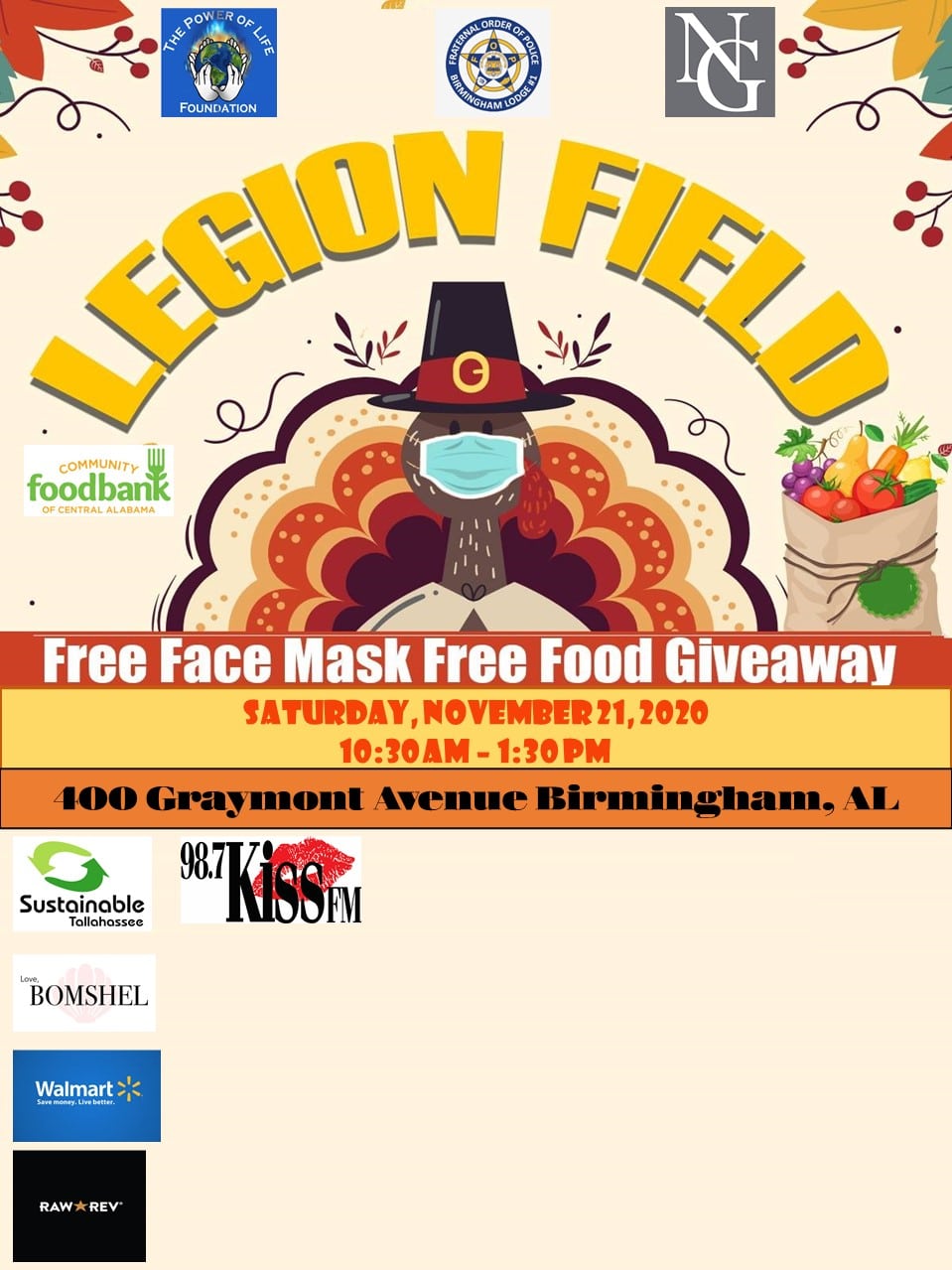 Nonprofit Foundations Host Holiday Event to Give Out 10,000 Free Face Masks, 300 Turkeys, and Free Food for More Than 500 Families at the Historic Legion Field
BIRMINGHAM, ALabama —- Lane Harper's Power of Life Foundation and the Fraternal Order of Police (FOP), Lodge #1, Birmingham, will host a Thanksgiving Drive Thru Free Face Mask & Free Food Giveaway on Saturday, November 21, 2020, at the historic Legion Field.
This joint venture, a union of community law enforcement, will provide more than 10,000 free,  reusable cloth face masks, more than 300 turkeys and food for more than 500 families in the Birmingham area.  Masks are provided by noragardner.com, Sustainable Tallahassee and the Loving Hands Sewing Group.  Food provided by the Community Food Bank of Central Alabama and Representative Louise Alexander, District 56.
Humanitarian and Executive Director of the Power of Life Foundation, Lane Harper, is a Birmingham Police Officer, a member of Phi Beta Sigma, the FOP, and N.O.B.L.E., who has dedicated more than 15 years towards helping those in the community facing difficult times.  The Foundation services those in need of help with basic human needs to include temporary housing, food insufficiency, clothing, COVID-19 relief, health and wellness, and youth development.
FOP Lodge #1 is the oldest and first police organization in the State of Alabama. The organization represents over 1,300 active and retired law enforcement from multiple agencies. The lodge focuses on improving wages, benefits and working conditions for law enforcement. The lodge strives to build respect for the communities and citizens they serve.
Since the onset of the COVID-19 virus, the Power of Life Foundation's mission has been focused on assisting communities with flattening the curve of the virus and helping with food insufficiency in areas that are underserved.
The Power of Life Foundation has now successfully distributed more than 60,000 face masks and over 50,000 pounds of food across the southeast United States in 8 events.
MEDIA Coverage
Tallahassee – https://www.cbs42.com/good-news/birmingham-police-officer-travels-to-florida-capital-to-give-face- masks-to-those-in-need/
---
---
Want to add your event to our calendar? Click here.  Email events at (@) BhamNow dot com for promotional options.