Want to add your event to our calendar? Click here.  Email events at (@) BhamNow dot com for promotional options.
---
View Events:
---

Reverend Fred Lane
January 31, 2020 @ 8:00 pm

-

11:00 pm
Read Time <1 Minutes
Join us for Fred Lane's first publicized performance since 1976!
Join us for a screening of the new documentary Icepick To The Moon followed by a live performance from Fred Lane and his Disheveled Monkeybiters!
We'll be celebrating the release (31 years in the making) for the "Icepick to the Moon" LP and DVD release (19 years in the making) for Skizz's Rev. Fred Lane/Raudelunas documentary "Icepick to the Moon" (named after what was thought to be a "lost" album that would never be completed).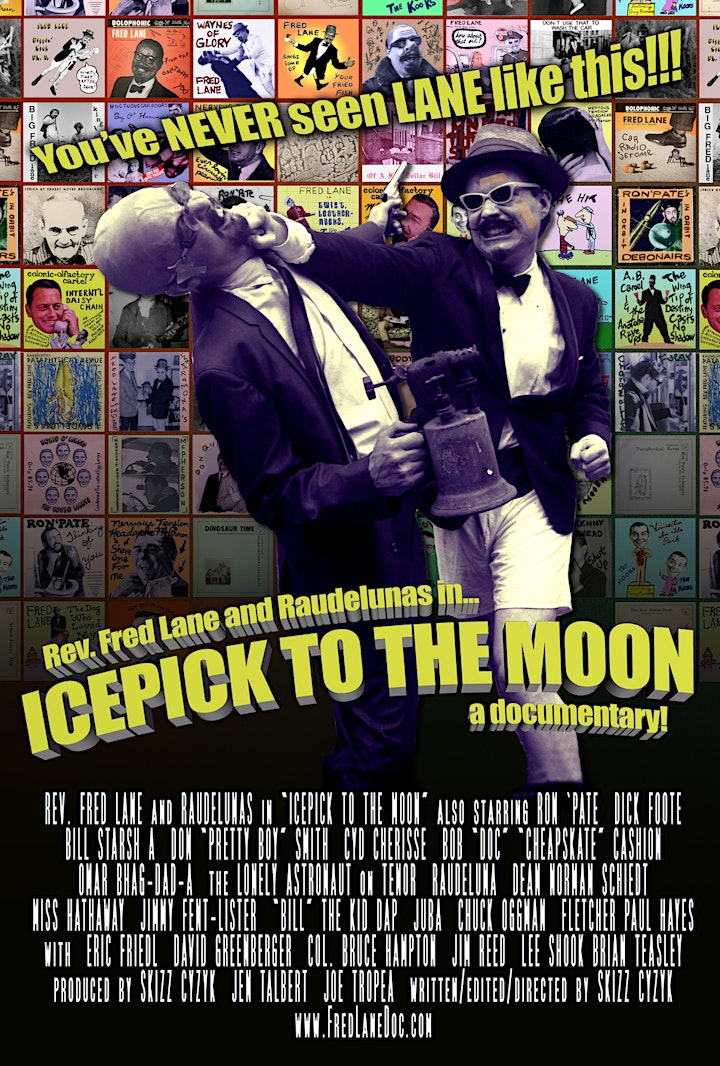 "Synchronize your watches and look forward to a brighter tomorrow….and while you're up, get me my pants."
Rev. Dr. C. P. A. Fred Lane
ICEPICK TO THE MOON 2018, 99 minutes, directed by Skizz Cyzyk
SYNOPSIS: 19­years­in­the­making, ICEPICK TO THE MOON is a feature length documentary about Rev. Fred Lane, the pants­less, Band Aid­adorned performer who achieved a worldwide cult following starting in the Eighties on college radio when the Shimmy Disc label made Lane's records easier to find.
Obscure stripmine crooner, Rev. Fred Lane, is described by his obsessed fans as
"subversive," "completely satirical," "the Dada Duke Ellington," and "Demon Frank Sinatra." His fans have spent years examining every detail of Fred Lane's albums, and yet whatever information they have found out about their hero has only led them deeper into blissful confusion. ICEPICK TO THE MOON not only examines the cult of Fred Lane fans, but also pulls the curtain back on the mysterious artist who is Fred Lane, from his early involvement with the Raudelunas arts collective in Alabama in the Seventies, to his current occupation making whirligigs to sell on the arts and crafts show circuit.
Meet Raudelunas, the wild, countercultural, artistic fringe of the University of Alabama during the era of George Wallace. For Raudelunas, creating, partying, and shocking the norm were more than just pastimes. A thorn in the side of the administration, they found loopholes in school rules that allowed them to borrow instruments from the music department, set up concerts and art shows on campus, and march in the annual Homecoming Parade. Out of this group rose satirical frontman, Rev. Fred Lane, whose worldwide cult following grows with every re­release of his records. Many of the other Raudelunas have also achieved great success in their particular artistic fields, including vegetable­themed furniture maker Crag Nutt, music improvisers Davey Williams and LaDonna Smith, and composer Anne Lebaron. Meet the fans and associates who found inspiration in the activities of Raudelunas, including famed musician and actor Col.
Bruce Hampton (Hampton Grease Band, Aquarium Rescue Unit, Slingblade,
Tombstone ), musician, artist and radio commentator David Greenberger (Duplex Planet, Men & Volts, So Wrong They're Right , Half Japanese: The Band That Would Be King ), musician Brian Teasley (Man or Astro­Man?, Chunklet Magazine), Eric Friedl (Goner Records, The Oblivians) and musicologist Lee Shook (The Audiovore).
OFFICIAL WEBSITE: http://www.fredlanedoc.com/
SOCIAL MEDIA WEBSITE: https://www.facebook.com/IcepickToTheMoon/ TRAILER: https://vimeo.com/236663650
DIRECTOR BIO
Skizz Cyzyk is an actor, writer, musician, filmmaker, artist, and film festival careerist, having held positions at MicroCineFest, Maryland Film Festival, Slamdance, and Atlanta Film Festival, as well as serving on juries and advisory boards at many other festivals. A filmmaker since 1983, his director credits include Hit & Stay, Freaks In Love, David Fair Is The King, Alfred Jarry & 'Pataphysics, Little Castles, Managers Corner, and music videos for Beach House, Young Fresh Fellows, and many others. He writes for music and film magazines, is on the Board of Directors for Maryland Volunteer Lawyers for the
Arts, and performs music with The Stents, Go Pills, The Jennifers, Garage Sale, Half Japanese and Mink Stole & Her Wonderful Band.
DIRECTOR'S STATEMENT:
I found out about Fred Lane while working in college radio in the Eighties. I loved the two records Shimmy Disc released, Car Radio Jerome and From The One That Cut You. Over the years I would meet other Fred Lane fans, and discovered the one thing we all had in common was none of us knew anything about him. I decided I wanted to find out everything I could about this mysterious character and the two amazing records I could not stop listening to.
In 1999, I began gathering as much research as I could find about Fred Lane, and I started contacting anyone I could find who had anything to do with Lane's records. Many of those early contacts were made thanks to Stewart Russell, a Fred Lane fan from Scotland, now living in Toronto. He had one of the first Fred Lane fan websites that didn't simply repeat all the same joke information and rumors Lane's fans already knew. Stewart is interviewed in the documentary.
1999 was also around the time of the digital revolution in filmmaking, and I was quick to jump on it in order to stay affordably productive. I set out to make a Fred Lane documentary with a 1­chip SD DV camera, a Power Mac G4 tower running OS 9, and Final Cut Pro 1. I began shooting in 2001. At the time, I was the Programming Manager for the Maryland Film Festival, and the festival director for MicroCineFest, an underground festival I co­founded. I spent all year watching film festival entries, which didn't leave much time for my own filmmaking. Over the years, little by little, I would take trips to shoot interviews for the Fred Lane documentary. The digital technology got better, so I upgraded to a 3­chip SD DV camera, than a HD DSLR, and eventually a 4K HD DSLR. The finished film uses just about every digital video format of the last two decades included in it somewhere. I also upgraded computers 5 times, and upgraded Final Cut Pro until version 7, when I switched to Adobe Premiere.
In 2006, I stopped running the festival portion of MicroCineFest. In 2009, I stepped down from my position with the Maryland Film Festival. I wanted to concentrate on my own filmmaking, with the Fred Lane documentary being my top priority. I began editing with hopes I could finally finish the film within a year. It didn't work out that way. I was immediately hired to co­direct a documentary feature about the band Alice Donut. That film, Freaks In Love (co­directed with David Koslowski), came out in 2011. In the meantime, I also signed on to co­direct a documentary feature about the Catonsville Nine and other religious activists who put their freedom in jeopardy to bring an end to the draft during the Vietnam war. That film, Hit & Stay (co­directed with Joe Tropea), came out in 2013. With both of those films off my plate, I could finally concentrate on the Fred Lane documentary, now titled Icepick To The Moon. Sadly, though, I was now broke and all my time went into looking for work, and taking any freelance jobs that came my way. In 2014 I got a full­time day job as a video producer, which not only gave me access to a lot of great camera, audio and editing gear, but also forced me to learn new skills, like After Effects. That, combined with a comfortable paycheck and the freedom to work on my own projects during downtime, allowed me to, little by little, get Icepick To The Moon finished.
The final year of editing was the toughest. I knew from all my film festival experience that I needed to get the running time down to under 90 minutes. Over the course of a dozen rough cuts, I relegated entire chapters of the film to the "DVD extras" pile, because they were interesting, but not necessary. What was left was still too long. I really debated whether to cut the film down more to please film festival audiences/programmers/screening committee members that will likely see the film only once (if at all), or make the film that Fred Lane fans want to see. I knew all along I was making a film for a very small audience. If I wasn't a part of that audience myself, I might have abandoned the project years ago, or make a much different film. I opted to please the fans. The film is 99 minutes long, and like Lane's music, is sure to appeal to only certain types while alienating many others.
19 years after I started researching the film; 17 years after I started shooting; 9 years after I started editing; 1 year after I finally stopped shooting more footage… the film is complete. I hope you like it.
Skizz Cyzyk, 2018
Related Events
---
---
Want to add your event to our calendar? Click here.  Email events at (@) BhamNow dot com for promotional options.