Want to add your event to our calendar? Click here.  Email events at (@) BhamNow dot com for promotional options.
---
View Events:
---

Amanda Shires
February 8, 2020 @ 9:00 pm

-

February 9, 2020 @ 2:00 am
Read Time <1 Minutes
Amanda Shires Atmosphereless Tour w/ L.A. EDWARDS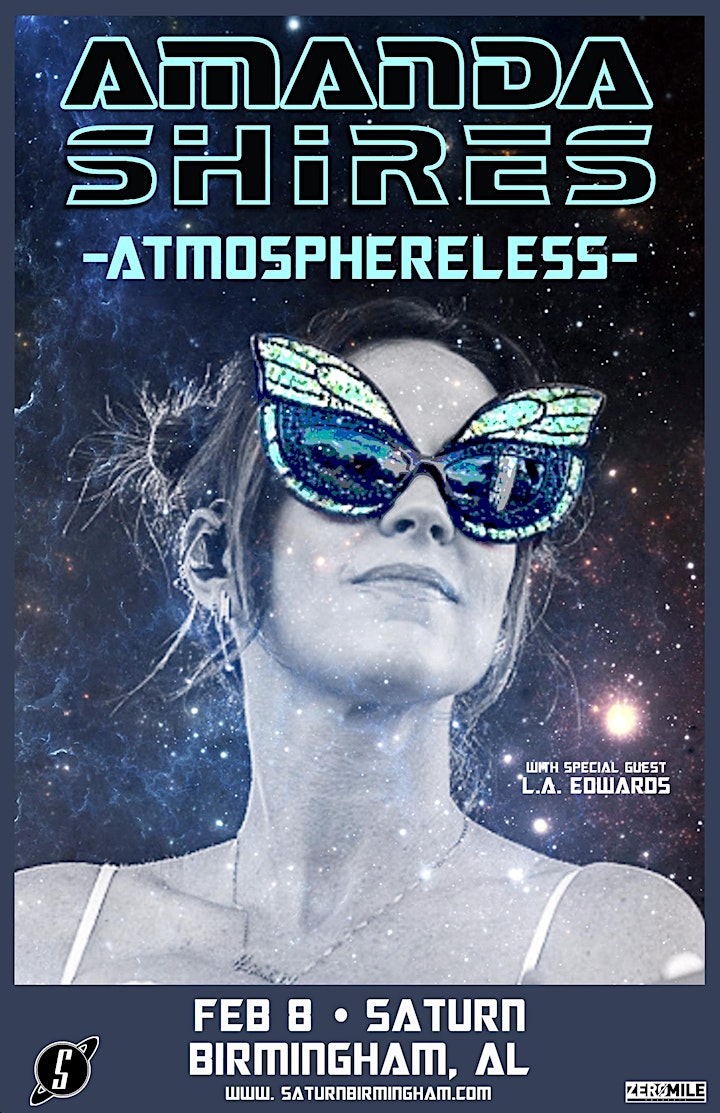 "It's all rock & roll – no golf!" is how singer/songwriter/violinist Amanda Shires describes her electrifying fifth album, To The Sunset. She's borrowed a lyric from the track "Break Out the Champagne," one of ten deftly crafted songs that comprise her powerful new recording. The Texas-born road warrior, new mom, and recently minted MFA in creative writing has mined a range of musical influences to reveal an Amanda Shires many didn't know existed.
It's been a jam-packed since the release of Shires' critically hailed My Piece of Land: constant touring with her band and as a member of husband Jason Isbell's 400 Unit; finishing her MFA; and winning the Americana Association's 2017 Emerging Artist award. Armed with stacks of journals, she wrote a batch of new songs in a flurry of focus and solitude – in a closet at the Shires/Isbell abode. "With a two-year-old running around, there's nowhere to hide," Shires explains.
She reconvened with Land's producer Dave Cobb (Isbell; Sturgill Simpson) at Nashville's historic RCA Studio A. While writing such stunners as the enchanting "Parking Lot Pirouette," haunting "Charms," and raucous "Eve's Daughter," she thought about their sonics. "I explained to Dave that I wanted the songs to have atmosphere," Shires recalls. "That the album was going to be sort of poppy, and that I was doing that to bring some sunshine into the world, cause it's pretty dark right now."
Shires is renowned for her carefully crafted songs. Her influences include Leonard Cohen and John Prine, the latter of whom has been a mentor. "I was talking to John Prine while I was writing this record," says Shires, "and he was talking about how using images that actually happened to you makes the songs true. Also, if you use images that you can see daily, it's more relatable." Shires took his advice in such tracks as "Break Out the Champagne." "It's all true!" says the resilient Shires. The near-plane crash over Newfoundland, her BFF Kelly's fears about our apocalyptic times, another friend's heavy breakup.
To The Sunset, says Shires, "is meant to be a positive thing. Acknowledging your past, and at sunset, your hope for a new day. 'To The Sunset' sounds like a toast: This day is over, we don't know what's in the future, but it's hopeful, I think." Shires has drawn from her own past on To The Sunset – and pointed the way to her future. She has set the bar high – sonically and lyrically – and she's jumped over it.
L.A. Edwards is the music of Luke Andrew Edwards. The band's debut record, "True Blue" is the most recent release out of the ‪Tom Petty‬ & The Heartbreakers camp, produced by Heartbreaker bassist ‪Ron Blair‬. They stepped into the studio with the goal of making a great California rock album. The result is a fresh take on the Laurel Canyon sound for the next generation. Eagles-esque brothers harmony, Stones inspired guitar weaving, the melancholy of Jackson Browne, and the working class optimism of Petty himself can all be heard on the record and on the stage.‬‬‬‬
L.A. Edwards has a large year of touring ahead in 2019, making appearances at FloydFest, M3F, Treefort, Bristol Rhythm & Roots, Wildflower, Pilgrimage, Las Cruces Country Music Fest, Americanafest, and Bumbershoot.
"True Blue is a record I'm proud of. The songs are soulful, the playing was live and fresh! It wasn't long before Luke was running the show, so I got out of the way. That's really what a producer does, let other people work, and then take the credit for it! Did I mention, I love these guys…" -Ron Blair, Tom Petty and the Heartbreakers
"Flat out amazing" -No Depression
Related Events
---
---
Want to add your event to our calendar? Click here.  Email events at (@) BhamNow dot com for promotional options.