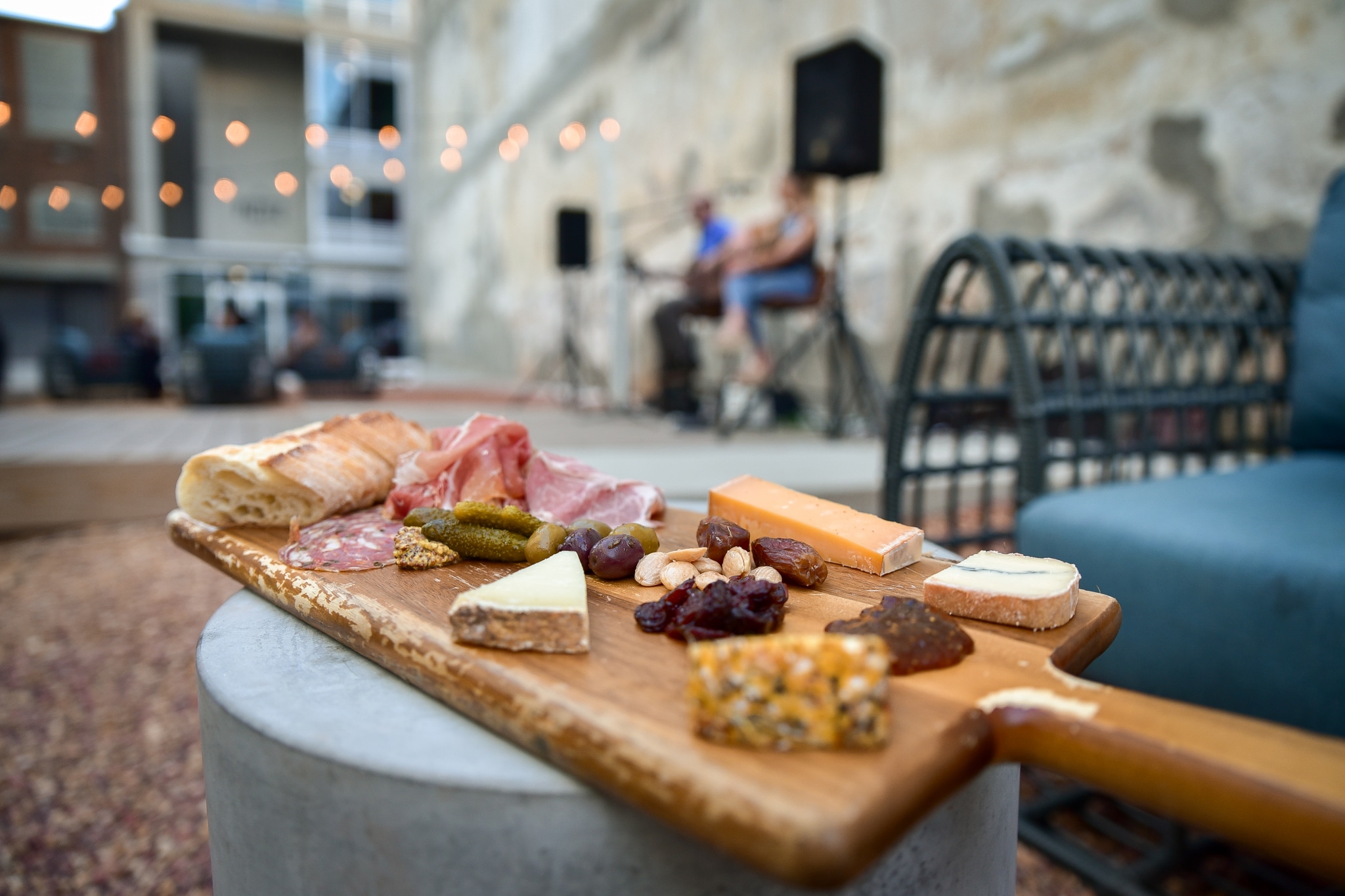 Summer-time patio sitting, sipping and sharing with friends over a delicious dinner is what warm weather was made for. Birmingham is kind of a pro when it comes to outdoor dining and these local spots go beyond a few twinkle lights to bring you a dreamy experience.
Have you been using our database featuring over 540 local businesses? If not you better head over there and sign up yourself!
1. The Essential
You can't beat a patio located on historic Morris Avenue, Birmingham's oldest warehouse district and our favorite cobblestone street. It's so easy to pass an evening taking in the just-busy-enough atmosphere and ending your dinner with a stroll hunting for murals.
Our pick: Grilled Chicken Piri Piri and Zucchini Frites | Menu
Address: 2018 Morris Ave, Birmingham, AL 35203
Hours: Wednesday-Friday 11AM-10PM | Saturday 9AM-10PM |Sunday 9AM-2PM
2. Continental Bakery + Chez Lulu
Note: Continental Bakery and Chez Lulu are currently only curbside and delivery. They recently opened their little hobbit window at the bakery for walk-ups as well.
Can you hear the accordions in the background? This little nook in English Village is parallel to a cafe on a side street in Paris. You'll feel transported dipping your croissant into a cappuccino or sharing a bottle of wine over dinner.
Our pick: Almond croissant from Continental Bakery, Tarragon Chicken Salad from Chez Lulu | Menus
Address: 1911 Cahaba Rd, Birmingham, AL 35223
Curbside Hours: Bakery: Every day 7AM-7PM | Chez Lulu: Tuesday-Sunday 11AM – 9PM
3. Queen's Park
Queen's Park's new patio pivot provides a chic mini jungle in the middle of downtown. It's just enough green space to set you apart from the street and watch the afternoon bleed into night.
Our pick: Espresso Martini | Menu
Address: 112 24th St N #102, Birmingham, AL 35203
Hours: Sunday-Thursday 3-10PM | Fri-Sat 3-12am
4. Carrigan's Mountain Brook + soon-to-be Carrigan's Beer Garden
Carrigan's back deck is the ultimate hangout on a summer night whether you're grabbing drinks with coworkers or plan to sit for an hour or two with a group of friends. The casual laid-back vibe completely embodies what summertime should feel like.
Our pick: The Briar Patch and the Heirloom Tomato Sandwich | Menu
Address: 2400 Montevallo Rd, Mountain Brook AL 35223
Hours: Tuesday-Thursday 4—9PM | Friday-Saturday 4—10PM
Lakeview Beer Garden, reopening on June 24th
Remember the absolute dream it was to sit outside at Brat Brot with a massive stein? It's now rebranded as Carrigan's Beer Garden and we're literally counting down the days we can be back out there.
5. The Pizitz
Note: photos taken pre-COVID-19.
Pre-COVID craziness the food hall was always filled with events featuring music, poetry and lots of cute dogs. While we wait for those times, you can catch us with a drink from The Louis under the twinkle lights of the Pizitz's courtyard
Our pick: Chicken curry and fried green beans from mo:mo | Menu
Address: 1821 2nd Ave N #3112, Birmingham, AL 35203
Hours: Varies by the vendor—see each restaurant's hours
6. El ZunZún
Being a restaurant named after a hummingbird, it makes sense why you gravitate toward the patio at El ZunZún. Tucked away in a colorful little garden, the margaritas taste even better outside on a warm afternoon.
Our pick: Hummingbird queso and the Al Pastor tacos | Menu
Address: 4105 Crosshaven Dr, Vestavia Hills, AL 35243
Hours: Tuesday-Saturday 11AM-9PM | Sunday 10:30AM-8PM
7. Mayawell
A sunset, good friends and the Birmingham skyline—you really can't get better vibes than you do on Mayawell's rooftop. Throw on some tunes and the night is *chef's kiss*.
Our pick: The Classic Margarita | Menu
Address: 2900 4th Ave South Birmingham, AL 35233
Hours: Tuesday-Thursday 4-10PM | Friday-Saturday 4PM-12AM
8. Vecchia Pizzeria
Nestled right beside Moss Rock, Vecchia's cozy seating and proximity to nature make you want to stay forever. Stretch out across long tables with a hot slice.
Our pick: Vecchia Carni and a slice of their house-made cakes (you can't go wrong with any flavor!) | Menu
Address: 610 Preserve Pkwy Suite 100, Hoover, AL 35226
Hours: Sunday-Thursday 11AM-8PM | Friday-Saturday 11AM-9PM
9. Filter-Coffee Parlor
Coffee on a Saturday morning watching all the happenings of Five Points South is the perfect way to kick off your weekend. A fluffy cinnamon roll by your side definitely doesn't hurt either.
Our pick: Cinnamon roll (duh), bacon and cheese frittata | Menu
Address: 1927 11th Ave S, Birmingham, AL 35205
Hours: Monday 7AM-1PM | Tuesday-Friday 7AM-3PM | Saturday 8AM-1PM
10. Chez Fonfon
Note: Chez Fonfon is currently curbside-only, but we're patiently waiting for a game of boule in their courtyard.
Everything about Chez Fon Fon's patio is could be straight out of a book for how to create the perfect patio. Seriously, you'll want to move in and start painting landscapes and listening exclusively to Édith Piaf.
Our pick: Hamburger Fonfon, Salade Fonfon, coconut cake | Curbside menu
Address: 2007 11th Ave S, Birmingham, AL 35205
Curbside Hours: Tuesday-Saturday 11:30AM-8PM
11. The Garage
Note: The Garage is currently curbside-only and cash-only.
The Garage probably has the most eclectic patio in Birmingham. Surrounded by Magnolias and garden ornaments it's the ideal amount of hodgepodge that only a few can achieve.
Our pick: The Garage BLT or The Fritz | Menu
Address: 2304 10th Terrace S, Birmingham, AL 35205
Curbside Hours: Thursday-Saturday 12-6PM
Where are your favorite spots to dine outdoors in Birmingham? Share it with us on social @bhamnow!