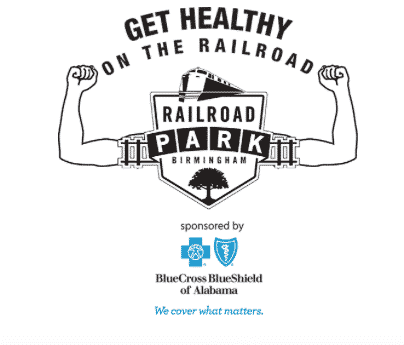 We're only a month late, but have you heard of all of the free exercise classes at Railroad Park? For eight months from March to October, Blue Cross and Blue Shield of Alabama are committed to positively impacting the health and education of the communities they serve.
The sponsorship of "Get Healthy on the Railroad" allows the company to make a positive mark for the overall health of the downtown Birmingham area.
Not only can you enjoy a quality workout, but it's free and anyone can join in the fun! That's unbeatable.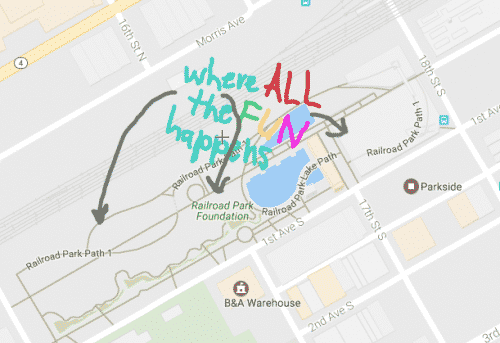 Exercise class schedule
Jazzercise  – Mondays at 6:00 P.M.
It's exactly what you're thinking, jazz and exercising. Get ready to move to the beat with this pulse-pounding, beat-pumping fitness program. With a hot playlist and various class formats, like Strike, Fusion, Core, Strength, and Dance Mixx, you will burn up to 800 cph (that's calories per hour).  Hand weights and mats are suggested, but not required.
Bootcamp – Tuesdays at 6:00 P.M.
Get ready to sweat with this higher gear workout. By using your body weight, this workout routine will help tone muscles, build endurance, and boost metabolism.
Zumba – Wednesdays at 6:00 P.M.
Zumba is a Latin inspired dance fitness class that blends basic dance moves with aerobic steps. It's fun, energizing, and easy to follow. You'll learn why it's called the "exercise in disguise."
Yoga – Thursdays at 6:00 P.M.
Find your inner zen with yoga at the park. Yoga strengthens and tones the body, promotes balance and flexibility, while quieting the mind. This is a class that everyone can join in.
Family Fun Friday – Fridays at 6:00 P.M.
Get the entire family involved in better health with this fun hour of low to high level activity designed to promote exercise for all ages. Families are invited to enjoy team activities like kickball, soccer or Wiffle ball. Starting off with some light stretches, families will enjoy the game of the week to follow. The day also provides mental health benefits and social interaction for the entire family.
Remember that all of these activities are for absolutely free thanks to the generosity of Blue Cross and Blue Shield of Alabama. Children are allowed to come under supervision of an adult.
What to bring:
Bottle of water
Sunscreen
Sweat towel
Yoga mat (if you're participating in yoga)
Reminder: Arrive 15 minutes early to class. Participants will have to sign in a few minutes early and sign the class participation waiver.
For more information, visit Railroad Park's FaceBook for updates.