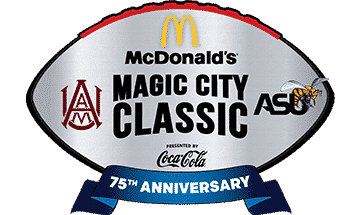 A good friend of mine once described the Magic City Classic as the world's largest "family reunion."
For this year's 75th Anniversary that means an anticipated crowd of 100,000 people attending pre and post game events and of course the big game between Alabama A&M University and Alabama State University.
This national event also has an economic impact totaling over $18 million for the Birmingham region.
Checkout the events starting with the Pep Rally at the Sheraton Birmingham Ballroom on Thursday evening, a parade downtown on Saturday morning, the big football game and the battle of the bands between the Alabama A&M Marching Maroon and White Band and the Alabama State University Mighty Marching Hornets. The day culminates with a post-game concert by Ludacris.
Here is a link to the entire schedule – and below a sneak peak of this year's Alabama A&M Marching Maroon and White halftime show.